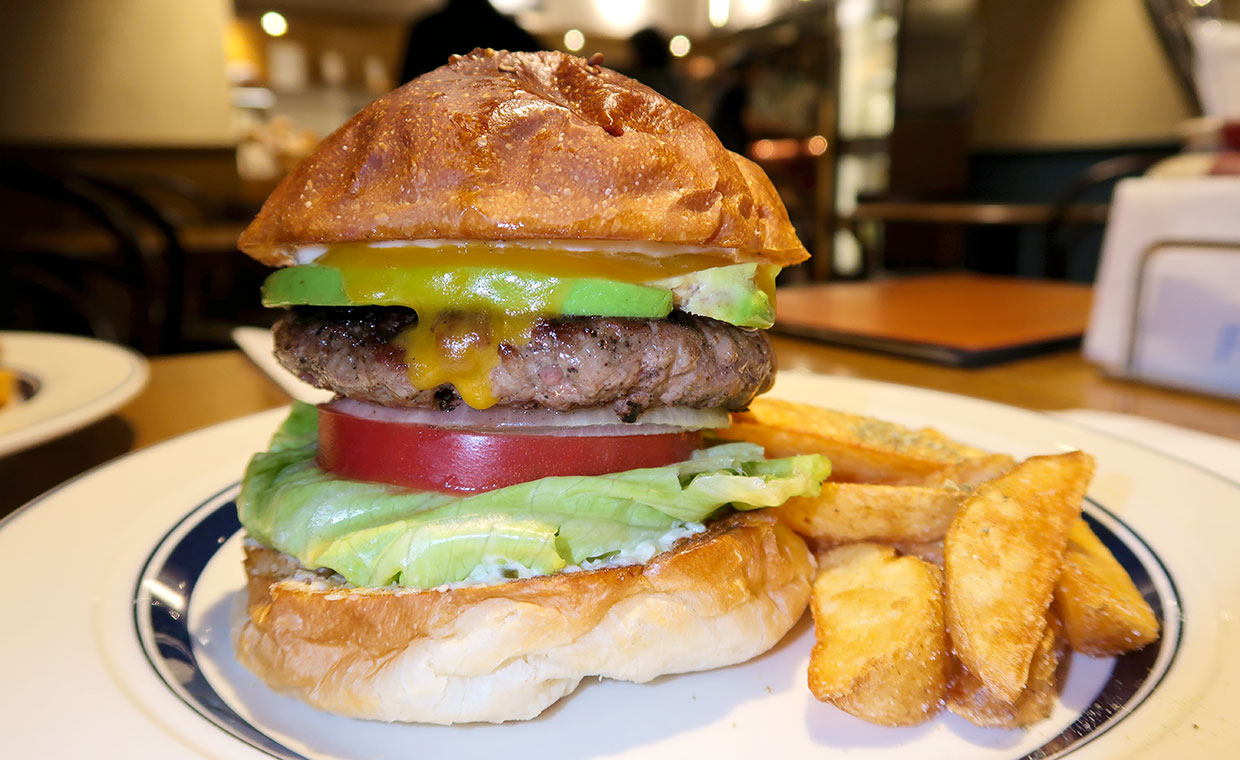 Fungo ligger i Setagaya, ett område strax väster om Shibuya i Tokyo. Lokalen är enkelt och charmigt inredd i caféstil, och de specialiserar sig på smörgåsar och burgare; en inte helt ovanlig kombination i Japan. Namnet är en sammanslagning av "fun" och "go", i typiskt japanskt manér.
Av de åtta olika burgarna på menyn valde vi att testa deras Avocado Cheese Burger och Bacon Cheese Burger för cirka 1500 yen (lite drygt 120 kronor), inklusive potatisklyftor som en sideorder. Båda burgarna hade majonnäs, sallad, tomat, stekt lök och ost på sig, förutom avokado respektive bacon såklart. Vi valde en vanlig storlek på 130 gram, men det fanns även en minivariant på 65 gram.
Burgarna vi blev serverade såg väldigt japanska ut; vilket innebar ett stort fluffigt bröd och en hög konstruktion med ett rejält salladslager och tjocka skivor tomat och lök. Våra normalstora köttpuckar såg försvinnande små ut i sammanhanget. Brödet var såklart bra – som det brukar vara i Japan –  och köttet var riktigt gott; grovmalet med en rosa kärna med en fin köttsmak. Problemet var, som så ofta här i Japan, att grönsakslagret gjorde burgaren svåräten och stal alldeles för mycket uppmärksamhet. Vi plockade helt enkelt bort salladen och tomaten halvvägs, vilket gjorde allt mycket bättre. Baconet var av den tjocka typ som är så populärt i landet, men som vi själva inte är så förtjusta i. Potatisklyftorna var generöst kryddade med örtsalt – en oväntad touch som faktiskt passade rätt bra till burgaren.
Det hyfsade prisläget, den trevliga personalen och generellt hög kvalitet innebär en stabil trea i betyg. Fungo är kanske inte värda en längre omväg, men de är ändå riktigt bra om du är i Setagaya-området.
In English
Fungo are located in Setagaya, a district just to the west of Tokyo's Shibuya area. The restaurant is charmingly designed and looks a bit like a café, which is appropriate since their menu focuses on both burgers and sandwiches (which isn't entirely uncommon in Japan).
The burger menu consists of 8 different burgers, and we ordered an Avocado Cheese Burger and a Bacon Cheese Burger (costing around 1500 yen – appx. 14 USD), which included a sideorder of potato wedges. Apart from avocado and bacon, respectively, both burgers also contained mayo, lettuce, tomato, fried onions and cheese. Our burgers were "regular" sized at 130 grams, but they also sold burgers with mini patties weighing only 65 grams.
Our burgers looked typically Japanese, with a large and fluffy bun and loads of lettuce, tomato and onions. Our regular sized patties were almost exlipsed by all the vegetables. The bun was just as good as we expect from burger joints in Japan, and the meat tasted great – coarsely ground and nicely pink in the middle. The amount of veggies was a bit overwhelming, but the ratios were pretty good after removing the lettuce and tomato halfway through our meal. We didn't really care for the thick bacon, but that's just another Japanese burger preference that we're not too fond of. However, we did kind of like the herb salt on the potatoes.
A detour from central Tokyo might be pushing it a bit, but the great service, quality ingredients and reasonable pricing make Fungo well worth a visit if you're in the Setagaya area.