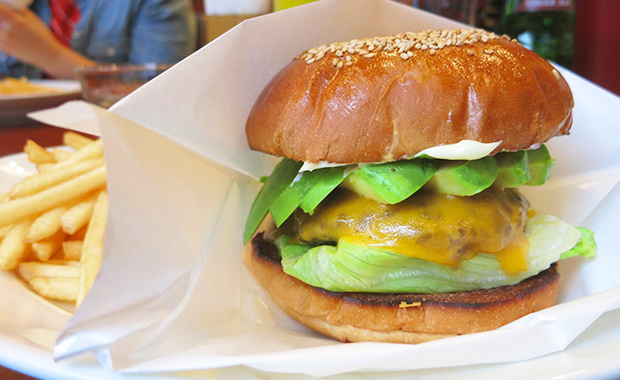 Golden Brown har två restauranger i Tokyo; en i Nakameguro och en i gallerian Omotesando Hills. Den sistnämnda var den restaurang som på sätt och vis startade Burgerdudes då vi besökte den i januari 2012. För flera av oss var det en närmast religiös upplevelse då den burgaren var så mycket bättre än allt vi hade ätit innan.
Och nu är vi alltså tillbaka. Den här gången valde vi deras restaurang i Nakameguro. Vi valde återigen en burgare med avokado och ost. När maten kom in så blev alla tysta och bara åt och log mot varandra. Det är en väldigt bra hamburgare, men den är inte perfekt. Det är samma problem som de flesta burgare i Japan har; lite för stort bröd och lite för välstekt kött.
Det kan inte bli full poäng tyvärr, men smakmässigt är det en av de godaste hamburgarna du kan beställa i Tokyo. Ett måste om du är här.
In English
Burgerdudes visited Golden Brown in 2012 and considered it one of the best burgers we ever had. Now we have returned to see if it's as good as we remembered it. The answer is both yes and no. The taste is awesome, but it's not a perfect burger. The patty is well done and the bun is a bit too big. This is common for burgers in Japan, but it still keeps it from getting a perfect score. If you are in Tokyo, this place is still a must though.