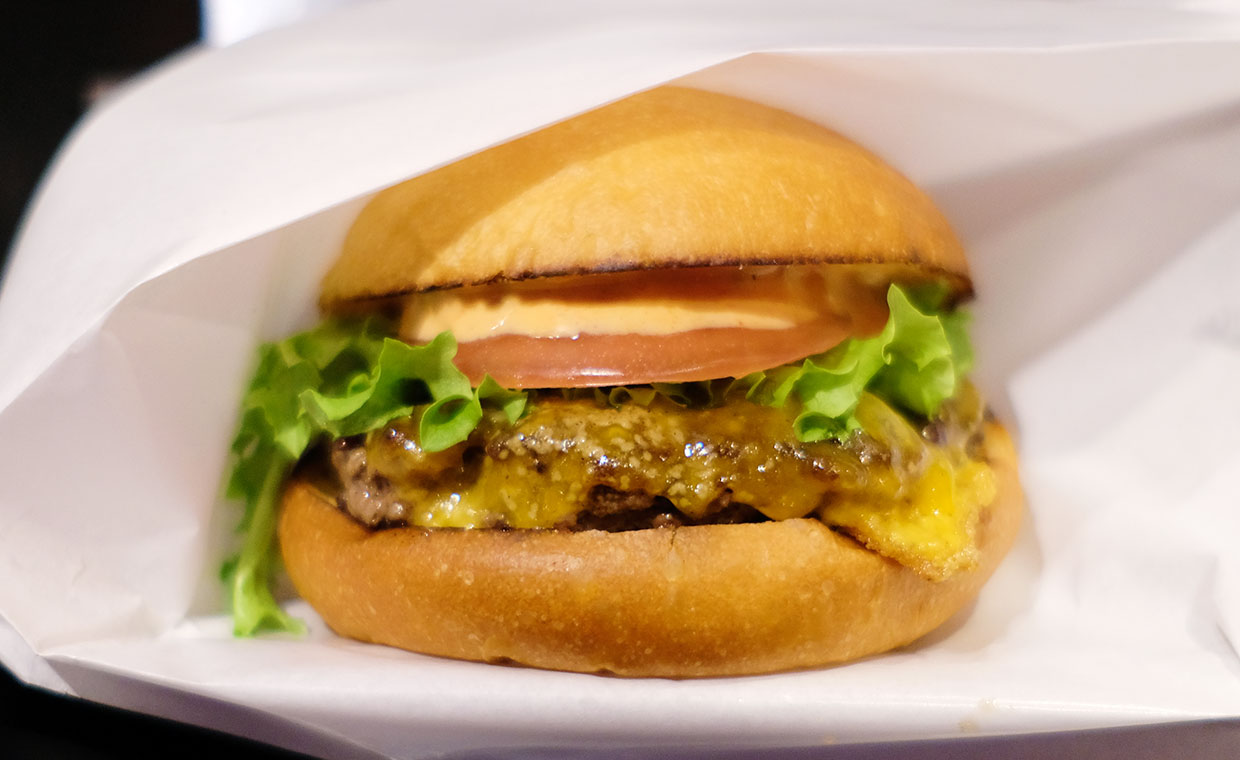 Henry's Burger ligger i Tokyos Daikanyama-distrikt i närheten av Shibuya, bland trendiga butiker med namn som låter skandinaviska. Restaurangen är minimal med fyra sittplatser och en fantastiskt koncis meny; en enkel burgare eller en dubbel. Ägaren, vars smeknamn gett namn till restaurangen, har bott på den amerikanska västkusten och influenserna är tydliga.
Hamburgarna vi blev serverade såg verkligen klassiska ut; en smashad puck i ett fluffigt bröd, med ost, lite sallad, en tomatskiva och dressing. Enligt dem själva är den högkvalitativa och grovmalda Kobe-biffen stjärnan i kompositionen och de andra delarna är bara där för att rama in och lyfta fram det på bästa sätt. Och resultatet är väldigt bra. Burgaren är en varm, mjuk helhet som snabbt slinker ner. Kanske lite för snabbt till och med då burgarna är ganska små – och den försiktiga smaksättningen gör dem tyvärr lite anonyma. För ungefär 80 kronor får du en enkelburgare, lite tråkiga pommes frites plus en dryck.
Det är svårt att inte leda tankarna till begreppet shokunin (職人) – den japanska traditionen av hantverk med ständigt fokus och ständig förbättring av en specifik sak. De har kanske inte nått ända fram än, men den tydliga inspirationen från de bästa amerikanska snabbmatsburgarna samt fokuset på hög kvalitet gör dem väl värda ett besök för alla burgarälskare som reser till Japan.
In English
Henry's Burger is located in the trendy Daikanyama district near Shibuya. With only two options on the menu – a single or a double burger – and just four seats, this feels very much in line with the japanese shokunin (職人) tradition of doing one thing and one thing only, with focus on constant improvements. The owner used to live in California and the inspiration is very obvious. This is basically like a burger from the best fast food chains on the American west coast, but with high quality Kobe beef. It's very tasty, but it's also kinda small and the subtle flavors make it a bit anonymous. The bun, smashed patty, cheese, lettuce, tomato and dressing compliment each other really well, but the fries were quite bland and boring. A meal with a single burger, fries and a soft drink will set you back about 1000 yen, which is relatively cheap for Tokyo. Although not amazing, it's still a very good burger and we highly recommend a visit!