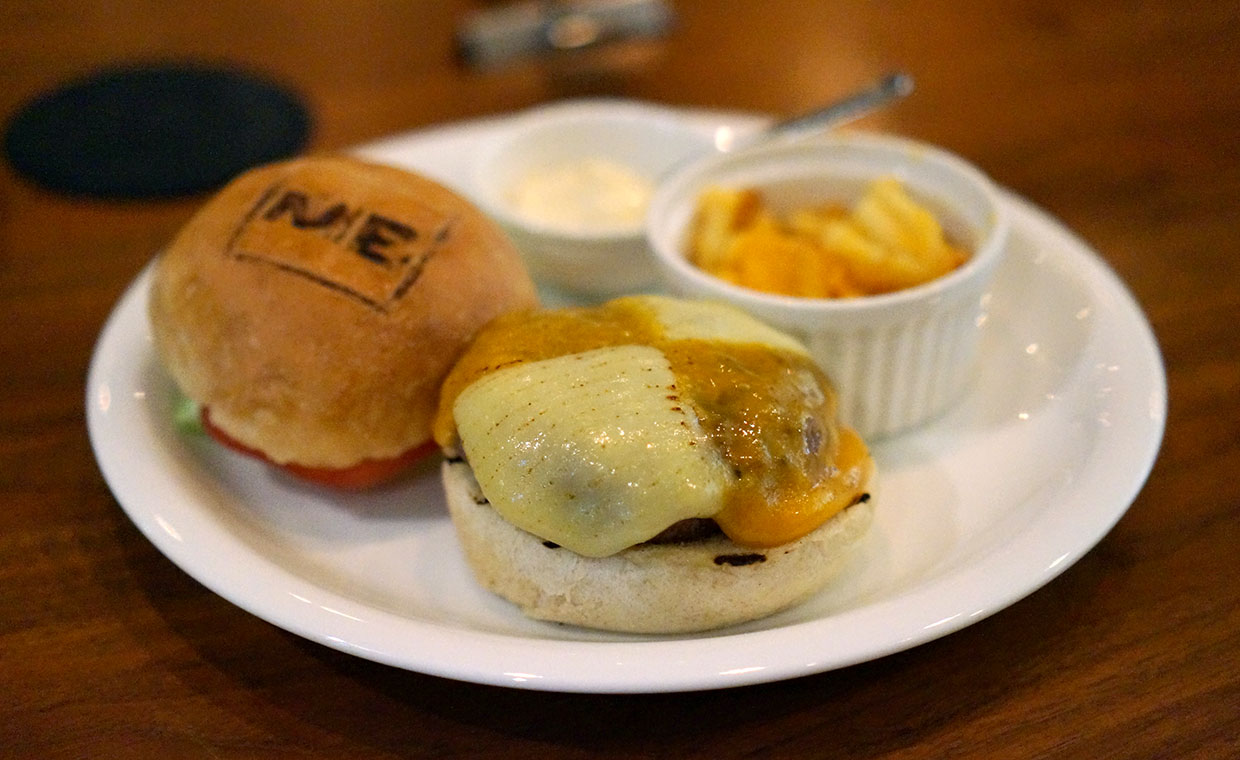 En sak stack ut när vi steg in i Martiniburgers enkelt inredda lokal, nämligen att mannen i köket var på pricken lik Steve Jobs. Han visade sig dock heta Eliot och vara född och uppvuxen i New York.
Burgarna på menyn var namngivna efter områden i hans hemstad, och – i brist på ett bättre ord – snyggt designade. Med varje burgare medföljde en valfri sideorder; pommes frites, potatissallad, mac 'n cheese, pickles eller stuvad spenat. Det är kul med variation, men den riktiga överraskningen kom vid den första tuggan. Den typiska Tokyo-burgaren är kompakt och genomstekt, men burgaren vi serverades var mjuk och vackert rosa inuti.
Martiniburger är väldigt noga med detaljer, med färskmalt kött, sideorders och såser som tillretts på plats samt bröd som specialbeställts från ett lokalt bageri. Resultatet är en av de bästa burgarna vi blivit serverade i Tokyo – men inte utan förbättringsmöjligheter.
Brödet var lite segt och tråkigt, och smakerna var för försiktiga – som de tyvärr ofta är i Japan. Att våra sides var rumstempererade snarare än varma var såklart också snopet när en burgare med ett tillbehör kostar motsvarande 120 svenska kronor. Om burgare är mer än bara mat för dig så bör du testa Martiniburger nästa gång du har chansen.
In English
Martiniburger was created, and is run, by a New Yorker now residing in Tokyo. At a glance it might be one of many Japanese burger joints simply inspired by the U.S., but when the meal was served one thing separated it from most other Tokyo burgers: the patty was soft and pink inside. This is rare in Tokyo (pun intended) and one of the details that made this place one of the best here. Besides a patty made of freshly ground beef, the meal also consisted of a bun specially made for the restaurant plus an interesting selection of sides including potato salad and mac 'n cheese. The bun was a bit chewy and the seasoning too cautious, but all in all this was a great burger. If burgers are more than just food to you, you should give this place a try next time you get the chance.