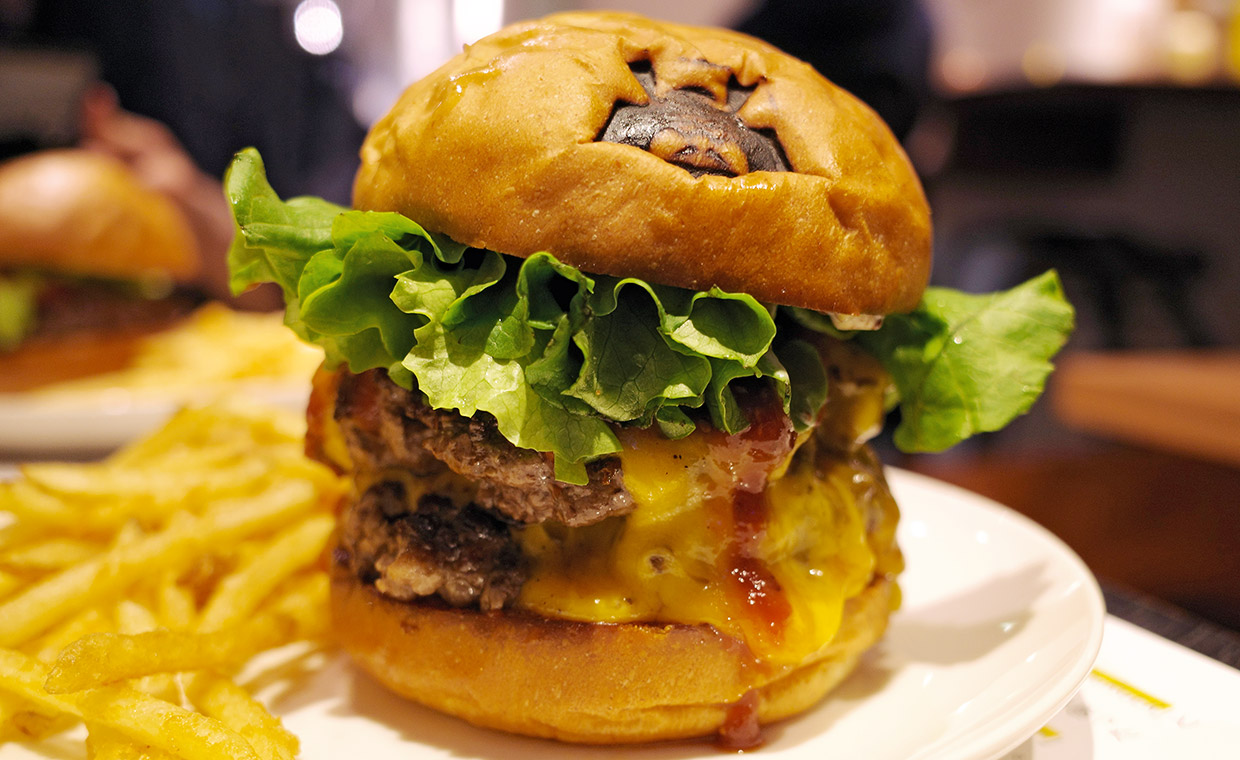 Shogun Burger är en japansk minikedja med en handfull restauranger som idag finns i både Tokyo, Toyama och Nagasaki. Vi besökte deras restaurang i det alltid lika hektiska området kring Kabukichō, Shinjuku i centrala Tokyo. Beställningen gjordes lätt genom en automat och vi valde en dubbel cheeseburgare med bacon tillsammans med pommes frites och läsk för 2200 yen (180 SEK). Burgaren serverades snabbt på vårt bord av den leende personalen, och detta var en rejäl burgare som nästan krävde att vi vred käken ur led för att ta en ordentlig tugga.
Trots storleken så var den snyggt och omsorgsfullt konstruerad, och vi gillade verkligen touchen med att bränna in logotypen på brödet. Själva brödet var härligt fluffigt precis som det brukar vara på japanska burgarhak, men det lyckades inte stå emot köttsafterna och den rinniga dressingen och blev ganska blött framåt slutet av måltiden. Ironiskt nog så var hamburgaren i sig ganska torr – delvis på grund av baconet – vilket var den svagaste delen. Som tur var så var Wagyu-köttet riktigt smakrikt, och det hade fått en ordentlig dos av salt och peppar. Det innehöll dessvärre några sega bitar vilket förstörde lite av njutningen. Det var lite blandat med andra ord, men överlag så var vi fortfarande nöjda. Pommes fritesen var riktigt goda, med en fin potatissmak och en rejäl krispighet som många kan ta lärdom från.
Shogun Burger är ett välkommet tillskott på den japanska burgarscenen, och trots några missar så har de potential att bli riktigt bra i framtiden.
In English
Shogun Burger is small Japanese burger chain with a handful of restaurants in Tokyo, Toyama and Nagasaki. We visited their restaurant in Tokyo's hectic Kabukichō district in Shinjuku. We easily placed our order from the machine, and opted for a double cheeseburger with bacon, plus fries and a soft drink for 2200 yen (21 USD). The friendly staff promptly came out with our meal, and the burger was a real beast that required us to almost dislocate our jaw in order to take a bite.
Despite its size, it looked great and had been constructed with care. We liked that they'd branded the bun with their logo as well. The bun itself was amazingly fluffy, something of the norm in Japanese burger joints, but it couldn't handle all the beef juices or the runny dressing and became quite soggy towards the end of our meal. Ironically, the burger itself felt a bit dry – partially due to the bacon – which was the biggest disappointment with our meal. Thankfully, the Wagyu beef was really tasty, and had been seasoned with great care. However, we did get a few chewy parts. A few hits and misses with other words, but overall we were happy with our meal. The French fries were great, with a nice potato flavour and a crispiness that really stood out.
Shogun Burger are a welcome addition to Japan's burger scene and have the potential to go far if they just manage to make a few key improvements.