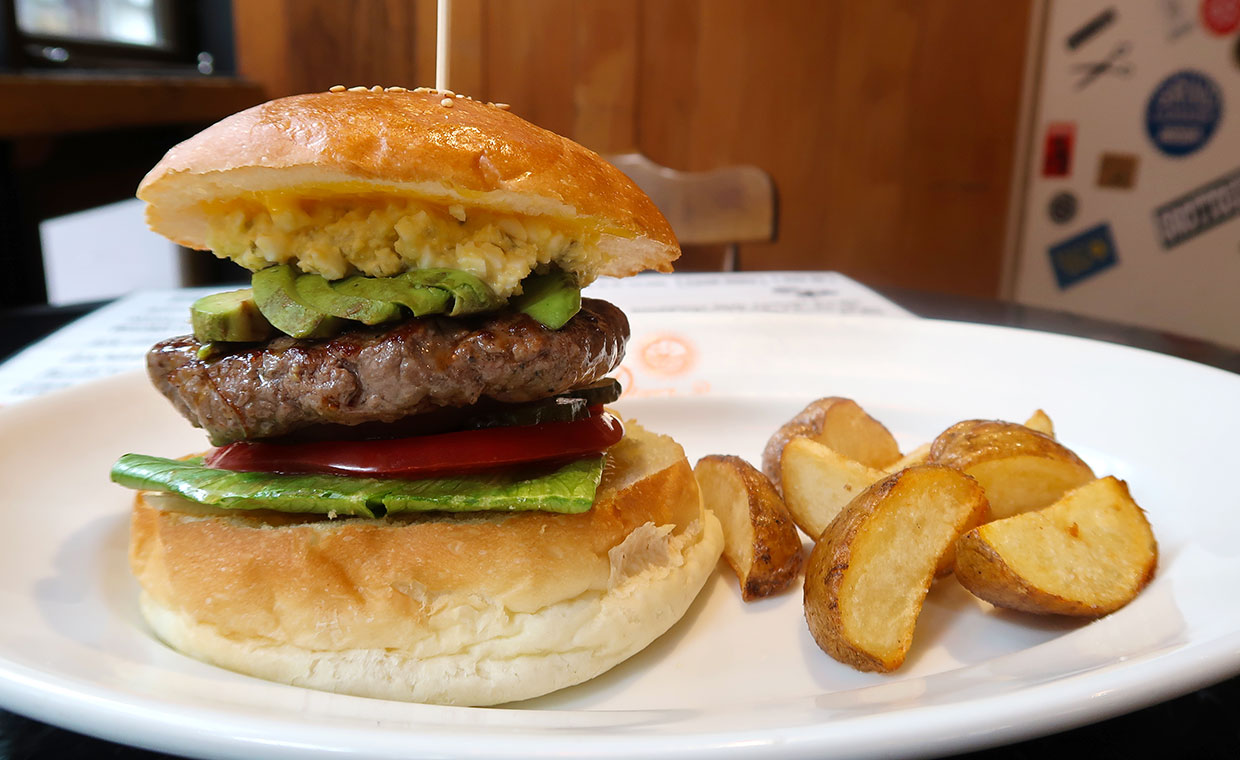 Sun2Diner hade tidigare en restaurang och en foodtruck i Tokyo. Vi besökte deras restaurang som numera har stängt, så om du vill hitta dem får du åka till foodtrucken som serverar lunch från sin fasta plats i Setagaya, några kilometer väster om Shibuya.
Sun2Diner är ett av de där ställena som ofta dyker upp när Tokyo-borna själva rekommenderar sina favoritburgare. Med ett formspråk och en stil kraftigt influerad av den amerikanska västkusten och dess skateboard- och surfkultur skapar de en cool och förtroendeingivande atmosfär, och den hipstriga omgivningen förstärker den känslan.
Menyn består av ett 15-tal olika burgare, samt en handfull andra rätter. Alla burgare serveras med en handfull potatisklyftor vid sidan av. Vi beställde en Avocado Tartar Burger för 1450 yen (cirka 130 kronor) med avokado, tartar (den japanska varianten med hårdkokt hackat ägg), stekt lök, tomat och sallad samt lite smält ost på underbrödet. Den höga och omsorgsfullt staplade burgaren serverades genomborrad av en pinne och med en flagga i toppen. Utifrån den rådande japanska burgarestestiken så klassades nog detta som en väldigt snygg burgare, men med svenska ögon kändes proportionerna skeva med en ganska liten köttpuck i förhållande till allt annat. Själva köttet var tyvärr även ganska hårt stekt och kompakt, återigen enligt den modell som av någon anledning är så populär här.
Brödet var fluffigt och snyggt rostat, och grönsakerna var fräscha och i lagom mängd. Avokadon och tartar-röran (med pickles, lök, hårdkokt ägg, majonnäs och lite senap) hade en mjuk och angenäm smak som gifte sig väl med köttet. Potatisklyftorna var helt okej, men fungerade mest som en palettrensare.
Sun2Diner gör egentligen ingenting direkt fel, men det finns heller ingenting här som gör deras burgare minnesvärda. De är egentligen mest värda ett besök om du redan befinner dig i närheten.
In English
Sun2Diner used to have a restaurant and a foodtruck in Tokyo. We visited their restaurant which has closed, so if you want to try them out you'll need to find their foodtruck that serves lunch from a fixed address in Setagaya, just west of Shibuya.
Sun2Diner is one of those burger joints that Tokyoites often recommend. They are clearly influenced by the American west coast's skateboarding and surfing culture, and their branding and the surrounding hipster areas really reinforce this feeling.
Their extensive menu consists of about 15 burgers and several other dishes. All burgers come served with a handful of potato wedges on the side, and we ordered an Avocado Tartar Burger for 1450 yen (about 13 USD) with avocado, tartar (the Japanese variety with chopped, hardboiled eggs), fried onions, tomato, lettuce and some melted cheese on the bottom bun. The meticulously and highly stacked burger was skewered with a long stick and a small flag, and really played into the Japanese esthetic. However, we found the proportions baffling, especially with the small patty. The meat was pretty tough and overcooked, which is something we've unfortunately become used to in Japan.
But the bun was fluffy and excellently toasted, and the vegetables were crisp and didn't take over too much. We liked the softness from the avocado and the tartar dressing (with pickles, onions, hardboiled eggs, mayo and some mustard), and the flavours worked great with the beef. And the small amount of potato wedges were alright, but mostly worked as a palate cleanser.
Sun2Diner don't really do that much wrong, but they haven't really found anything that makes their burgers worth visiting. If you're nearby you won't be disappointed, but they're perhaps not worth the trip out to Setagaya themselves.