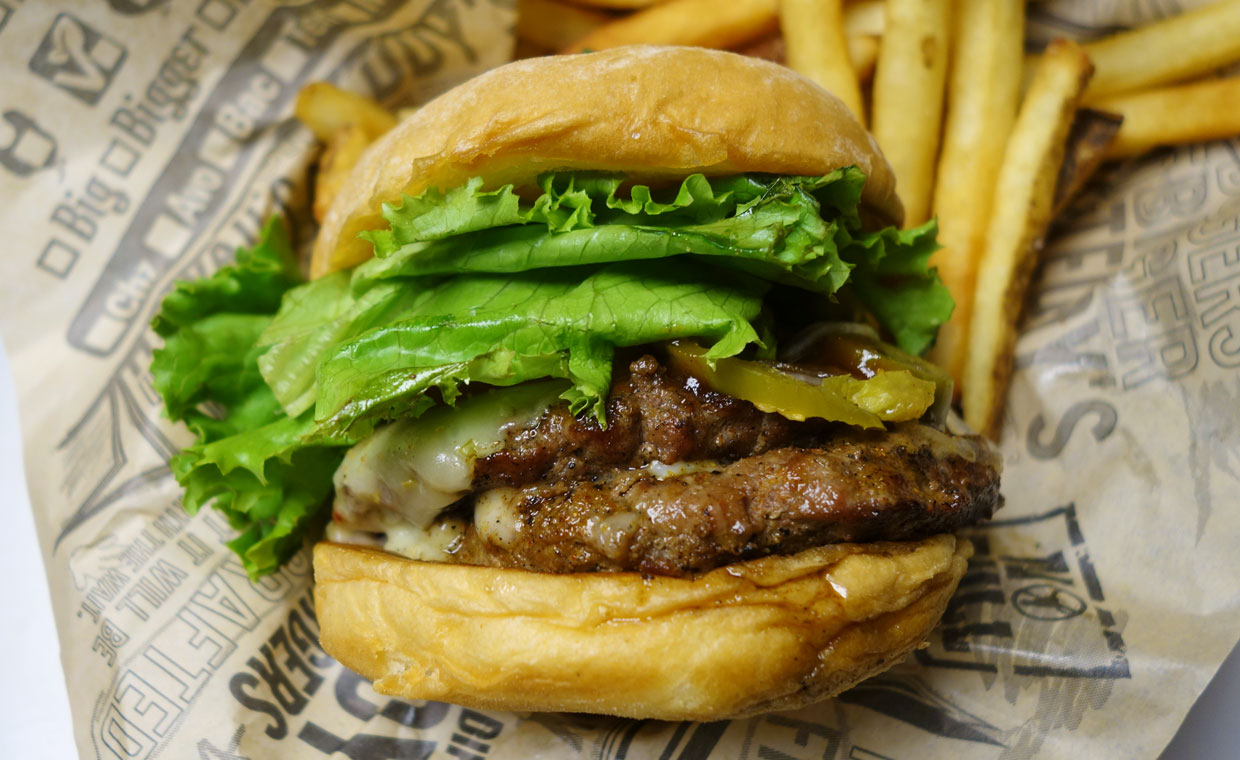 Teddy's Bigger Burgers är en hawaiiansk burgarkedja som serverar hamburgare gjorda på 100 procent färskmalen högrev, och de har restauranger på öarna Oahu och Maui. På senare tid har de även expanderat till USA:s fastland och till Asien. Vi besökte deras restaurang i Waikiki, Honolulu, och möttes av en gedigen meny.
Alla deras burgare innehåller dressing, sallad, tomat, lök och pickles, och vår dubbla Volcano Burger kom även med jalapeños, pepperjack-ost och den lokala barbecuesåsen Kilauea Fire BBQ. De två köttpuckarna på 113 gram vardera var stekta medium rare efter våra önskemål, men var tyvärr både smaklösa och ganska tuggiga. Konsistensen påminde nästan om frigolit, och hela burgaren var ganska slabbig och stabbig.
Men allt var inte dåligt. Brödet må kanske ha sett tråkigt ut, men det höll ihop väl och behöll sin stuns trots att allt var väldigt kladdigt. Dessutom så var barbecuesåsen och alla jalapeños riktigt goda, och gav en välbehövlig hetta till burgaren. Deras pommes frites var dessutom riktigt bra, med en härlig krispighet.
Efter måltiden kändes det rätt snopet att det var just köttet som var den svagaste länken, och vi lämnade restaurangen rätt besvikna på den hawaiianska burgarkulturen.
In English
The Hawaiian burger chain Teddy's Bigger Burgers has expanded from Oahu and Maui to the U.S. mainland and Asia, and we visited their Waikiki location in Honolulu. Our double Volcano Burger was served with two 1/4 pound patties from freshly ground chuck steak, pepperjack cheese, Kilauea Fire BBQ sauce, in addition to the regular lettuce, tomatoes, onions and pickles. But despite being pink in the middle, the patties were bland and chewy with almost a styrofoam like consistency. The entire burger was a bit of a mess, and was pretty hard to eat. To our relief, the bun held up pretty well and managed to contain all the juices. And we did like the toppings, such as the tasty jalapeños, the fiery BBQ sauce and their crispy fries. We just felt that the meat should have been better, and we left Teddy's Bigger Burgers a bit disappointed.