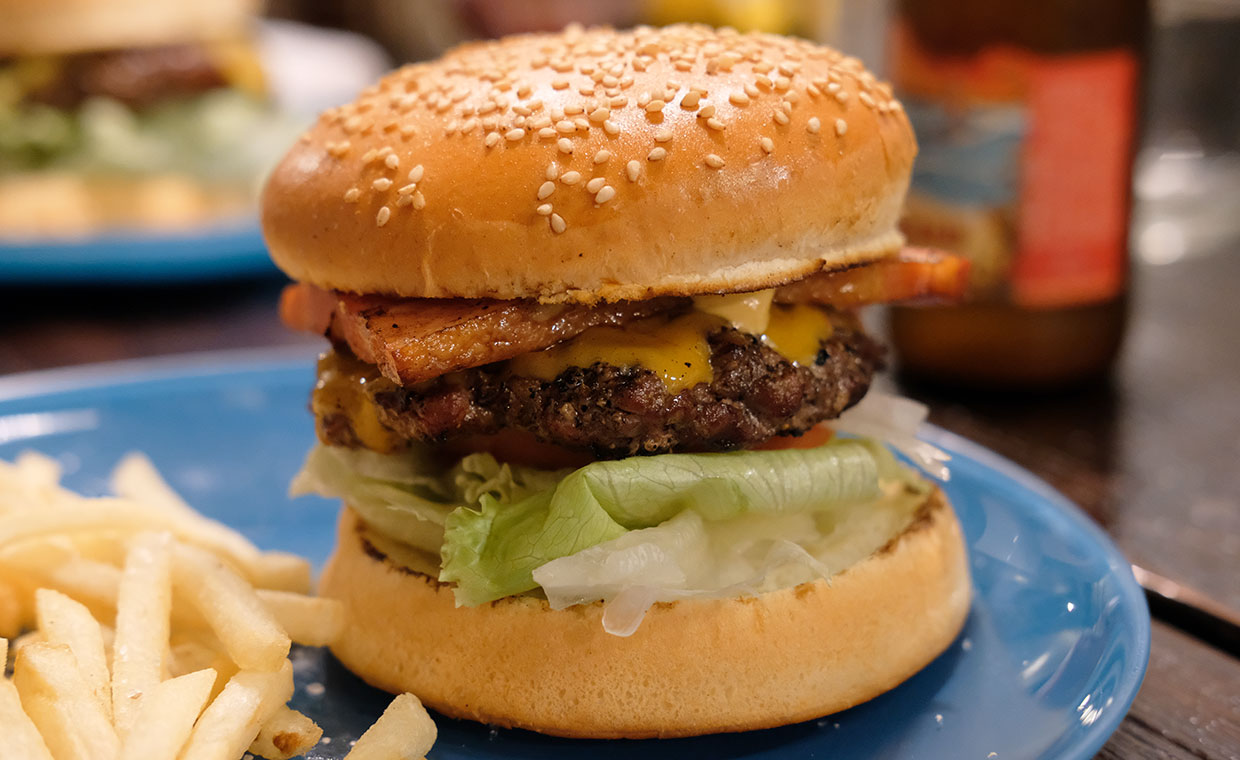 I det alltid livliga Shibuya-området i Tokyo ligger det lilla burgarhaket Whoopi Goldburger. Deras lokal – som egentligen bara består av en lång bardisk – genomsyras av en otroligt skön stämning, och det är svårt att slita blicken från väggarna som är fullsmockade med intressanta detaljer.
Deras meny består av nio burgare som har fått ordvitsiga namn efter olika kända skådespelare, som Sarah Jessica Burger och Charlotte Gains-Burger, och vårt val föll på deras Kevin Bacon Burger. Baconburgaren, som kostade motsvarande 100 kronor, serverades med en riktigt tjock baconskiva, en tjock skiva tomat och en rejäl näve sallad.
Burgarens smak höll tyvärr samma klass som utseendet, och var inte alls särskilt bra. Det tjocka baconet, som nästintill kunde liknas med kassler, var både segt och svårtuggat. Resten av ingredienserna lämnade också mycket att önska. Köttet var torrt och alldeles för hårt packat, och även brödet kändes trött och imponerade inte på oss alls. Däremot måste vi säga att pommes fritesen var väldigt goda, och hade en rejäl krispighet.
Vi önskade att vi kunde säga att burgarna på Whoopi Goldburgers höll samma klass som den coola lokalen och den trevliga personalen, men så var tyvärr inte fallet. Detta var helt enkelt en medioker gatuköksburgare serverad i en riktigt cool förpackning.
In English
Whoopi Goldburger can be found in the always lively Shibuya district in Tokyo. This cool burger joint basically consist of a long bar counter, and their walls are slammed with interesting details. Nearly all their burgers have pun-tastic names based on famous Hollywood actors, and we chose their Kevin Bacon (Burger), which was served with a really thick slice of bacon and an excessive amount of lettuce. Sadly, the thick bacon was way too chewy and the patty was compact and dry. The bun didn't really inspire us either, but we must say that the fries were surprisingly good. We just wish their burgers had been as cool as the atmosphere and the staff, but sadly that wasn't the case.