Pigzilla gör comeback på Bastard Burgers
Pigzilla vs. Fejkzilla - hela november 2019
Nyhet skriven av
Toby Lee
, 31 oktober 2019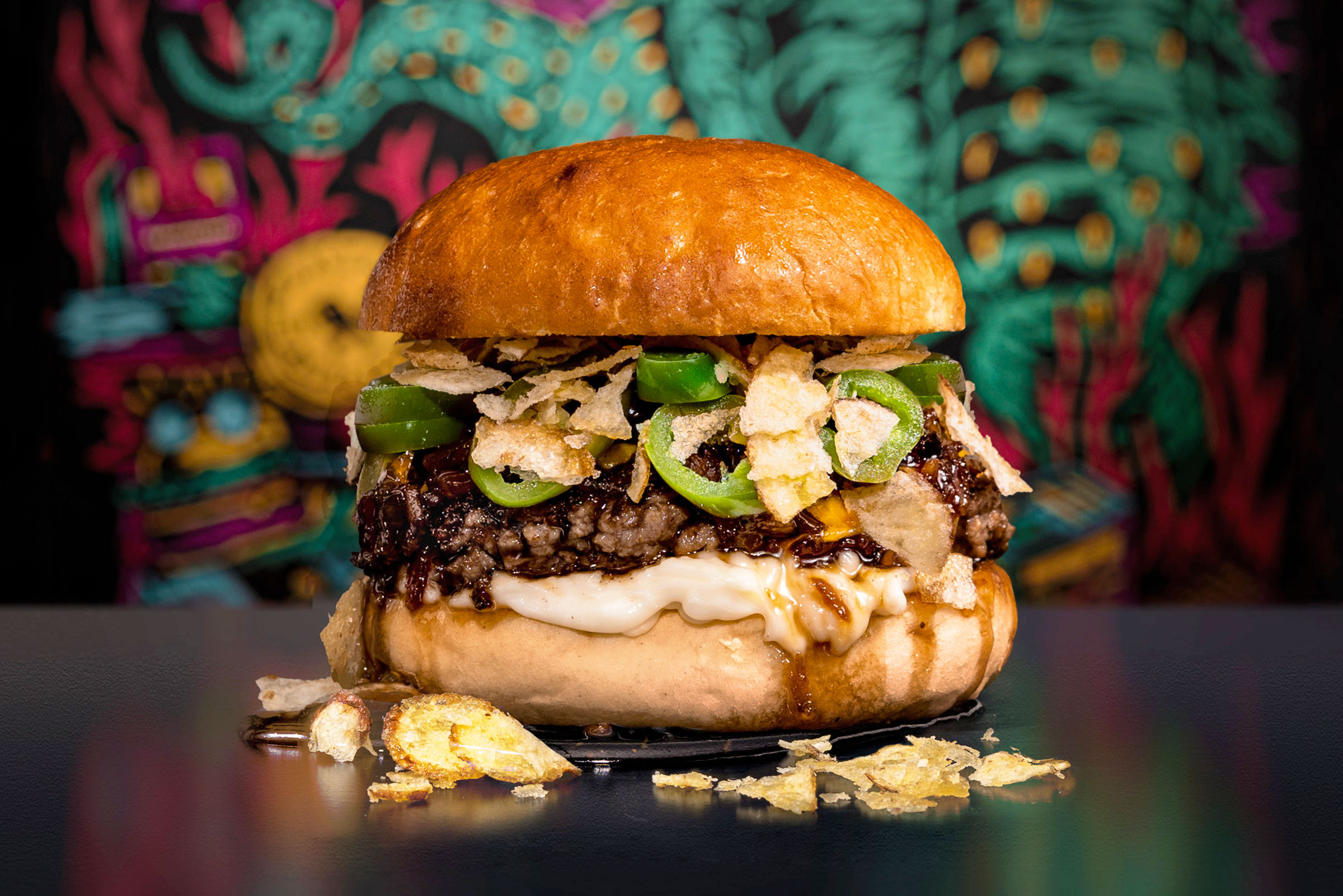 Pigzilla gör comeback! Vår fantastiska kampanjburgare återvänder till Bastard Burgers (och Bronx Burgers) för tredje året i rad! Denna sviniga skapelse innehåller en fantastisk baconsylt, cheddarost, lättkrossade potatischips, krämig majonnäs och picklade jalapeños. Tillsammans bildar de en perfekt harmoni av härlig sälta, balanserad sötma och ljuv hetta. Bered dig på en grisfest utan dess like!
Sveriges största veganblogg Jävligt Gott gör dessutom en vegansk tolkning av vår grymt goda skapelse. Fejkzilla innehåller en vegansk "köttpuck", fejkonsylt, en vegansk ostkräm, lättkrossade potatischips, vegansk majonnäs och picklade jalapeños. Se hur han har skapat de veganska ingredienserna med oss på Burgerdudes i de tre filmerna på hans YouTube-kanal.
Båda burgarna är hutlöst goda, och vi är supertaggade på att låta alla få njuta av Pigzilla och Fejkzilla på alla till Bastard Burgers restauranger (samt Bronx Burgers i Malmö) under hela november!
In English
Pigzilla returns – wilder than ever! Our amazing burger has arisen once more to wreak havoc at till Bastard Burgers (& Bronx Burgers) for the third year running. Our chaotic creation is filled with a decadent bacon jam, smooth cheddar, crushed potato chips, creamy mayo and pickled jalapeños. Combined, these ingredients strike a perfect sweet, fiery and savoury balance that will knock you off your feet. It's time to pig out again!
And Jävligt Gott – Sweden's largest vegan blog – presents a vegan take on our monster of a burger. Fejkzilla contains a vegan patty, a vegan cheese mix, crushed potato chips, vegan mayo and pickled jalapeños. See how he created vegan mayo, bacon and cheese with us in the three films on his YouTube channel.
Both burgers are real knockouts, and we're super excited to let everyone get a taste of Pigzilla and Fejkzilla in all of till Bastard Burgers' restaurants (plus Bronx Burgers in Malmö) throughout November!