Våra augustiburgare för Bastard Burgers
Tre grymma burgare som passar alla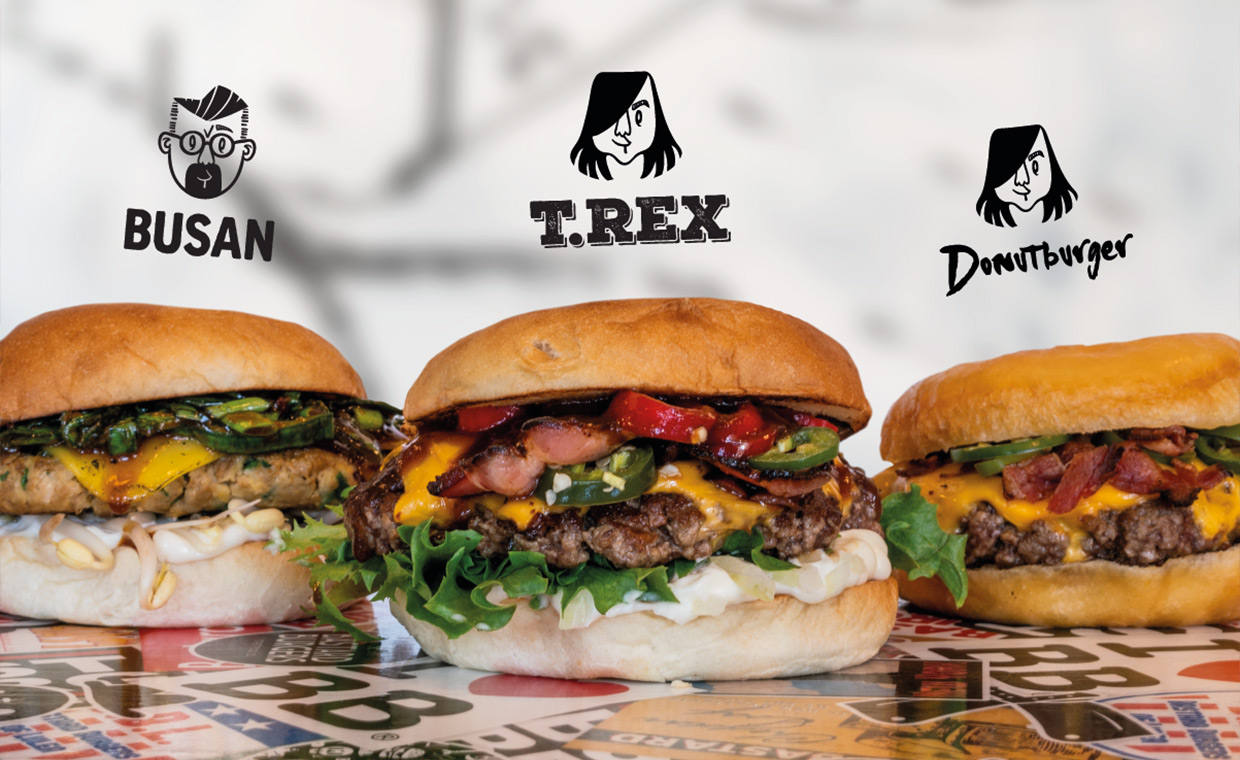 Som vi har nämnt tidigare kommer vi att göra en meny-takeover under augusti och september för Bastard Burgers. Nu har vi äntligen utannonserat vilka tre burgarna som kommer att serveras under augusti.
T.Rex av Toby Lee.
T. Rex är en återvändande favorit från vår meny-takeover förra året, och det fanns ingen tvekan om att den skulle göra comeback. Tobys rökigt heta favoritburgare innehåller knaprigt bacon, en gudomligt eldig barbecuesås, röd och grön inlagd chili, majonnäs, gul lök och sallad. Den är precis så god som den låter.
Busan av Marcus Sjöström.
Busan är den spirituella uppföljaren till De La Seoul – vår vegetariska burgare under förra årets menytakeover. Den är döpt efter Sydkoreas näst största stad, och tar med dina smaklökar på en spännande semesterresa. Hetta och sötma från den koreanska bbq-såsen, fräsch krisp från salladslök, purjolök och böngroddar samt krämig ost som rundar av upplevelsen. Och den är 100 % vegansk, så det finns inga ursäkter att inte prova den!
The Donut Burger av Toby Lee.
Det här är vår hyllning till Flippin' Burgers kampanjburgare "5-0", som vi faktiskt åt samma dag som vi lanserade Burgerdudes.se för snart 4 år sedan. Donutburgaren innehåller knaprigt baconhack, krispiga jalapeños och krämig cheddar, med en sockrad donut istället för bröd. Vi älskar den perfekta kombinationen av hetta, sötma och sälta. Den är makalöst fantastisk och försvinnande god.
In English
T. Rex:
T. Rex returns from our menu takeover last year, and has been overdue for a comeback ever since. Toby's hot and smokey favourite has got crunchy bacon, an amazing bbq sauce, red and green pickled chilis, mayo, onions and lettuce. It's just as tasty as it sounds.
Busan:
Busan is the spiritual successor to De La Seoul, our vegetarian burger from last years' menu takeover. Named after South Korea's second largest city, it'll take your taste buds on an exciting holiday trip. Heat and sweetness from the korean bbq sauce, fresh crispness from scallion, leek and bean sprouts, and some creamy cheese to top it off. And it's 100 % vegan, so there are no excuses not to try it!
The Donut Burger:
The Donut Burger is our tribute to the 5-0 from Flippin' Burgers that we first ate about 4 years ago – on the same day that we launched Burgerdudes. It's got crunchy chopped bacon, crispy jalapeños and creamy cheddar, with a sugar donut instead of a bun. We love the perfect mix of heat, sweetness and saltiness, and urge you to eat one if you haven't tried it already.