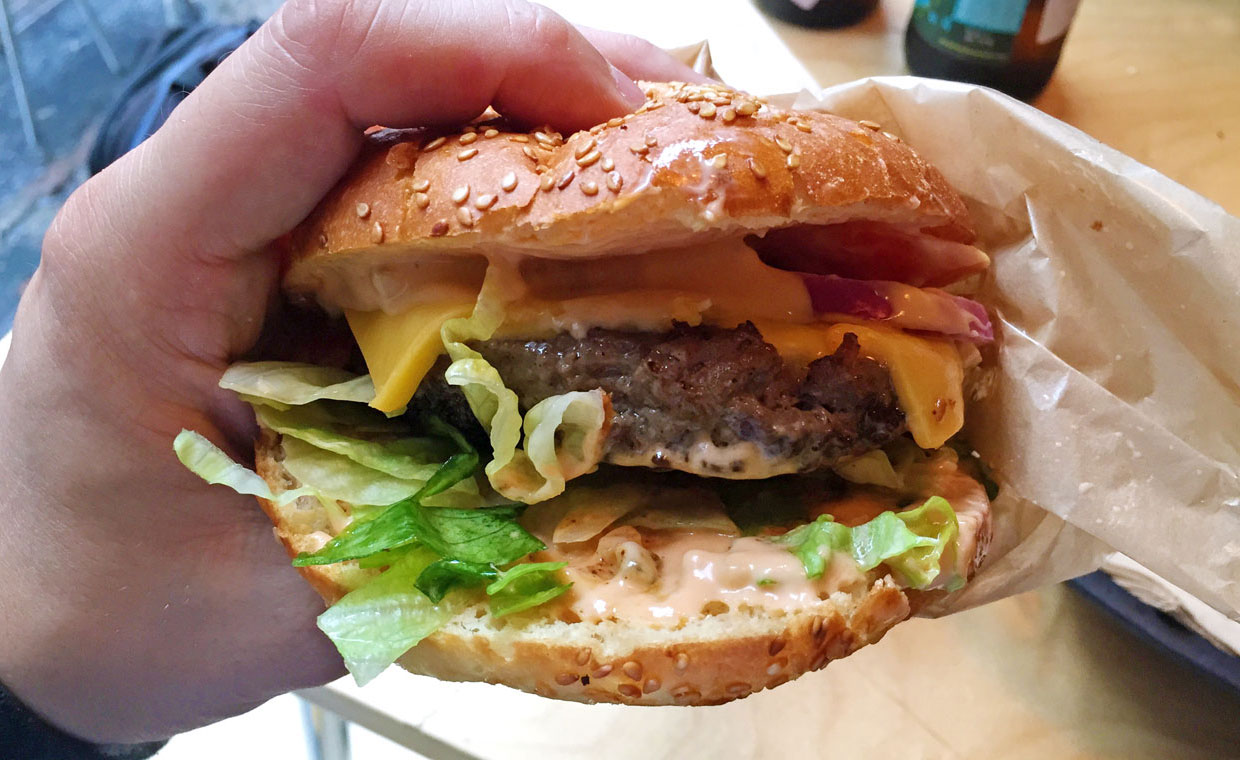 Munchies har två restauranger i Oslo; den ena centralt och den andra på hippa Thorvald Meyers Gate precis norr om centrum. Inredningen är spartansk i skandinavisk stil, och menyn lockar med en handfull olika burgare för cirka hundra norska kronor – stiligt uppradade på en upplyst skylt ovanför kassan.
Valet faller på en Classic för 106 norska kronor med sallad, tomat, rödlök, cheddar och dressing, samt en påse pommes frites för ytterligare 38 norska kronor. Det är helt klart humana priser – vi är ju trots allt i Norge.
När burgaren väl kommer in grusas tyvärr våra förhoppningar om en fantastisk upplevelse. Det sesamprydda brödet är torrt och alldeles för bred för köttpucken, som ligger dold i mitten. Och trots att köttet är mjukt mediumstekt smakar det inte särskilt mycket alls, och det är smakerna från den oinspirerade dressingen som får ta täten här.
Pommes fritesen är krispigt friterade och snyggt serverade i en papperspåse, men de smakar nästan ingenting då de knappt har saltats. Och utan salt på bordet får vi än en gång förlita oss på ketchup som måltidens smaksättare.
Inga av komponenterna på Munchies imponerar, och det mest positiva med besöket är deras ölutbud med godbitar från bland annat Kona Brewery.
In English
With two locations in central Oslo, Munchies have become quite popular in the Norwegian capital. They're quite decently priced, and the sleek Scandinavian interiors suit their theme well. Unfortunately the burger itself doesn't impress us at all, with a far too large sesame bun that's dry and unroasted. The patty itself is cooked to a nice medium, but could do with some seasoning. The fries, although nicely deep-fried and stylishly served in a paper bag, were hardly salted at all. The only thing that really impressed us was their beer selection.