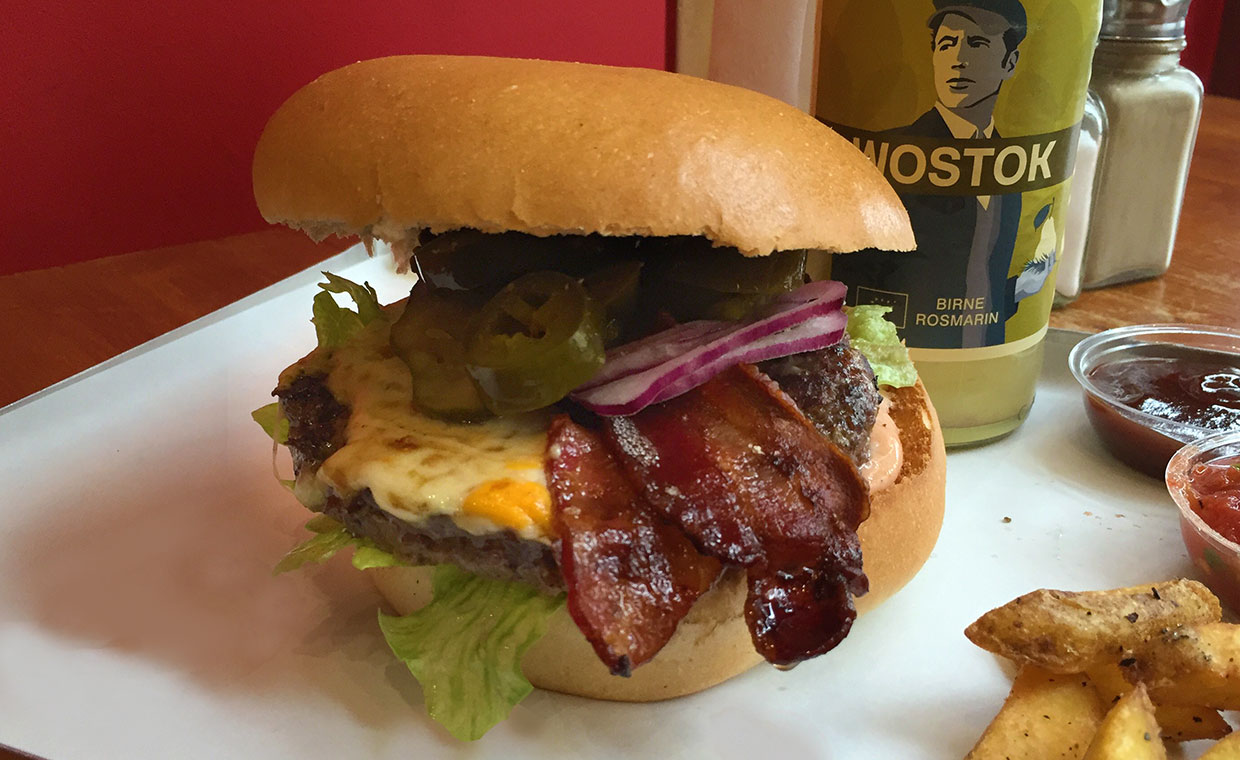 Barn Burger ligger centralt beläget i Warszawa, precis vid shoppingstråket öster om kulturpalatset. Lokalen är inredd med färgstarka detaljer och ser bohemiskt charmig ut.
Vi beställde en Muppet Burger, som var en 200-gramsburgare med ost, bacon och jalapeños. Till detta ingick även pommes frites, coleslaw tomatsalsa och barbecuesås, och totalpriset var endast 23 zloty, vilket är strax under 60 kronor. Där tog dessvärre de flesta av de positiva aspekterna slut, för burgaren visade sig vara riktigt tråkig.
Brödet var torrt och alldeles för stort, och trots att köttet var lätt rosa så var det torrt och inte ett dugg saftigt. Det smakade i princip ingenting och var alldeles för hårdpackat. Osten var av en gummiaktig mozzarellatyp, som lade sig som ett täcke över köttet istället för att smälta krämigt över burgaren. De två väl tilltagna baconskivorna var åtminstone krispiga, och utgjorde måltidens höjdpunkt tillsammans med den lilla portionen pommes frites. De tre små tillbehören var lika trista de; med sockersöt BBQ-sås, vattnig salsa och en finhackad coleslawsörja som alla kändes helt onödiga.
Warszawa må ha en bit kvar innan det blir en burgarstad av rang, men det finns definitivt bättre ställen än Barn Burger redan nu.
In English
Centrally located in the shopping district just east of The Palace of Culture and Science in Warsaw, Barn Burger promises hefty 200 gram burgers at low prices (for around 20 zloty with fries). Unfortunately they've done most things wrong, with far too big buns surrounding the dry and unseasoned meat. The stringy cheese was a hassle, and the accompanying salsa, BBQ sauce and coleslaw were all disappointing. The only things we really liked was the crispy bacon and the (too small) portion of fries.