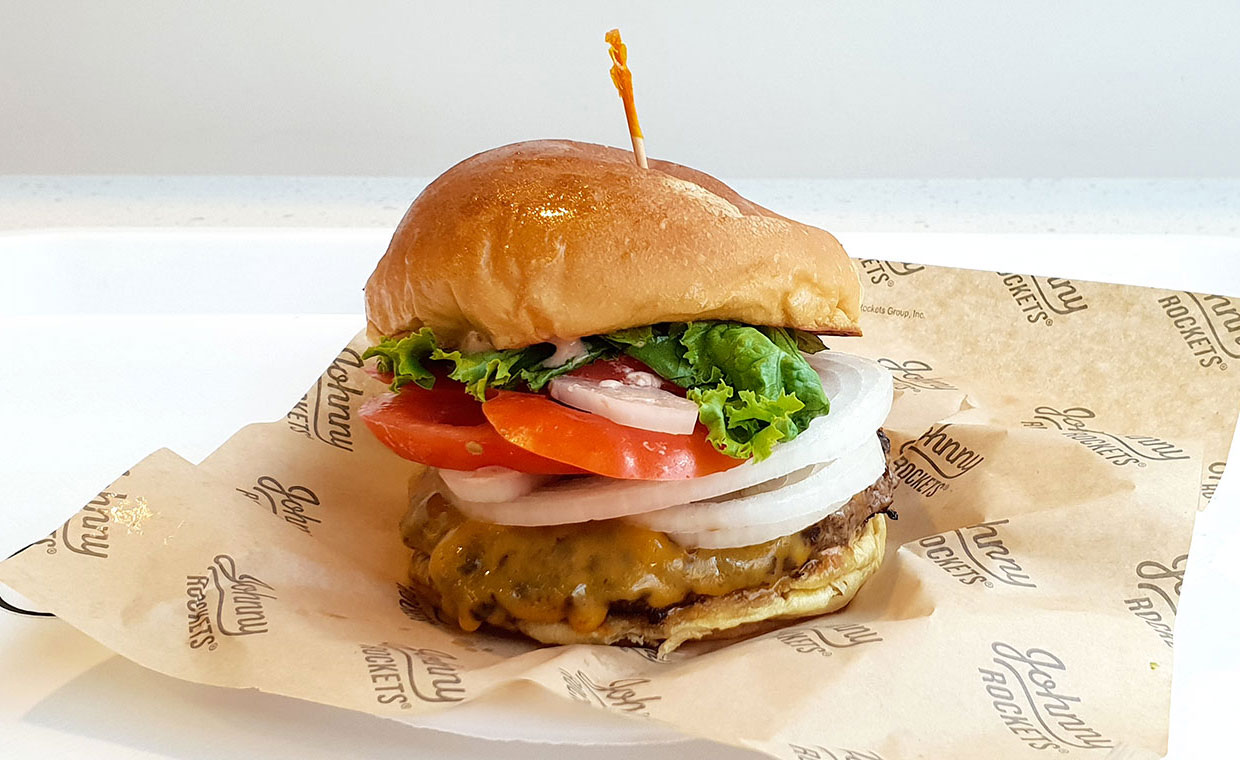 Johnny Rockets är en amerikansk hamburgerkedja med 50-talstema som öppnade sin första restaurang i Los Angeles redan 1986. I dag har de cirka 320 restauranger runt om i hela världen, och trots att majoriteten av dessa ligger i USA så finns de lite varstans – bland annat i Oslo. Menyn består av 8 burgare varav ett vegetariskt alternativ i form av en bönburgare.
Vid vårt besök på restaurangen i Scottsdale, Arizona föll valet på signaturburgaren "Rocket Single" bestående av en köttpuck gjord på Angus-biff, sallad, tomat, rå lök, Wisconsin-cheddar samt deras egen specialsås. Burgaren var saftig och hade en bra köttsmak även om den var lite väl hårt stekt för vår smak. Grönsakerna kändes fräscha med en härlig krispighet samtidigt som cheddarosten definitivt var ett steg upp från den vanliga standarcheddarn. Brödet var mjukt och hade en fullt godkänd smak men gav oss ändå en känsla av köpebröd. Dressingen smakade som en vanlig svensk hamburgerdressing och var helt okej utan att på något sätt glänsa.
Johnny Rockets serverar en typisk amerikansk medelburgare av snabbmatstyp. Deras burgare smakar gott och gör sitt jobb utan att konkurrera med de bättre burgarna i USA.
In English
Johnny Rockets is a 50's diner themed burger chain with around 320 restaurants all over the world, but mainly in the U.S. We visited one of their restaurants in Scottsdale, Arizona and ordered their signature "Single Rocket" with an angus beef patty, lettuce, tomato, raw onions, Wisconsin cheddar and their special sauce. The burger had a nice beefy flavour and decent juicyness even though it was cooked a bit too long for our liking. The veggies were fresh and crispy and the cheddar was a nice step up in quality from the standard cheddar cheese. The bun was soft and tasted good, but had a slightly industrial feeling to it, and the dressing didn't add much of anything. Johnny Rockets is a typical mid-range burger chain with good burgers that don't really aspire to being anything else than that.