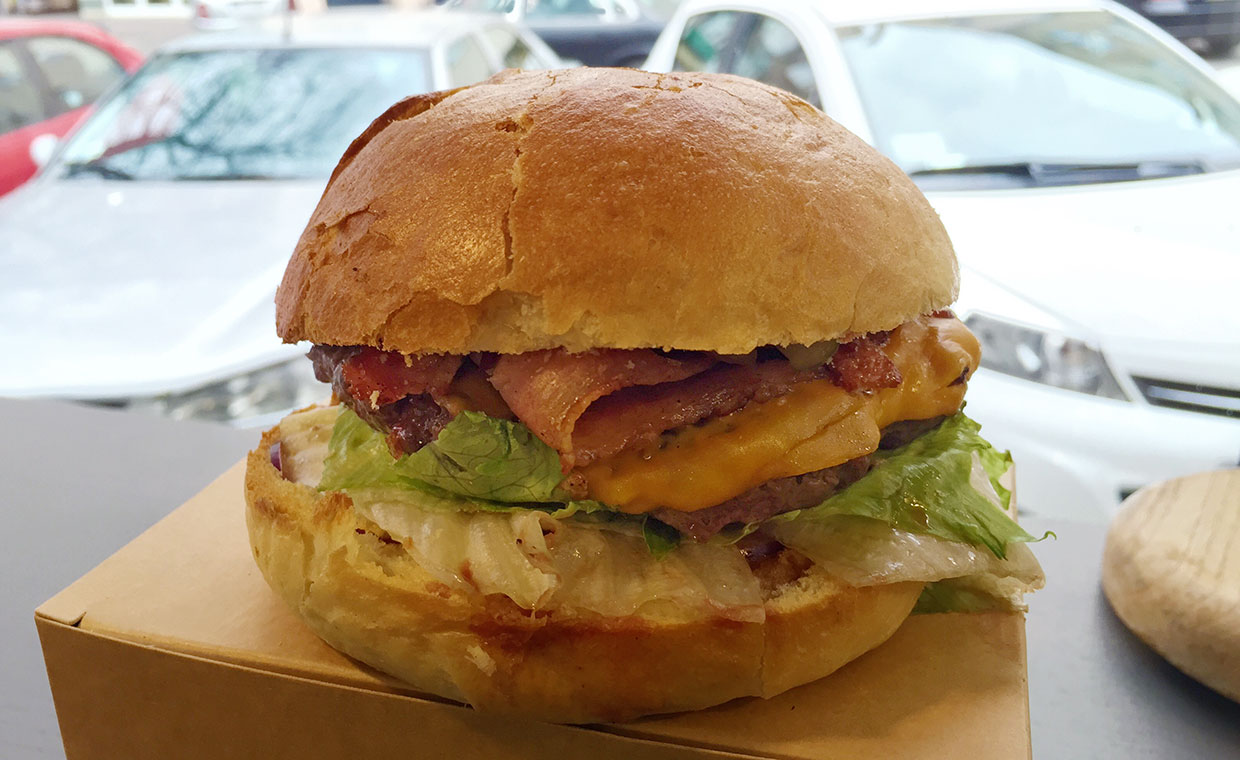 De senaste åren har Warburger fått ett riktigt gott rykte, och de har utnämnts till Warszawas bästa burgare ett flertal gånger. De har dessutom precis öppnat en riktig restaurang norr om centralstationen, men vi besökte deras klassiska lilla burgarstuga i den hippa stadsdelen Mokotów. Den stilrena svarta kiosken ligger i en liten park, och här finns endast en handfull sittplatser.
Menysortimentet är stort, med ett rejält utbud av burgare – vanliga, vegetariska och med spännande varianter som hjortkött – men valet föll på en klassisk cheeseburgare med extra bacon. Pommes fritesen serveras tydligen endast på deras nya restaurang, men den enkla burgaren var åtminstone föredömligt billig – 19 zloty är drygt 40 kronor.
Cheeseburgaren serverades i en snygg pappförpackning, men det första som märktes var att brödet hade en nästan stenhård och småfralleliknande skorpa högst upp som faktiskt fick brytas loss och kastas för att burgaren ens skulle kunna ätas ordentligt. Fast när det var gjort gick det i alla fall att njuta av den, och köttet var smakrikt, saftigt och fint mediumstekt. Milolette-osten var också god, men baconet tillförde inte något särskilt till måltiden.
Warszawa har hippa ambitioner, men inte ens deras främsta burgarhak lyckas vara bättre än bra.
In English
Warburger has a reputation of being Warsaw's best burger joint, and they've just opened a new centrally located restaurant. However, we visited their classic little black burger hut in the Mokotów district and ordered a cheeseburger with bacon. The flavours were pretty good, with a nicely medium grilled and juicy patty, but the bun was a let-down with a hard crust on top that had to be broken off before sinking our teeth into it. Excellently priced, we were satisfied – but not much more than that. Warsaw still has a long way to go.