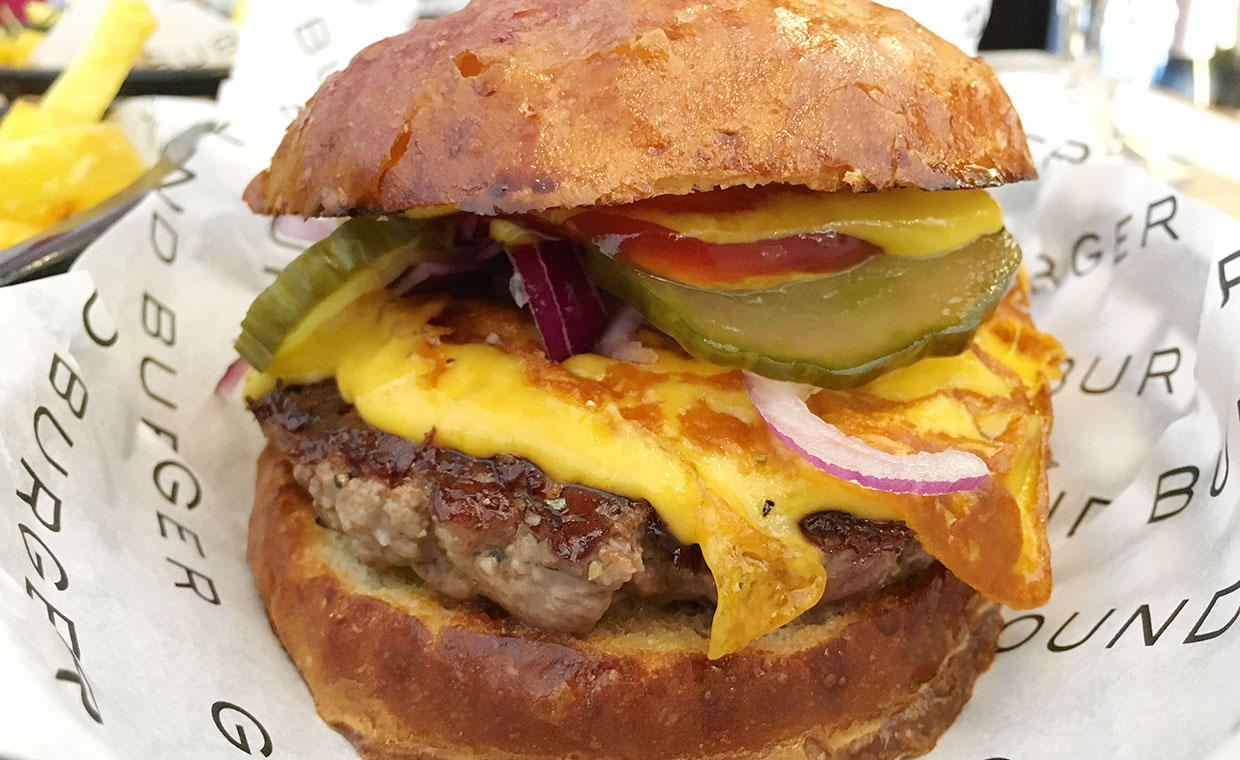 Nära Gulbenkian Park i centrala Lissabon ligger burgarhaket Ground Burger, som sedan 2015 har varit ledstjärnan för burgarkulturen i staden. Förutom att locka med USDA-märkt kött och egenbakat bröd erbjuder de även ett imponerande ölutbud som tillfredsställer den kräsnaste av ölnördar.
Lokalen var ljus och rymlig med stora fönster, och vi skulle verkligen kunna hänga här större delen av kvällen. Menyn var gedigen med tio fasta burgare och en gästburgare. Vi beställde husburgaren "Ground Burger" med cheddarost, sallad, tomat, stekt rödlök, ketchup, senap, pickles och deras hemmagjorda specialsås för 10 euro. Servitören frågade hur köttet skulle tillagas – något vi alltid uppskattar – och vi följde den rekommenderade stekgraden medium.
Vår hamburgare serverades snabbt därefter, och vi kunde snabbt konstatera att detta var en burgare som hade skapats med kärlek. Brödet var fluffigt med helt rätt textur, köttet var saftigt med en bra stekyta och alla smaker satt som de skulle. Den enda negativa detaljen var att burgarens pickles var kylskåpskalla, vilket förstörde en liten del av den annars riktigt fina helheten.
Pommes fritesen vi köpte till för 3 euro var riktigt bra med en tillfredsställande krispighet och en redig potatissmak. Överlag var vi så pass nöjda med vårt besök hos Ground Burger att vi kan säga att de serverar den godaste burgaren vi har käkat i Sydeuropa.
In English
Ground Burger are located near Gulbenkian Park in central Lisbon, and it's obvious that they take pride in their burgers. They bake their buns twice a day, their meat is certified Black Angus beef that's ground every day and they have a impressive beer selection. We ordered their Ground Burger with cheddar cheese, lettuce, tomato, mustard, ketchup, pickles, grilled red onion and their homemade special sauce for 10 Euros. The patty was juicy and had a nice crust, with all the flavours on point, and it was enclosed in a really good and sturdy bun. The only thing that marred our overall impression was the cold pickles, but that's nitpicking. We can confidently say that Ground Burger serve the best burgers in southern Europe. Don't miss this gem the next time you're in Portugal.