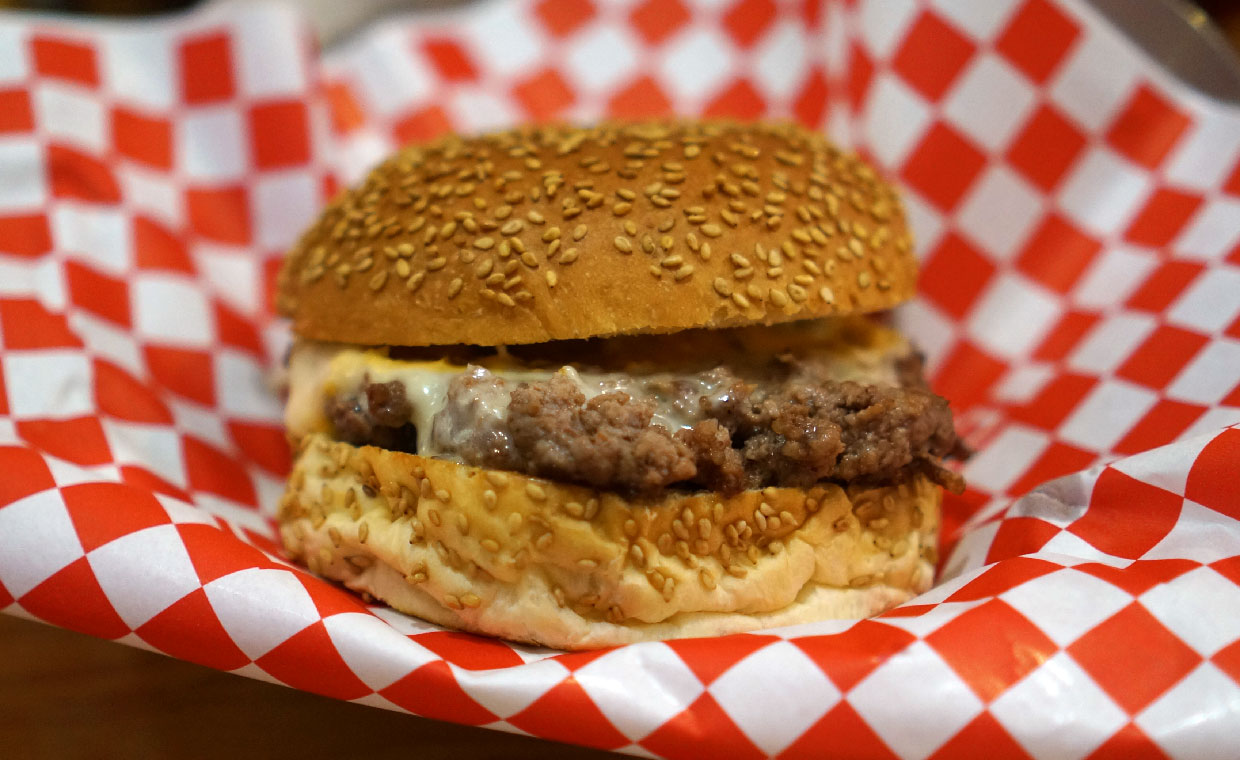 Firebell är beläget i Daechi-dong i det kända Gangnam-området i Koreas huvudstad Seoul. Restaurangen ser ut som en klassisk diner, och vid vårt besök fanns det åtta olika burgare på menyn, och flera av dem innehöll chili eller starka såser.
Vi valde en Habana med vit cheddarost och en majonnäsbaserad sås med hackade jalapeños. Burgarna vi blev serverade såg ganska trista ut med bleka färger och massor av sesamfrön på brödet, men lyckligtvis bedrog skenet. Det stora brödet var fluffigt, lätt rostat och höll ihop bra. De rekommenderade genomstekt kött, vilket vi i efterhand ångrar att vi gick med på då vi hade föredragit det lite mer rosa. Men med det sagt var det ändå saftigt med bra smak. Osten var snyggt smält över köttet, men bidrog inte med så mycket smak.
Starkast intryck, på alla sätt, gjorde jalapeño-majonnäsen som visade sig ha en riktigt generös hetta som lämnade oss svettiga i pannan, men som samtidigt gav mersmak. Den lilla eldsymbolen intill burgarna överdrev verkligen inte. Prisläget var bra: motsvarande 70 kronor för enbart en burgare och 30 kronor extra för en meny med pommes frites och läsk. Vi testade både pommes fritesen och deras cheese sticks, som var godkända men inte så mycket mer än så.
Firebell är en trevlig restaurang med engelsktalande personal och stabila burgare som vi helt klart rekommenderar. Värt att notera är att de har stängt på måndagar.
In English
Firebell is located in Daechi-dong in Gagnam in Seoul. It has got a classic diner style look and feel, and when we visited they had 8 different burgers on the menu and several of them had some sort of chili or hot sauce on them. We went for the Habana with american white cheddar and a mayo based sauce with chopped jalapeño peppers. The burger looked a bit bland, but the looks were deceiving. The bun was on the big side, but it was nice and fluffy and stayed together well. They recommended a medium well patty and we agreed, but in hindsight it was a bit too well done for our liking. The meat was still juicy and had a nice taste though. The real surprise was the jalapeño mayo – after a few bites an intense heat spread from the back of the mouth to, well everything else. It was a nice, warm heat that made you want more, but if you don't like spicy food you should avoid some of the alternatives on the menu since they truly are fiery hot. We also tried their fries and the cheese sticks and the sides were good, but nothing special. You get a burger for around 8000 won, and fries plus soda for 4000 won extra, so the price is good. The staff was friendly and spoke english so we had no problem getting our orders right. We would gladly come back and warmly recommend a visit when you're in Seoul. Be aware that they are closed on Mondays.