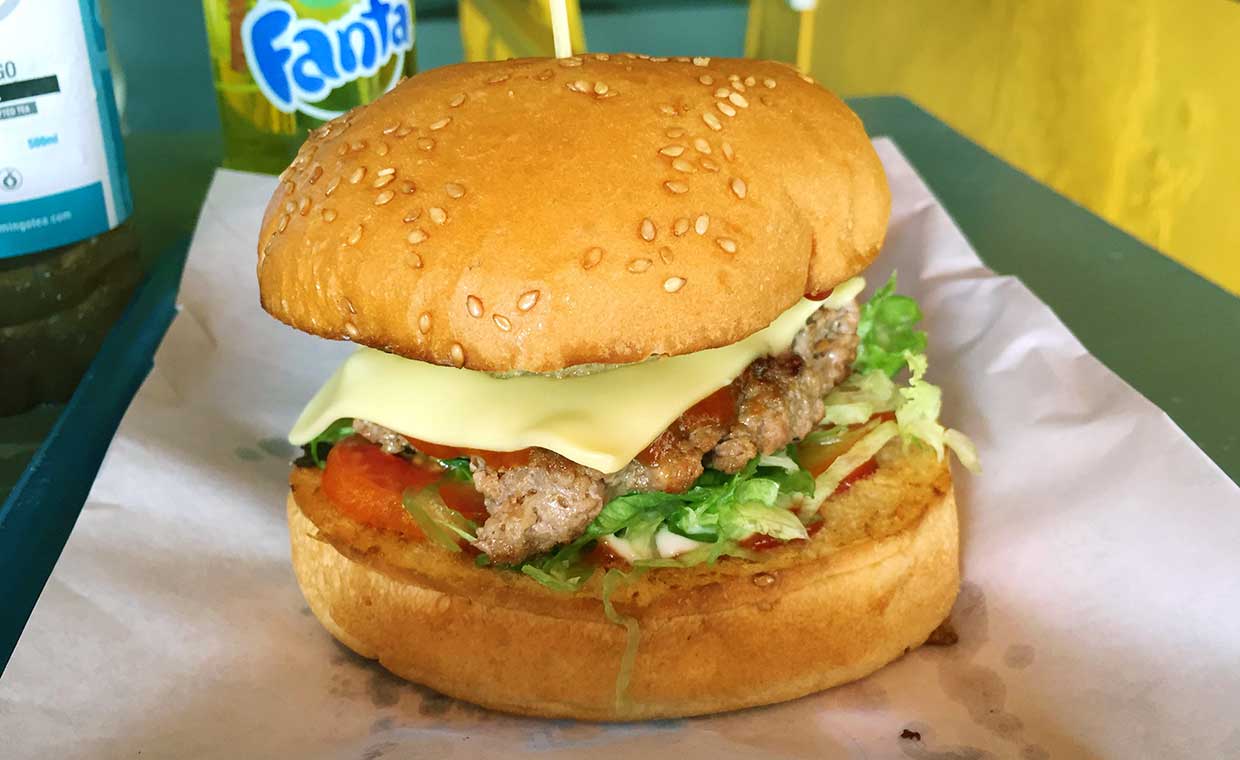 Sri Lanka är inte känt för sina hamburgare, och när vi gjorde efterforskningar innan vår avresa var det faktiskt bara ett ställe som verkade någorlunda lovande; nämligen Rocket Burger i sydkuststaden Galle. Den lilla lokalen i Galle Fort var fräsch och bestod av en nedervåning med ett öppet kök och en övervåning med sittplatser. Allt var snyggt inrett med grå betong och illgula inredningsdetaljer, och menyn bjöd på burgare med biff, kyckling, fisk eller vegetariska puckar.
Gringoburgaren med läsk och pommes frites för motsvarande 75 kronor innehöll en köttpuck, ost, barbecuesås, rå och karamelliserad lök, chilimajonnäs, senap och ketchup. Köttpucken var rätt saftig trots att den var genomstekt, men smakade tyvärr inte särskilt mycket. Dessutom var brödet lite för tuggigt. Men pommes fritesen var krispigt friterad och smakade gott – mycket bättre än de sladdriga och dyra mac & cheese-bollarna. Den vegetariska burgaren bestod mestadels av ris och var ganska trist och mosig.
Deras iste av märket "Blue Flamingo Ice Tea" var i alla fall hutlöst gott och otroligt törstsläckande, och även om själva burgaren inte var fantastisk så fyllde den sin funktion. Rice & curry är såklart jättegott, men om du är sugen på lite västerländsk variation kan det helt klart vara värt att besöka Rocket Burger.
In English
Sri Lanka isn't known for its burger culture, but Rocket Burger in the southern city of Galle is at least making an effort. The results are a bit mixed though. On one hand their prices are good, with deliciously crispy fries and a homemade ice tea that's amazingly refreshing, but on the other hand the patty was quite bland and the bread too chewy – and their overpriced mac & cheese balls were soggy and tasteless. However, if you want some variety from the (admittedly excellent) local cuisine, Rocket Burger will do in a pinch.