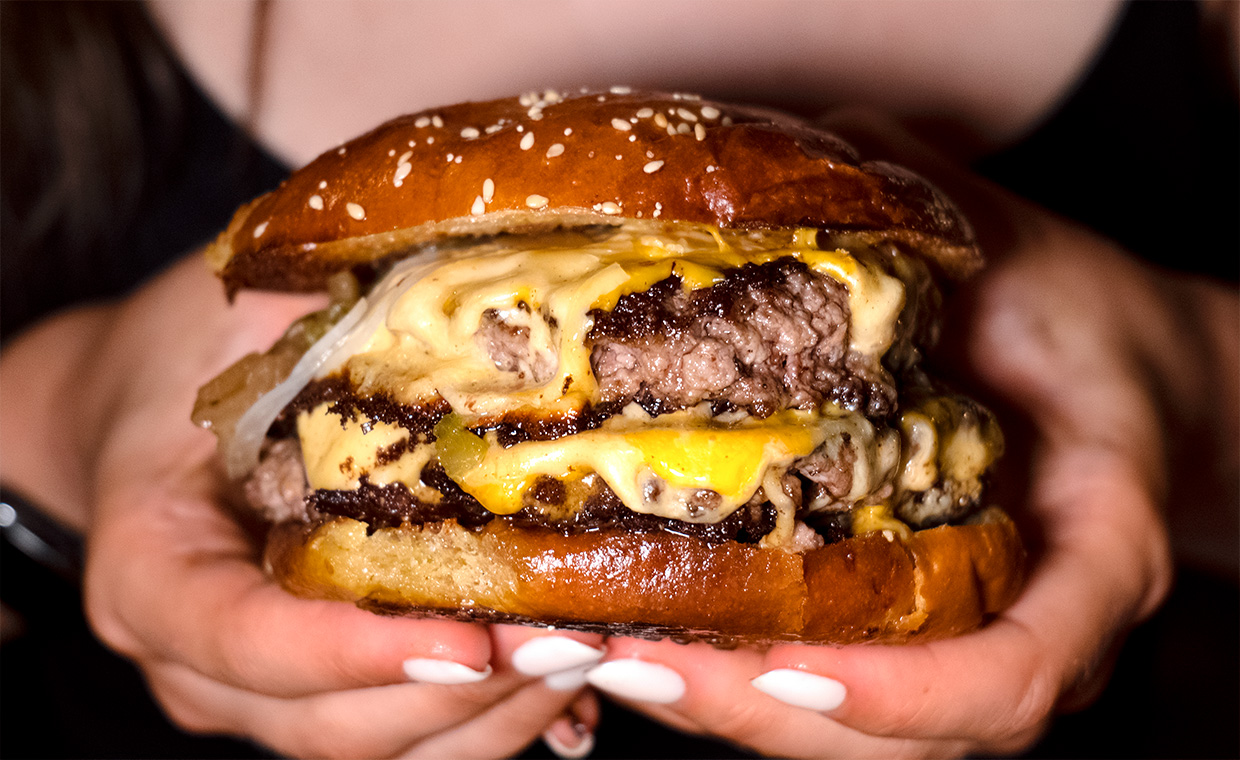 Rost i Ängelholm är en av våra mest efterfrågade recensioner, och förväntningar var höga när vi anlände till den lilla rockbaren. Deras rejält tilltagna meny innehåller nästan 15 olika burgare, och vi beställde en White Wedding med tre 90-gramsköttpuckar, pepperjack-ost, cheddarost, brynt lökmarmelad, silverlök, jalapeños, friterad lök och hamburgerdressing för 239 kronor samt donutburgaren Dirty Deeds med två 90-gramsköttpuckar, cheddarost, bacon, saltgurka, silverlök, friterad lök, senap, hamburgerdressing och salladsblad i en sockrad donut för 194 kronor. Vi beställde även in pommes frites (39 kronor), mac n cheese (55 kronor), samt två glas kranvatten som besynnerligt nog kostade 10 kronor styck.
Det dröjde länge innan vi fick beställa, och maten dröjde ännu längre. Visuellt så såg allt aptitligt ut, men redan när vi lyfte hamburgaren från brickan stötte vi på problem då köttet var så luftigt att det föll i bitar. Personalen förklarade att deras senaste köttleverans hade en väldigt hög fetthalt men att de ändå gillar när det är så fett att köttet smälter i munnen. Vi kan hålla med, men det betyder inte att hamburgarna ska falla isär innan vi börjat äta dem. Större delen av måltiden fick därför ätas med kniv och gaffel. Som tur var så smakade köttet otroligt gott, och det märktes att de använder fina styckdetaljer. Brödet på vår White Wedding var riktigt trevligt, men bottenbrödet borde ha rostats längre för att hålla emot all vätska. Vi gillade smakbalansen, och den brynta lökmarmeladen var otroligt intressant och välsmakande. Dirty Deeds var mindre balanserad med ett sladdrigt salladsblad och så pass mycket senap så den överväldigade de andra smakerna – och donutens sötma försvann i syran. Pommes fritesen var klart godkänd, men mac n cheesen hade gärna fått vara lite ostigare.
Vi lämnade Rost mätta och belåtna, men eftersom de har en del saker att slipa på så kändes måltiden ganska dyr.
In English
The rock bar Rost in the Swedish city of Ängelholm is one of our most requested reviews, and our expectations were high. Their large menu contains almost 15 different burgers, and we ordered a White Wedding with three 90-gram patties, pepperjack cheese, cheddar, browned onion jam, white onions, jalapeños, deep-fried onions and burger sauce for 239 SEK (27.5 USD) and their donut burger Dirty Deeds with two 90-gram patties, cheddar, bacon, pickles, white onions, deep-fried onions, mustard, burger sauce and lettuce in a sugar donut for 194 SEK (22.5 USD). We also ordered some french fries for 39 SEK (4.5 USD), mac n cheese for 55 SEK (6.5 USD), plus two glasses of tap water that strangely enough cost 10 SEK (1 USD) each.
It took a long time before we were allowed to order and even longer until we got our food. The burgers looked great, but when we lifted them we noticed that the beef was so soft and airy that it fell apart. The staff informed us that their latest beef delivery had a high content, but that they like it when the patties melt in your mouth. Sure, we agree – but that doesn't mean that our burgers should dissolve before we've eaten them. This meant that a large part of our meal required a knife and fork. Thankfully the beef tasted amazing, and it was very clear that they used high quality cuts. We liked the bread on our White Wedding, but the bottom bun should have been toasted more to handle all the juices. Flavourwise everything was well balanced, and the browned onion jam tasted great and was really interesting. Our Dirty Deeds was a bit more chaotic, with soggy lettuce and so much mustard that it overpowered the other ingredients – even the sweetness from the donut. Their french fries were fine, but the mac n cheese could have been cheesier.
We left Rost happy and full, but our meal felt a bit too expensive for what we got seeing as they have some room for improvement.