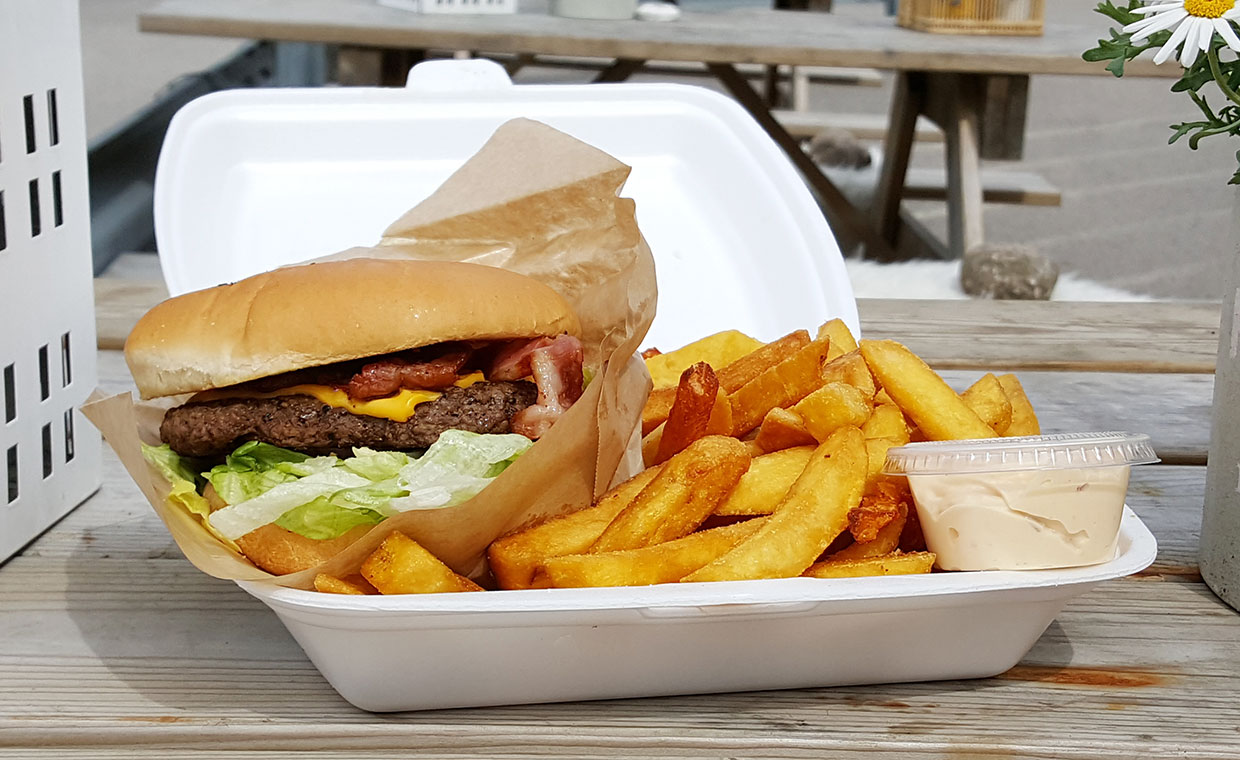 Elsas Streetfood i Borås har funnits sedan 2014 och har i dagsläget två ställen; ett vid Citygross och ett vid Hööks på andra sidan motorvägen. Med en imponerande lång meny erbjuder de hela åtta olika hamburgare och en massa vilträtter.
Vi beställde en "Elsas Bacon" med 150 gram högrev, sallad, lök, tomat, inlagd gurka, dressing, bacon och cheddar. Kön var obefintlig, så det tog nog inte mer än fem minuter innan vi fick vår burgare. Utseendemässigt såg den väl bättre ut än en vanlig gatuköksburgare men inte så mycket mer. Brödet var trevligt pårostat och ration mellan kött och bröd var också bra. Men när vi började äta burgaren märkte vi tyvärr att köttet var både torrt och alldeles för välstekt för att kunna behålla några köttsafter. Det var synd, då det märktes att köttet höll god kvalitet då det smakade godkänt trots denna miss.
Den generösa högen med knaperstekt bacon välkomnades dock och bidrog med både sälta och tuggmotstånd, medan cheddarosten var snyggt smält över burgaren. Dressingen var god och grönsakerna kändes fräscha vilket bidrog till en skaplig harmoni trots den torra köttpucken.
Priset på 100 kronor för en burgare, dryck och en mix av pommes frites på potatis och sötpotatis är kanske den största behållningen.
In English
Elsa's Streetfood has two locations in Borås and have been in business since 2014. They have a selection of eight hamburgers and we chose an Elsa's Bacon with 150 grams of ground chuck, lettuce, tomato, pickles, dressing, bacon and cheddar. The burger looked decent on arrival with a nicely toasted bun and good patty-bun ratio. Unfortunately the patty was dry and overcooked, which was a shame considering they use high quality meat. The generous amount of crispy and salty bacon helped elevate the burger, and the cheese was melted nicely over the patty. The dressing had good flavor and the veggies were crisp and fresh. 100 SEK for a burger, drink and a mix of sweet and regular potato fries is excellent though.