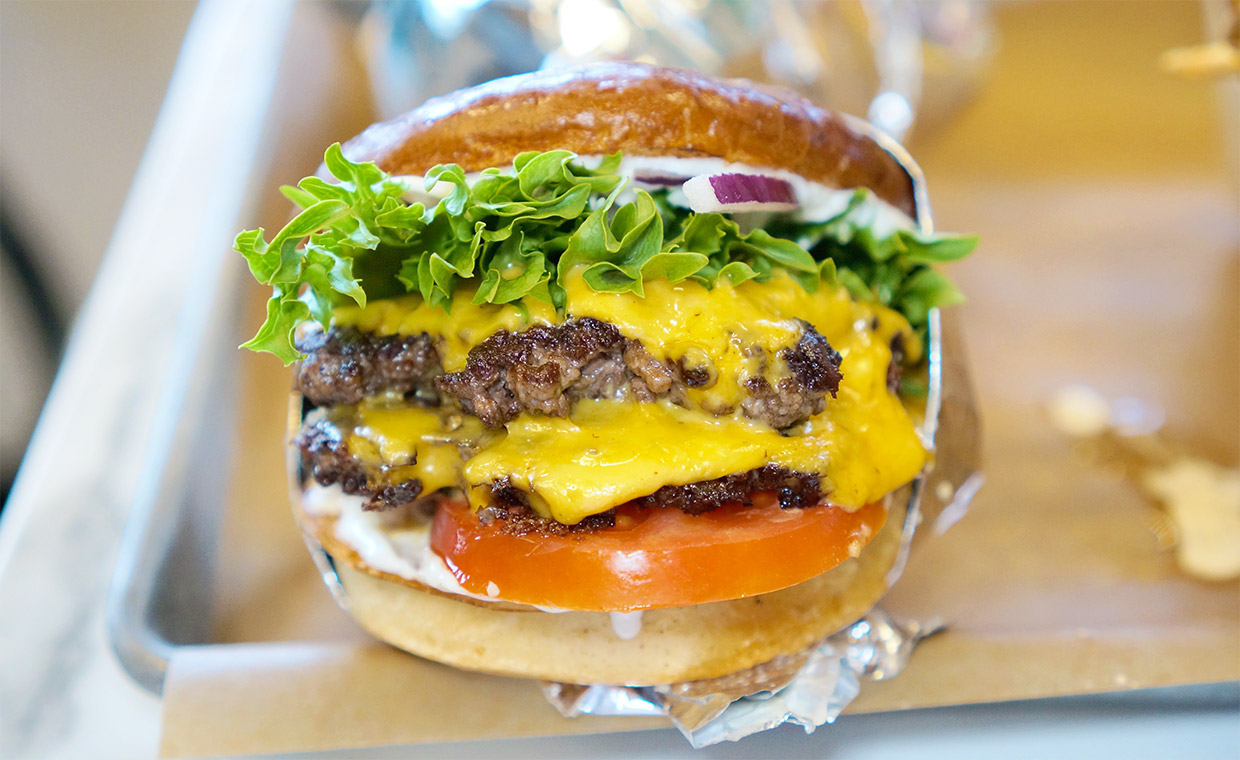 Street Food By Borg's öppnade 2019 i Ica Maxis lokaler i Enköping. Bakom restaurangen står samma bröder som äger och driver Ica Maxi-butiken, och de heter såklart Borg i efternamn. Lokalen är stor, ljus och fräsch, och det märks att de ansträngt sig för att skapa en restaurang med en modern känsla. Menyerna finns dock endast tillgängliga i deras app och i beställningsstationerna. Modernt kanske, men inte jättesmidigt om man inte har koll på detta i förväg.
Vi beställde in flera olika burgare, bland annat deras Ostburger med cheddarost, majonnäs, rödlök, tomat och sallad. En enkelburgare med 90 gram kött kostade 79 kronor, och vi valde att lägga till en köttpuck för 20 kronor extra. Vi beställde även in deras pommes frites för 20 kronor och deras sötpotatispommesfrites för 25 kronor. Burgarna serverades omsorgsfullt inslagna i folie, och såg riktigt snygga ut. Köttet hade en klart godkänd stekyta och en rejäl köttsmak, även om några oss upplevde det som aningen för salt. Brödet var fint rostat och höll ihop bra, men var lite stumt för att lovordas mer än så. Annars innehöll burgarna precis lagom mycket toppings, och som en helhet så kändes måltiden vällagad och genomtänkt. Båda våra pommes frites-varianter var lite rejälare i storleken med krispig yta och lagom sälta, vilket vi uppskattade.
Street Food ByBorg's gör det mesta rätt, och serverar en kvalitativ och prisvärd burgare. Och eftersom de även erbjuder mer än bara burgare så passar de utmärkt när hela familjen är ute och storhandlar – eller om du helt enkelt vill ha en bra hamburgare i närheten av Enköping.
In English
Street Food By Borg's opened 2019 in the Ica Maxi supermarket in Enköping, and is operated by the Borg brothers who own the large grocery store. The restaurant itself is bright and modern, and it's obvious that they've spent a lot of time making it look contemporary. Their menus are only available in their online app and the ordering terminals, which may be a modern way of doing it but made our food ordering process a bit impractical seeing as we weren't aware of this beforehand.
We ordered several of their burgers, including their "Ostburger" with cheddar, mayo, red onions, tomato and lettuce. A 90-gram single patty burger cost 79 SEK (9.5 USD), but we ordered another patty for an additional 20 SEK (2.5 USD). We also ordered some regular fries for 20 SEK (2.5 USD) and some sweet potato fries for 25 SEK (3 USD). Our burgers came nicely wrapped, and the patties had a proper crust with a nice beefy flavour, even though they were a bit too salty. The bun had been toasted and held everything together, but felt a bit dense. Otherwise our burger contained just the right amount of toppings, and everything felt thought through and well-cooked. Both of our fry varieties were quite large, but were crispy on the outside and excellently seasoned.
Street Food ByBorg's do a lot of things right, and serve high-quality burgers at a great price-point. And seeing as they also serve other food, they're an excellent meal choice for the entire family when grocery shopping – or if you're just near Enköping and in the mood for a tasty burger.