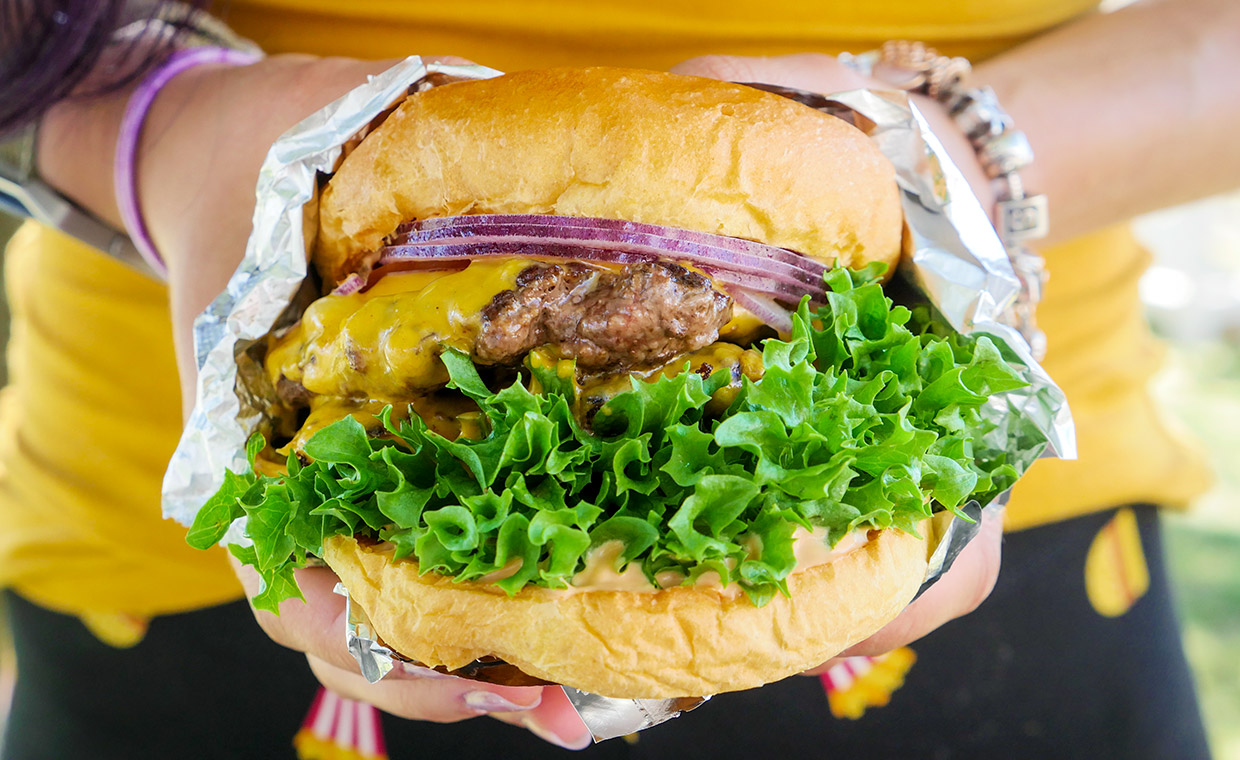 Globalize Foodtruck står parkerad vid Skrea strand i Falkenberg. Öppettiderna kan påverkas något av rådande väderlek, men när vi besökte dem sken solen och kön ringlade sig lång redan innan öppning. Men det gick ändå relativt snabbt från det att vi beställde tills maten serverades, lite snyggt upplagt på en läskkartong där hamburgarna var till hälften insvepta i aluminiumfolie.
En enkel burgare (med 115 gram kött) inklusive pommes frites kostar 90 kronor och för ytterligare 30 kronor får du två köttpuckar. Vi beställde två olika burgare, en dubbel The Svensson som serverades med totalt 230 gram kött, dubbel ost, bearnaisesås, barbecuesås, tomat, picklad lök och sallad samt en dubbel OG med 230 gram kött, dubbel ost, tomat, rödlök, OG-dressing och sallad. Båda dessa måltider kostade alltså 120 kronor styck. Vi lockades något av deras Loaded Skagen-pommesfrites men behövde hejda oss någonstans.
Vid första anblick såg burgarna riktigt vackra ut. Brödet såg fluffigt ut och var lagom gräddat. Köttet hade kanske inte den vackraste stekytan, men visade en antydan på saftighet. Därför blev vi lite besvikna efter första tuggan, då köttet var alldeles för kompakt. Under måltidens gång märkte vi även att brödet gav upp mot alla köttsafter och såser, och den stora mängden sallad ledde till att allt i burgaren gled isär. I övrigt så var både smakerna och proportionerna mellan ingredienserna väl balanserade, även om OG-dressingen kunde ha smakat lite mer.
Men trots mindre brister med köttet och brödet så är det tydligt varför Globalize Foodtruck är så populära. Deras burgare passar i alla fall utmärkt efter en heldag på stranden, vilket gör dem till ett välkommet inslag i Falkenberg.
In English
You can find Globalize Foodtruck parked by Skrea Beach in the Swedish city of Falkenberg. Their opening hours are governed somewhat by the weather, but the sun was shining during our visit resulting in long queues even before they'd opened. But our food still arrived shortly after ordering it, nicely served in a soft drink box with half aluminium wrapped burgers.
A single (115 gram) burger with fries cost 90 SEK (10 USD), with an additional patty for 30 SEK (4 USD). We ordered two different burgers; a double The Svensson with 230 grams of beef, double cheese, bearnaise sauce, BBQ sauce, tomatoes, pickled onions and lettuce, and a double OG with 230 grams of beef, double cheese, tomato, red onions, OG sauce and lettuce. As such, both meals cost 120 SEK (14 USD). We were abit tempted to try their Skagen fries (French fries with a traditional Swedish shrimp and mayo salad) but felt that we had to draw the line somewhere.
Our burgers looked quite beautiful when we got them. The bun was nicely baked and seemed really fluffy. The patties didn't have an amazing crust, but looked promisingly juicy. So that's why our first bite left us a bit disappointed, seeing as the patty was rather compact. We also noticed that the bun couldn't handle all the sauces and beef juices, as it quickly started to collapse, and the large piece of lettuce made it difficult to hold everything in place. But apart from that we did appreciate how well they'd struck a balance between the flavours and the ingredient ratios, even though we wouldn't have minded a bit more flavour in their OG sauce.
But despite some problems with the patties and the bun it was clear to see why Globalize Foodtruck are so popular. They make a really good beach burger and are a welcome addition to Falkenberg's burger scene.