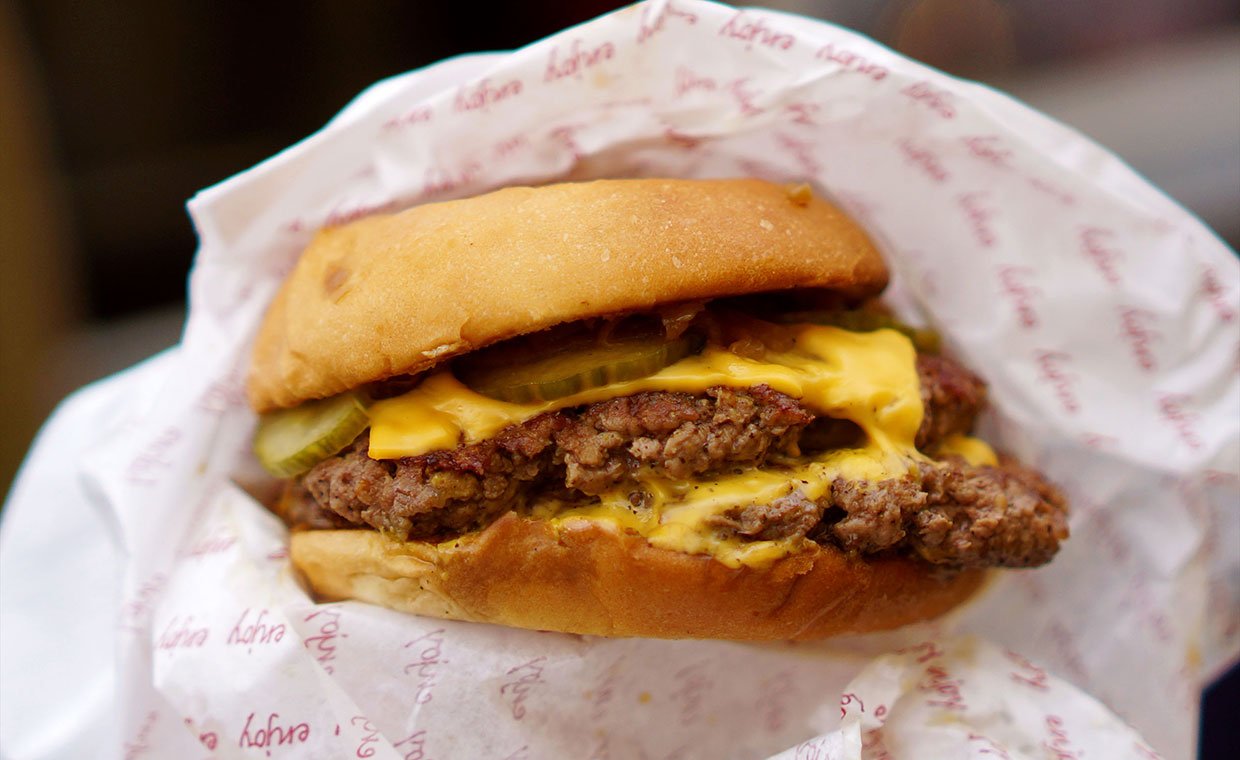 Burgarbussen började rulla i maj 2014 och håller i huvudsak till i Falun och Borlänge. Trots att menyn består av ett enda val – deras klassiska Dirtburger – har de mängder av fans och ett rykte som spridit sig långt utanför Dalarna. De har varit med och tävlat i så väl Food Truck-SM som i Burgerdudes eget evenemang Stockholm Burger Fest 2016, där de kom tvåa i Publikens val.
The Dirtburger består av bröd, dubbla köttpuckar, dubbel ost, stekt lök, inlagd gurka och senap. En enkel och klassisk burgare som lätt skulle kunna kännas lite tråkig om den inte allt gjordes på rätt sätt. Lyckligtvis bjöd Burgarbussen inte bara på ett glatt humör utan även bra råvaror och stor noggrannhet vid tillagningen. Brödet, av briochetyp, var varmt och lite frasigt. Köttet – 2 x 100 gram – var lätt smashat och väldigt saftigt. Vi saknade en tydligare stekyta och köttet var genomstekt. Den bussinlagda gurkan var oväntat god med sin milda sötma. Osten, löken och senapen bildade en mjuk, sötsalt enhet som inramade resten av burgaren mycket bra. Smakerna som helhet var mjuka och lite försiktiga och det innebar att både svartpeppar och salt stack ut på ett oönskat sätt.
Burgarbussens serverar en väldigt god burgare som svävar lite mittemellan snabbmat och finburgare. Har du möjlighet att testa dem så måste du göra det!
In English
Burgarbussen have been serving burgers since 2014 and you usually find them in Falun or Borlänge. The menu is short and simple, as they only serve one thing: The Dirtburger. Two 100 gram patties, double cheese, fried onions, pickles and mustard in a toasted brioche bun. Simple, classic and very tasty. The patties were served well done, but were soft and juicy so it didn't matter too much. The overall flavours were quite discrete though, so the salt and pepper became somewhat dominant. It's not perfection, but it is really tasty and if you get a chance to try the Dirtburger you absolutely should.