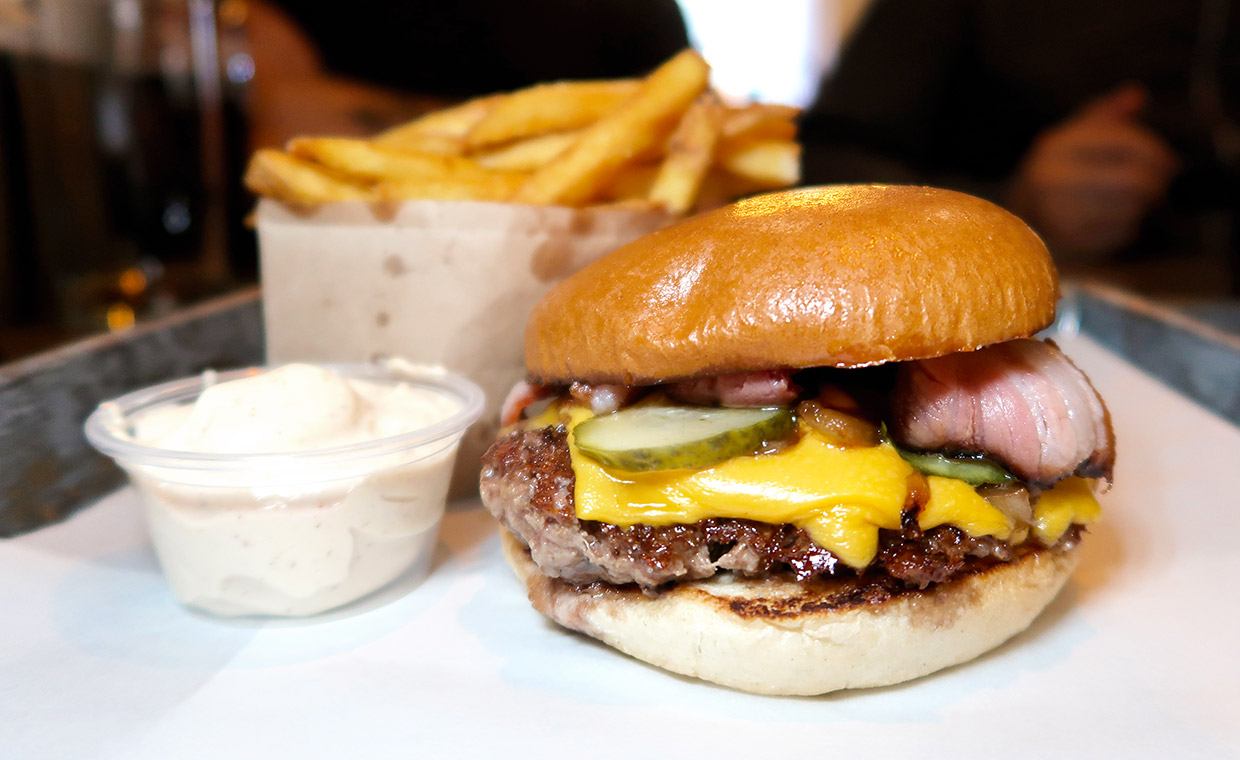 Bro Burger Bar slog upp sina portar i Gävle redan 2016, och 2019 flyttade de till centrala Gävle i närheten av Rådhuset. De har även en foodtruck som brukar besöka närliggande orter (som Ockelbo, Strömsbro och Sandviken). Restaurangens inredning var avskalad, men den trevliga personalen fick oss att känna oss väldigt välkomna. En stor del av menyn är ekologisk, och köttets ursprung är tydligt utmärkt så att du vet vad du stoppar i dig. Det finns cirka 10 burgare på menyn, varav två vegetariska, och valet föll på en jalapeñoburgare med 120 gram nötkött, ekologisk burgarcheddar, jalapeños, barbecuesås, saltgurka och karamelliserad lök för 95 kronor. Eftersom detta var under lunchen så ingick även pommes frites och en dippsås, som annars kostar 25 plus 10-15 kronor.
Vi måste erkänna att vi var lite oroliga när vår burgare serverades, då proportionerna mellan kött, bröd och resten av ingredienserna inte var perfekta. Brödet var inte heller särskilt följsamt, även om det var fint rostat på insidan. Men det krävdes inte mer än en tugga för oss att inse att det här var en riktigt smakrik burgare. Det ekologiska köttet var saftigt, välkryddat och perfekt mediumstekt, precis som utlovat vid beställningstillfället. Och den ekologiska burgarcheddarn bidrog med en underbart superkrämig smak. Deras jalapeños var precis så heta som vi vill ha dem, men saltgurkan var på tok för salt och hade kunnat skippas i och med att det redan fanns jalapeños på burgaren med liknande textur. Vi var inte heller förtjusta i barbecuesåsen som vi ansåg var alldeles för sötsliskig.
En av måltidens höjdpunkter var pommes fritesen, som hade en härligt krispig potatissmak som vi inte kunde få nog av. Ostdippen var dessutom helt fantastisk, och ett oumbärligt tillbehör. Bro Burger Bar serverar en förstklassig burgare, och om menyvalen i köket hade varit lite mer genomtänkta så skulle detta kunna bli en riktig fullträff.
In English
Bro Burger Bar first opened in the Swedish town of Gävle back in 2016, and in 2019 they opened in a more central location in town. They also have a food truck that usually visits neighbouring areas such as Ockelbo, Strömsbro and Sandviken. The restaurant had a clean and sparsely designed look, but the pleasant staff made us feel right at home. A large part of their menu is organic, and they also clearly state the origin of the beef. They have about 10 burgers on the menu (including 2 vegetarian ones), and we ordered a jalapeño burger with a 120 gram patty, organic burger cheddar, jalapeños, bbq sauce, pickles and caramelized onions for 95 SEK (10 USD). And since we visited them during lunch hours we also got some fries and a dip, which otherwise would have cost us 25 SEK (2.5 USD) plus 10-15 SEK (1-1.5 USD).
There was a moment of concern when they served our burgers, as the ratio was a bit off between the patty, the bun and the rest of the ingredients. The bun had been nicely toasted, but was a bit stiff. But one bite was all it took for us to realise that this was a really tasty burger. The organic beef was juicy, well-seasoned and had been cooked medium, just as advertised. And the organic cheddar was perfectly creamy and yummy. The jalapeños added some complex heat which we enjoyed, but the burger could have done without the overly salty pickles that had a similar texture as the jalapeños. We were also not fond of the barbecue sauce as it was too sweet for our taste.
The french fries were a real treat as well. They were super crispy and the potato flavour really shone through. The cheese dip was equally amazing, and an unmissable side order. Bro Burger Bar serve a great hamburger, and if the kitchen would just sort out a few minor menu related details then this could be a real home run.