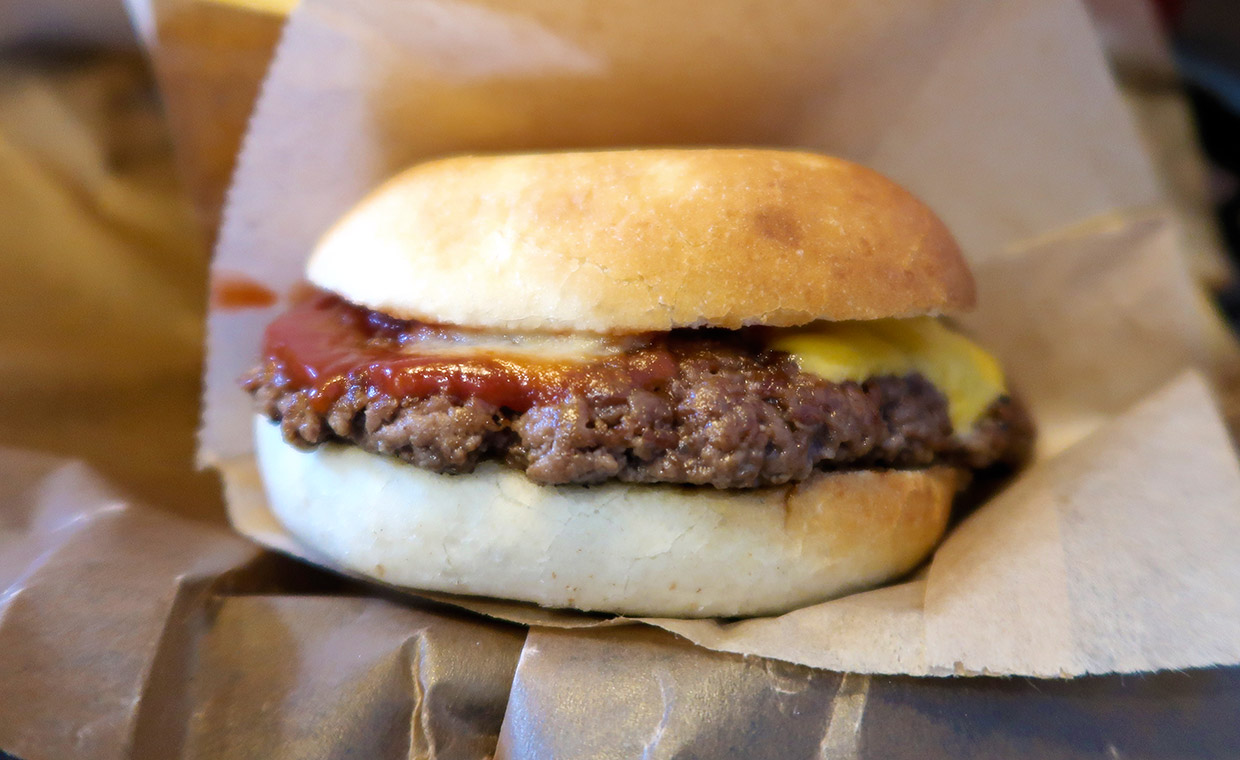 Joe's Burger öppnade i centrala Gävle i januari 2020, och när vi besökte dem hade vi både fått flera tips om dem samt sett deras reklam på stadens bussar. Så det var tydligt att de ville sticka ut direkt från start. Den lite långsmala lokalen var inredd i mörka toner och med Americana-detaljer, och menyn var föredömligt kort med en handfull olika burgare och några andra alternativ. Medvetenheten om hur saker "ska" se ut gjorde oss förväntansfulla.
Vi beslutade oss för att testa en No. 1 med picklad gurka, cheddar, senap, ketchup och majonnäs, samt en No. 4 med chilipicklad lök, Pepper Jack-ost, bacon, barbecuesås och senap. Båda kostade 119 kronor styck för en lunchmeny med pommes frites och läsk (enbart en burgare kostade 89 kronor). Men våra tidiga förhoppningar grusades direkt när maten väl serverades. Vi kan börja med det positiva: både den picklade gurkan och den chilipicklade löken hade en trevlig krispighet och en godkänd sötsyrlig smak. Och det negativa med måltiden var alltså allt det övriga. Potato bun-brödet hade inte värmts alls, och var därför blekt, mjukt och lite torrt. Köttet hade ingen stekyta alls, utan kändes mer kokt och lite smetigt, förmodligen på grund av för låg temperatur på stekbordet. På vår No. 1 var huvudingrediensen ketchup, som snabbt tog över alla smaker, och baconet på vår No. 4 var sladdrigt och inte tillräckligt tillagat, medan barbecuesåsen mest var söt. Pommes fritesen till våra burgare hade friterats på för låg temperatur, och var helt sladdriga och fettindränkta de serverades.
Rimligtvis kan Joe's Burger bättre än så här, men vi kan bara bedöma burgarna vi blev serverade. Det här var näst intill oätbart och betyget blir därefter.
In English
Joe's Burger opened in the Swedish town of Gävle back in January 2020, and when we visited them we'd received several tips about how good they were, and we'd also seen their adverts on the city buses. It was clear that they wanted to make an impact right from the start, and their restaurant was decorated with dark details and loads of Americana details. The menu was short and to the point, with a handful of different beef burgers and some other alternatives. The fact that they seemed to know how a burger joint "should" look gave us high hopes.
We ordered a No. 1 with pickles, cheddar, mustard and ketchup, and a No. 4 with chili pickled onions, Pepper Jack cheese, bacon, mustard and some BBQ sauce, both costing 119 SEK (13 USD) for a lunch menu with french fries and a soft drink (just a burger cost 89 SEK (10 USD). But our initial interest waned as soon as our food was served. Let's start with the positives; both the pickles and the chili-pickled onions were crispy and added some nice acidity. Unfortunately, the negatives consisted of the rest of our meal. The potato bun hadn't been heated at all, and as a result it was pale, soft and a bit dry. The beef had no crust whatsoever, and felt more boilt than fried – probably due to their griddle's temperature being too low. On our No. 1 the dominant ingredient was ketchup, and the bacon on our No. 4 hadn't been cooked properly, leaving it soft and soggy. The barbecue sauce was far too sweet as well. And our fries hadn't been cooked long enough and were a fatty, sloppy mess.
We assume that Joe's Burger are able to serve better burgers than the ones we got, but we can only review the hamburgers they served us. Our meal was practically inedible, and our score must reflect this.