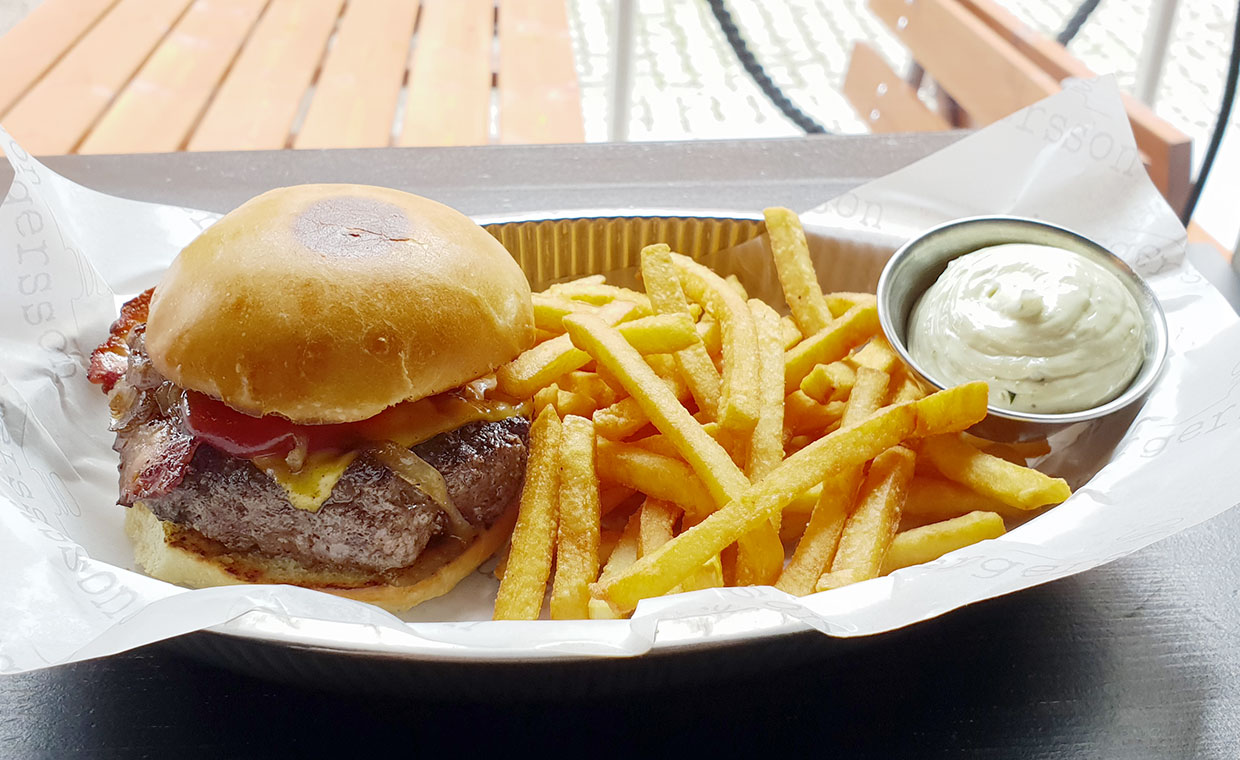 Som en av de första hamburgarpionjärerna i Göteborg har Burgersson fått tuff konkurrens de senaste åren, men denna kväll kan vi glatt konstatera att de håller konkurrenterna på avstånd. Denna kväll fastnar ögat för något litet annorlunda, "Ze German", en hamburgare med senapsmajonnäs, sallad, bacon, gurka och surkål.
In kommer en perfekt medium rare-grillad, lagom tjock och alldeles saftig köttpuck ackompanjerad av superknaprigt bacon i en fluffig brödbulle, vars rostning matchar burgarens innehåll. I normala fall hade jag kanske tyckt att det var lite väl rostat men här blir kombinationen med surkål och majonnäs perfekt. Surkålen gifter sig klockrent med den söta dressingen och det salta baconet och det hela bildar en härlig smakupplevelse.
Ett av kvällens valda tillbehör är de friterade zucchinistavarna med en fräsch basilikadipp, som ger den sälta som normalt saknas i grönsaken. Det är gott – mycket gott – men 45 kronor känns något dyrt. Inte heller de friterade ostbollarna imponerade.
Denna kväll fick vi sitta i det bakre rummet som är lite väl avskalat med sina svarta väggar. Den gamla valvsdörren är ett vackert inslag, och det enda vi egentligen har att klaga på är Burgerssons höga ljudvolym.
In English
Burgersson are one of the pioneers in Gothenburg's burger scene, and show us time and time again that they are the ones to beat. We ordered their "Ze German" burger, which had a perfectly medium rare grilled patty, sauerkraut, mayonnaise and bacon encased in a well-grilled bun. The side-orders were a bit of a letdown with tasteless cheese balls and overpriced zucchini sticks, but this doesn't detract from Burgersson's greatness.