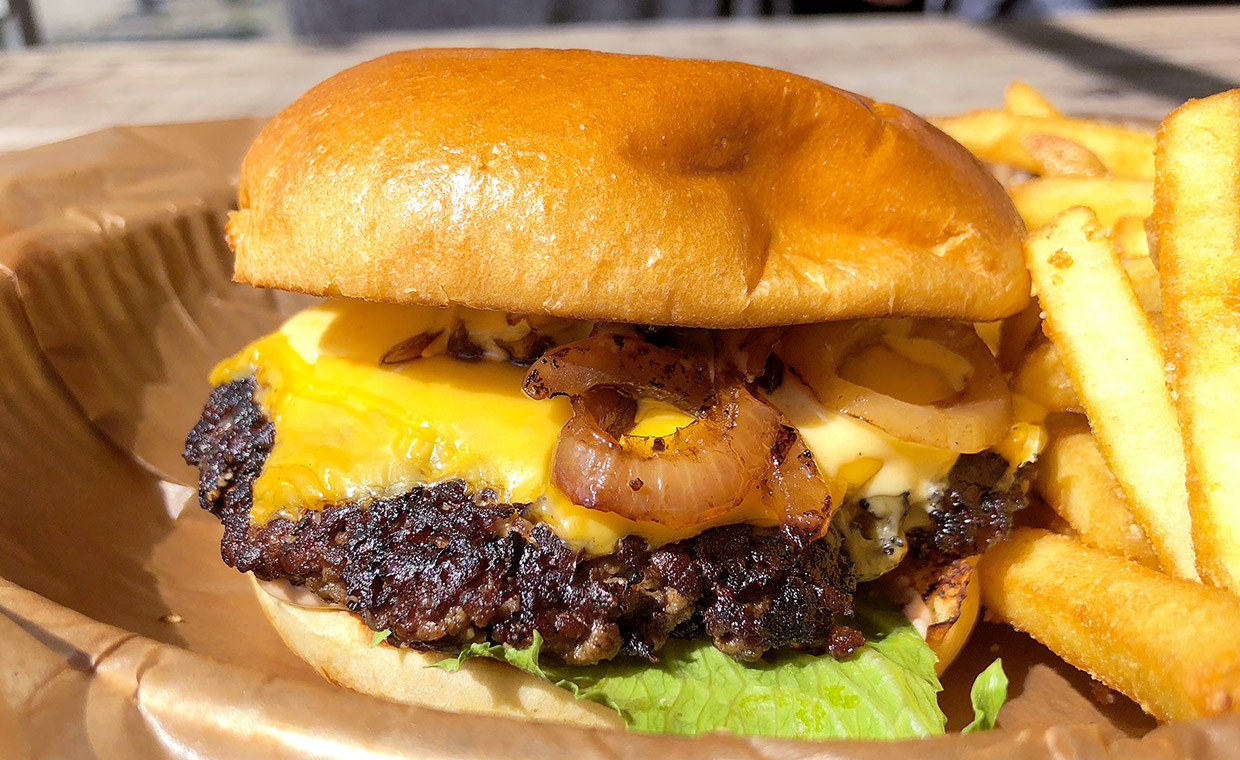 Konkurrensen i Örebros burgarscen växer sig allt större, och DINÉ Burgers säger sig själva ha "det som saknas" i staden. Lokalen ligger en trappa ner under markplan och har en trevlig trä- och betonginredning och välkomnande glödlampor med dov och varm belysning som hänger längs lokalens tak. Under lunchen får du en burgare med pommes frites för 90 kronor, vilket är bland de billigaste i staden.
Menyn har flera intressanta valmöjligheter, men vårt val föll denna gång på "Tryffel Deluxe" – månadens burgare för april 2017 – med ett briochebröd, tryffelmajonnäs, sallad, bacon, ost, ostcrème, stekt lök och picklad rödlök. Vi beställde även deras "mixed fries", pommes frites gjorda på både vanlig potatis och sötpotatis.
Köttpucken på 150 gram högrev var saftig, väl kryddad och hade en utsökt stekyta. Brödet var härligt fluffigt tillräckligt välrostat för att dra åt sig den goda smaken från köttet. De flesta ingredienser tillförde något till smakupplevelsen, men den picklade rödlöken och ostcrèmen stack verkligen ut. Blandningen av olika typer av pommes frites var också lyckad.
Lokalen och maten gjorde oss ej besvikna, men servicen var bristfällig och borde ses över. Det skedde onödiga slarvfel med våra beställningar under båda våra besök, men trots detta anser vi att själva burgaren är tillräckligt bra för att motivera sitt betyg.
In English
DINÉ Burgers is the latest addition to the burger scene in the Swedish city of Örebro, and the restaurant itself makes a nice first impression. We chose their Truffle Deluxe – the burger of the month for April 2017 – with a brioche bun, truffle mayonnaise, lettuce, bacon, cheese, cheese crème, fried onions and pickled red onion. The patty from 150 grams of chuck was juicy, well-seasoned and had a good crust. The bun was beautiful, toasted and fluffy, and almost all ingredients added something to the burger (even thought the cheese crème and the pickled red onion were exceptionally good). We had some issues with the service during both of our visits, but despite this the actual burgers made up for any mistakes. We are happy that Örebro finally has a really good burger place.