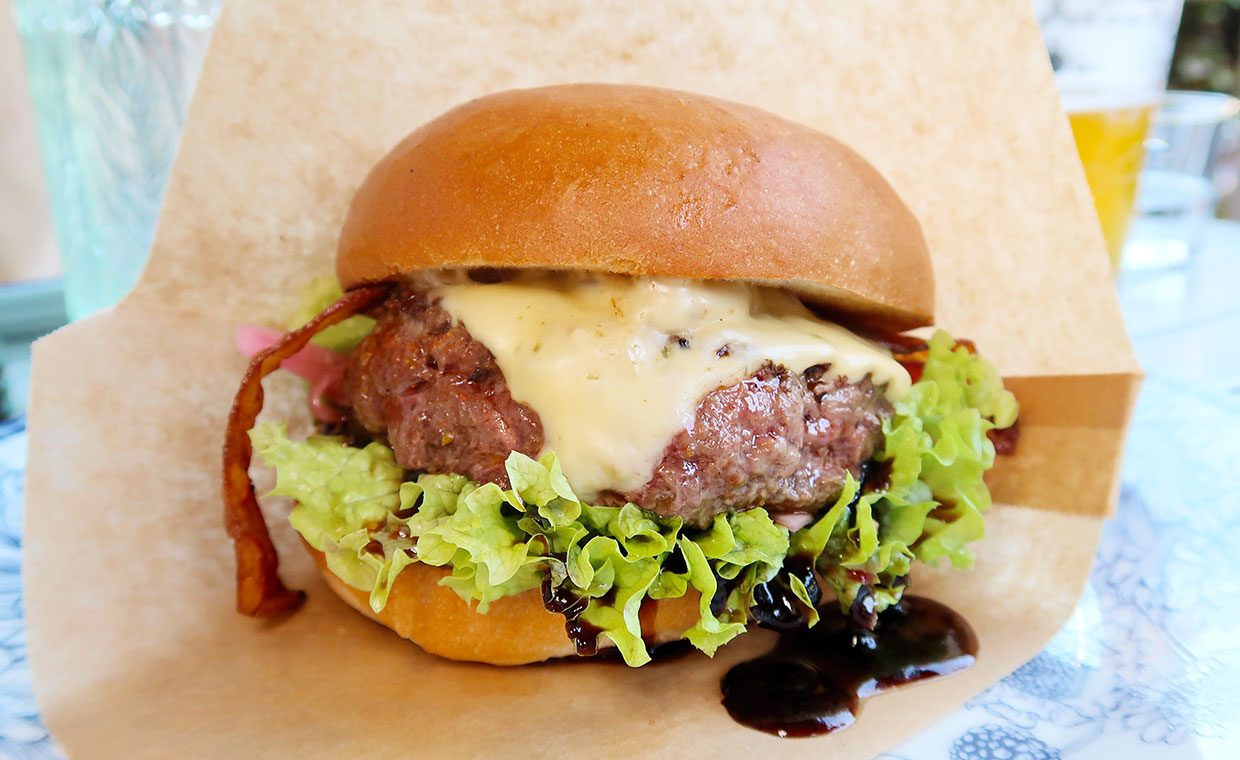 När vi recenserade Holy Cow i början av 2015 var de en av våra favoriter i Göteborg. Och nu, nästan fem år senare, har det äntligen blivit dags för ett återbesök. Deras meny är av en gedigen storlek, och med massor av olika burgare samt gott om tillbehör och milkshakes.
Vi beställde deras Drunken Cow-burgare för 125 kronor som kom med Bourbon BBQ-sås, bacon, sallad, picklad rödlök och pepper jack-ost. Som de flesta andra burgarhak i Göteborg serverade de sin burgare med en hög och rejäl köttpuck på 180 gram. Burgaren gav ett någorlunda slarvigt första intryck med droppande BBQ-sås och bacon som hängde utanför brödet.
Köttpucken var god med en tillfredsställande kryddning, men var för hårt packad och hade en lätt tuggig konsistens. Smakprofilen dominerades helt av den riktigt söta BBQ-såsen, och vi märkte knappt av baconet eller den picklade rödlöken. Brödet var i alla fall överraskande bra med en fin stuns och ett kort bett som passade till den tjockare köttpucken. Även pommes fritesen var goda med en trevlig krispighet och rejäl potatissmak, även om 39 kronor var lite väl tilltaget.
Holy Cow kanske inte hör hemma i Göteborgs toppskikt längre, men de serverar fortfarande en helt klart godkänd burgare som inte skäms för sig. De är helt klart värda ett besök nästa gång du befinner dig i närheten av Liseberg och är sugen på en hamburgare.
In English
When we first reviewed Holy Cow back in early 2015, they were one of our favourite joints in Gothenburg. And now, almost 5 years later, it's time for us to pay them a visit once more. Their impressive menu contains loads of burgers, and a fair share of sides and shakes.
We ordered a Drunken Cow burger for 125 SEK (13 USD) with a Bourbon BBQ sauce, bacon, lettuce, pickled red onion and pepper jack cheese. And just like most other Gothenburg restaurants, the patty was thick and pretty tall, weighing 180 grams. First impressions felt sloppy, with oozing BBQ sauce and a slice of bacon that tried to escape on one side.
Thankfully the meat was nicely seasoned and tasted really good, even though it was a bit too overworked and tough. Flavour wise, the super sweet BBQ sauce was overpowering, and we hardly even noticed the bacon or the pickled red onions. But the bun was surprisingly good and complimented the large beef patty, being easy to chew and having a nice bounce to it. The fries were tasty too, with a solid potato flavour and a nice crisp, even though 39 SEK (4 USD) was a bit steep.
Holy Cow aren't at the top in Gothenburg any more, but they still serve a good burger and are well worth a visit next time you're hungry for a hamburger near the Liseberg theme park.