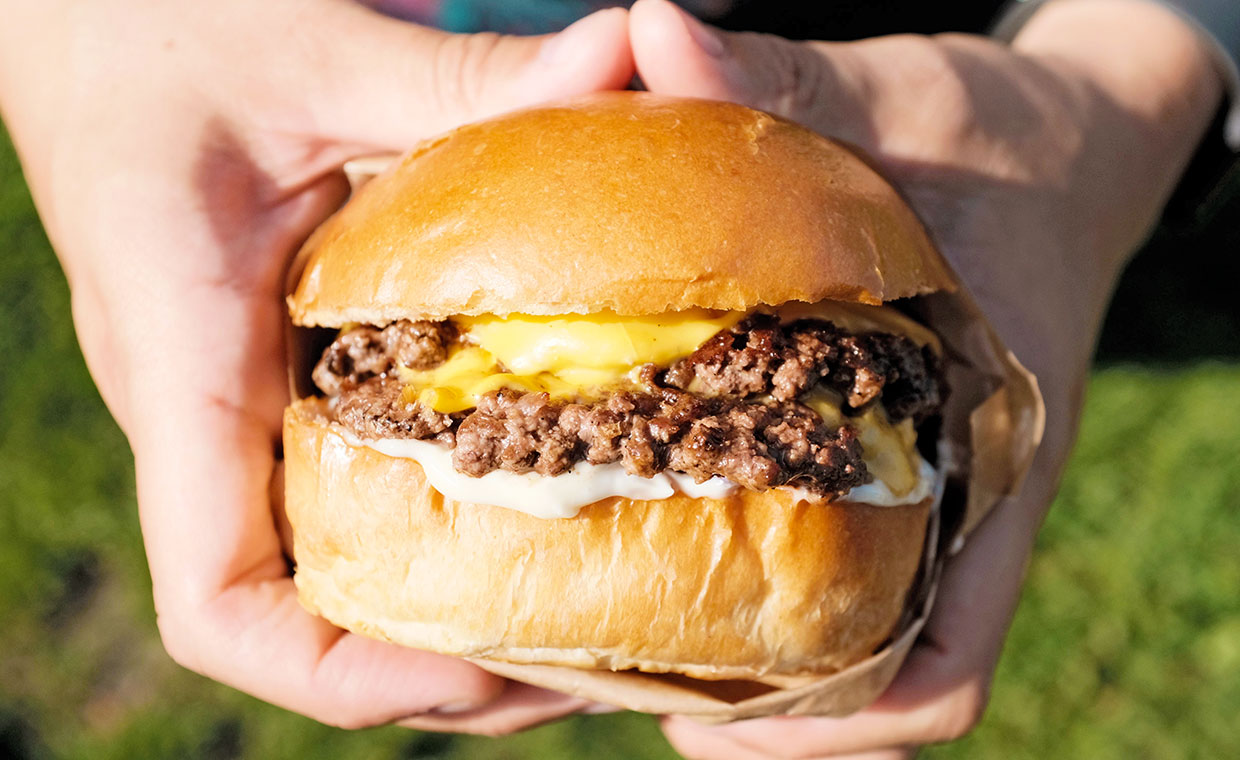 Vi recenserade Lasse på Heden redan 2015, men det har hänt en hel del på burgarfronten sedan dess. Och under vårt senaste besök i Göteborg så fick vi ytterligare ett tillfälle att besöka denna institution. Vi kan glatt konstatera att de numera smashar sina köttpuckar och att hamburgarna de serverar idag är helt olika deras gamla överglorifierade gatuköksburgare. Vi beställde en 200-grams cheeseburgare med två smashade köttpuckar och totalt fyra skivor ost, majonnäs och rödlök för 85 kronor, samt 35 kronor till för en läsk och pommes frites. Inte illa.
Det första vi slogs av var att brödet var alldeles för stort, trots att vi hade beställt en dubbelburgare. Det var dessutom torrt i mitten och hade vassa kanter. Nu i efterhand har vi fått reda på att de har bytt brödsort, men faktum kvarstår att detta var vad de serverade oss. Som tur var så bjöd köttet på en riktigt angenäm smakupplevelse, med en härlig stekyta och ett rosasaftigt inre. Majonnäsen och rödlöken kompletterade smakerna väl, och den stora mängden ost bidrog till krämigheten.
De tråkiga pommes fritesen var av gatukökskvalitet, men det var åtminstone en generös och mättande portion. Vi kan kanske inte hålla med om att Lasse på Heden är "Sveriges bästa gourmetkiosk", som de så fint utnämnt sig själva till, men de är helt klart värda ett besök numera.
In English
We first reviewed Lasse på Heden back in 2015, but a lot has happened since then. During our latest trip to Gothenburg we had the opportunity to revisit this classic institution, and we were pleasantly surprised when we saw that they now smash their patties. The burgers they serve today are a real step up compared to our last visit. We ordered a 200 gram cheeseburger with two smashed patties and a total of 4 cheese slices, plus mayo and red onions. It cost 85 SEK (9 USD) plus 35 SEK (4 USD) for a soft drink and fries. Not bad.
The first thing we noticed was the oversized bun – far too big even for our double burger. It was also dry in the middle, with sharp edges. Apparently they've switched to a new bun now, but this is what we were served. Thankfully the meat tasted great, with plenty of flavour, a nice crust and a juicy pink centre. The mayo and red onions complemented the burger really well, and the large amounts of cheese made everything nice and creamy.
The bland french fries were the typical grill kiosk fare, but the generous portion was filling at least. We don't really agree that Lasse på Heden are "Sweden's best gourmet grill kiosk", as they themselves put it, but they're definitely worth a visit nowadays.