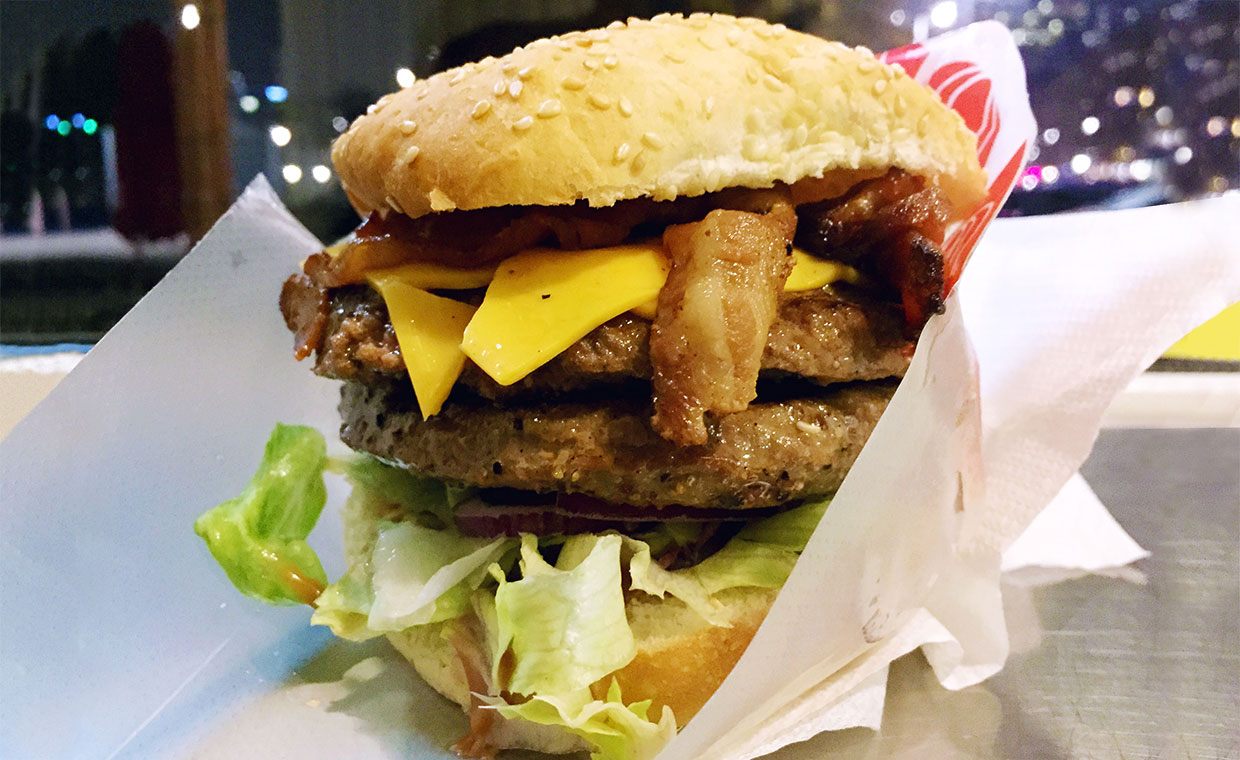 Den klassiska korvkiosken Lasse på Heden i Göteborg är en "moj" som alltid funnits med i stadsbilden. De senaste åren har de även hakat på hamburgartrenden och erbjuder gourmetvarianter till hyggliga priser, där en 150-gramsburgare kostar 70 kronor och en dubbel på 300 gram endast kostar strax över hundralappen.
Alla burgare görs på naturbeteskött från Årnäs och håller hög kvalitet. Därför är det lite tråkigt att se hur köttet blivit tidigt förberett och packat till typiska gatukökspuckar när burgaren serveras. Vårt första intryck är ganska skeptiskt, men vi blev glada redan efter första tuggan då köttet var saftigt, smakfullt och rejält kryddat samt precis lagom stekt med lätt rosa mitt.
Annat var det med resten av burgaren – denna dubbla BBQ-burgare kom med ost, bacon och barbecuesås. Såsen lös tyvärr med sin frånvaro, och brödet var kompakt, lite torrt och orostat. Det enda som var kallare var grönsakerna. Både osten och baconet var ganska smaklösa, och baconet var dessutom lite för sladdrigt för vår smak.
Just nu bjuder Lasse på Heden endast på en överglorifierad kioskburgare som inte kan konkurrera med de etablerade restaurangerna. Men med lite mer omsorg och tid på bröd och tillbehör kan det få ett rejält lyft i framtiden.
In English
The classic burger joint Lasse på Heden has supplied Gothenburg with street food for over six decades, and lately they've started serving gourmet burgers. The prices are amazing, and despite pre-packing the meat into uniform patties the quality of the free-range meat really shines through. Unfortunately the other parts really aren't up to par, as the vegetables are ice-cold and the bread is dry and hasn't been heated. It's a pity, and we hope that they start taking their burgers more seriously in future by using higher quality components and taking more care during the cooking process.