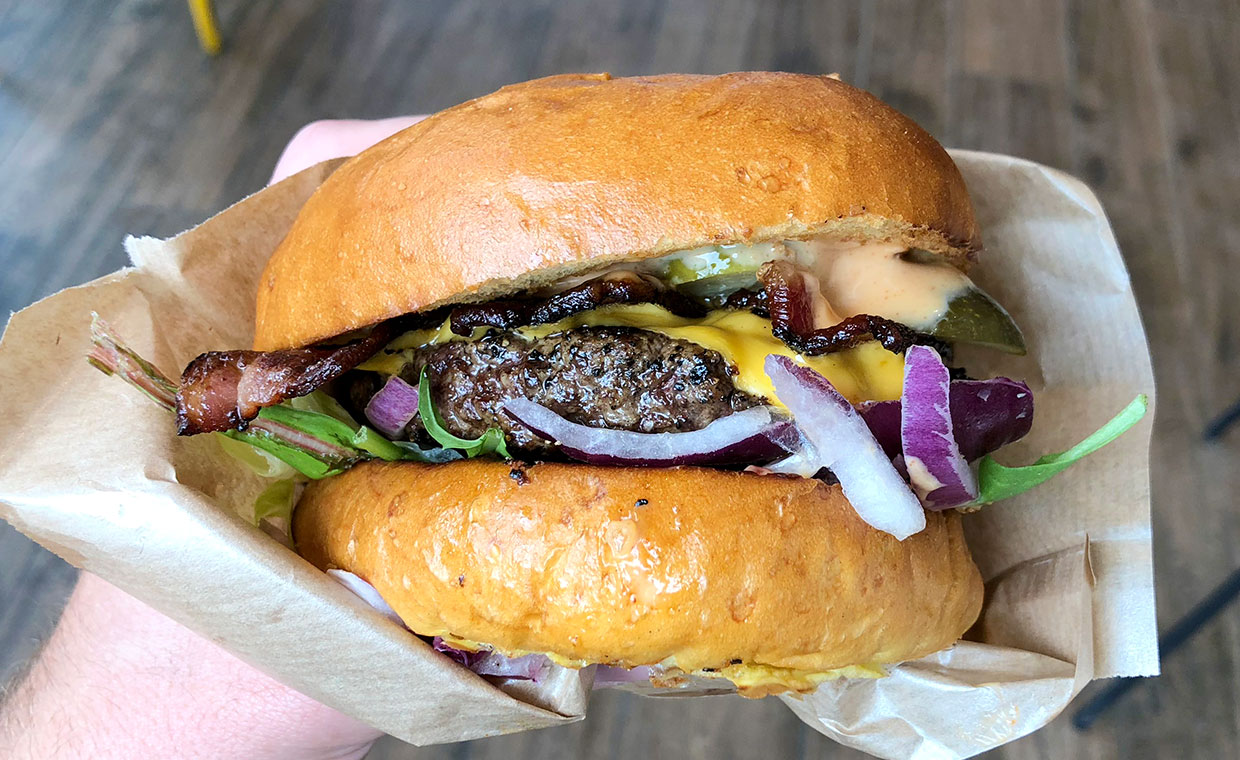 Vid Odinsplatsen i centrala Göteborg ligger det klassiska gatuköket Odins Parkgrill, som har serverat snabbmat sedan 1959. Förutom riktiga klassiker som köttbullar och korv med mos så har de ansträngt sig för att hänga med i burgartrenden.
På menyn finns flera olika sorters burgare, och vårt val föll på högrevsburgaren tillsammans med pommes frites och läsk för 120 kronor. Maten tillagades snabbt och vi reagerade direkt på måltidens storlek; en burgare med en 160 gram stor köttpuck med mycket tillbehör och en rejäl portion pommes frites. Mycket mat för pengarna alltså.
Själva burgaren såg estetiskt tilltalande ut och hade fina proportioner. Dock uppenbarades en hel del problem när vi tog vår första tugga. Köttet var tråkigt både smak- och konsistensmässigt, och vi misstänker att den mycket väl kan ha tillbringat en tid i frysen innan tillagning. Burgaren hade dessutom alldeles för mycket rödlök som dominerade smaken och konkurrerade problematiskt med chilimajonnäsen. Brödet gjorde sitt jobb och höll ihop under hela måltiden, och pommes fritesen var också helt godkända.
Vi fick visserligen mycket mat för pengarna, och det hade kanske varit en duglig måltid om vi hade satt kvantitet före kvalitet. Men överlag kändes högrevsburgaren från Odins Parkgrill både oinspirerad och själslös.
In English
Odins Parkgrill by Odinsplatsen in central Gothenburg has been in service 1959, selling fast food from its small kiosk. Just like everyone else they have joined the burger craze and are now selling ground chuck burgers, so we ordered a burger with fries and soda for 120 SEK. The portion was huge, with a 160 gram patty and a loads of fries. The burger looked nice but our impression was sullied when we took our first bite; the meat was boring and lacked both in taste and crust. The burger had way to much red onions which overpowered everything else in the burger as well. Odins Parkgrill may perhaps be a valid option if you are really hungry and want a really big meal with a low price-point, but don't expect any wonders.