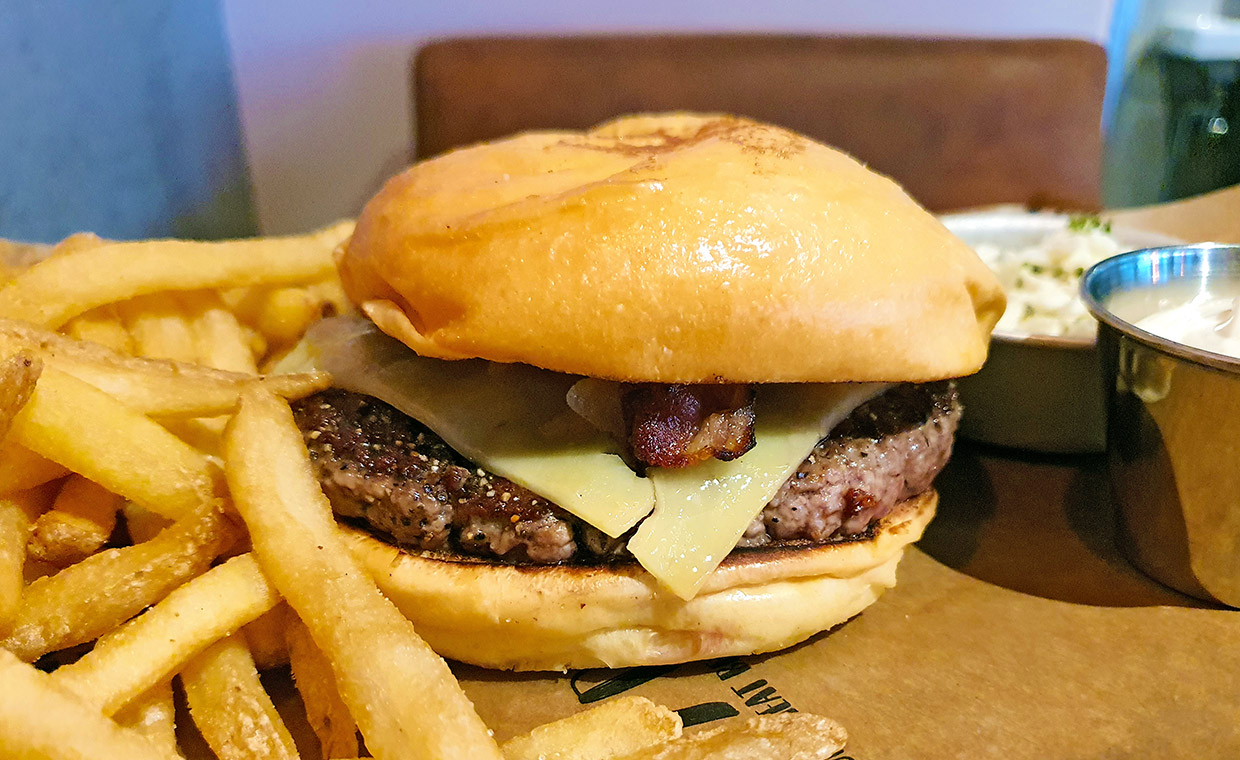 Smokey Dog slog upp portarna 2019 i Mölndal utanför Göteborg och fokuserar främst på kvalitetsburgare, rökt kött och ett stort ölutbud. Under vårt besök under lunchen valde vi deras puritanskt namngivna Högrevsburgare för 115 kronor inklusive pommes frites. Utöver högrevspucken så innehöll den cheddar, egenrökt bacon, karamelliserad lök och chipotlemajonnäs i ett briochebröd.
Utseendemässigt såg den faktiskt inte mer än godkänd ut, och halvsmält ost gör oss alltid lite ledsna i själen. Men som tur var smakade den helt klart bättre än den såg ut, och trots att osten gärna hade fått vara mer smält så var den tillräckligt mjuk, och högrevköttpucken var både välstekt och snyggt kryddad. Sötman från den karamelliserade löken balanserades fint mot rökigheten i chipotlemajonnäsen. Smokey Dogs egenrökta bacon var en riktig höjdpunkt på burgaren, och var perfekt stekt med en härlig sälta. Vi tycker dock att det var lite snålt tilltaget med två skivor, även om den trevliga servitören påpekade att det använder tre skivor utanför lunchen. Brödet var godkänt, men hade gärna fått vara fluffigare och aningen mindre tilltryckt vid servering. Pommes fritesen var riktigt goda de med, och hade varit värda att beställa in även om de inte ingått.
Smokey Dog levererar en riktigt god och prisvärd burgare, och vi ser fram emot att testa dem även utanför lunchtimmarna nästa gång vi är i Mölndal.
In English
Smokey Dog opened back in 2019 in Mölndal outside Gothenburg in Sweden, and mainly focus on gourmet burgers, smoked meat and a large selection of beers. During our lunch-time visit we tried their classic chuck-based "Högrevsburgare" burger for 115 SEK (13.5 USD), including French fries. In addition to the chuck patty, it also contained cheddar, house-smoked bacon, caramelised onions and chipotle mayo in a brioche bun.
To be honest, it didn't look that good at all, and semi-melted cheese always hurts our souls. But thankfully, it tasted much better than it looked and even though we would have preferred the cheese to be a bit more melted it was actually soft enough, and the beef patty had a great crust and was excellently seasoned. The sweetness from the onions worked great with the smokey chipotle mayo as well. Smokey Dog's house-smoked bacon was perfectly crunchy and salty, and was probably the highlight of our meal. We did think that two slices was a bit meagre, even though the friendly waiter did point out that they use three slices during the dinner service. The bun was alright, but could have been a bit fluffier seeing as it was a bit squished.
We did appreciate the fries as well, and we would have ordered them even if they hadn't been included in our lunch deal. Smokey Dog serve a really good burger that's well worth its price, and we look forward to trying them outside of lunch hours the next time we're in Mölndal.