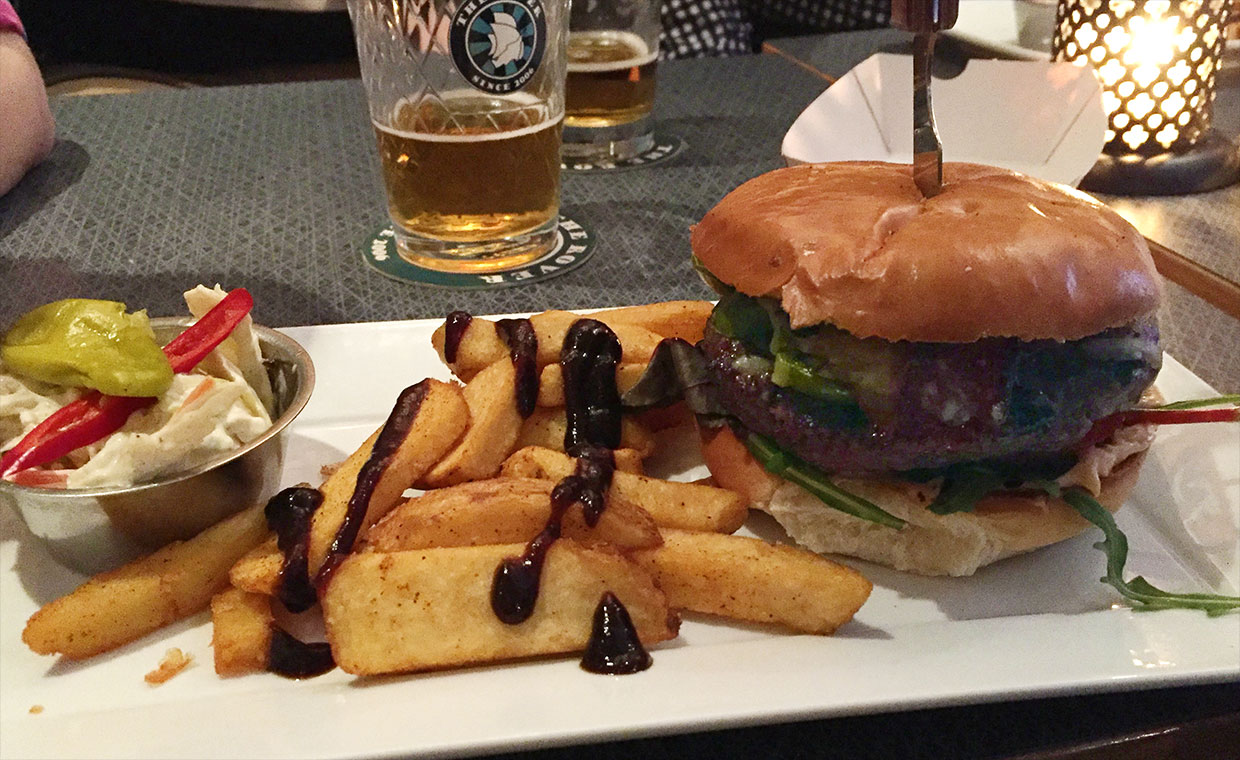 Sedan 2006 har det gått att avnjuta The Rovers hamburgare, och under den tiden talades det om deras stora saftiga burgare med gott kött, idaho-potatis och en dressing utom denna värld. Nu, ett helt decennium senare, var det dags att prova deras "The Ass on Fire Burger" med cheddarost, jalapeños, jalapeñomajonnäs och bacon, serverad med pommes frites, coleslaw och lite sallad för 175 kronor.
Själva burgaren såg lite platt ut, även om den stora 200-gramspucken dominerade och såg ganska saftig ut trots att den nog förberetts en bra stund innan den stekts. Första tuggan överraskade dock med välkryddat kött. Det var något överstekt, vilket kanske kan förklaras med att vi var ett större sällskap. Brödet var däremot underkänt; det var torrt, platt, kompakt, smaklöst och bara till för att man inte skulle kladda ner fingrarna medan man greppade burgaren. Dressingen var stark och smakrik, men långt ifrån så kryddig som vi hade hoppats.
Vart salladen tog vägen vet jag inte, men den lilla skålen med en rätt anonym coleslaw fanns i alla fall på plats. Pommes fritesen av den tjocka pubtypen var överkryddade, kalla och hade täckts med en HP-liknande sås. Och var fanns idaho-klyftorna?
Tio år efter öppning är det vara att inse att The Rover tyvärr har blivit omsprungna av stadens alla nya hamburgarställen.
In English
The Rover is a Gothenburg classic, and 10 years ago they were known for their excellent burgers. Unfortunately they haven't moved with the times, and our hamburger was a bit of a disappointment. Despite being slightly overcooked, the meat had a nice taste, but most other components were bland – especially the dry, tasteless bread and the accompanying french fries and coleslaw. All of this might have been acceptable a decade ago, but Sweden has come too far in its burger evolution for us to be able to accept this.