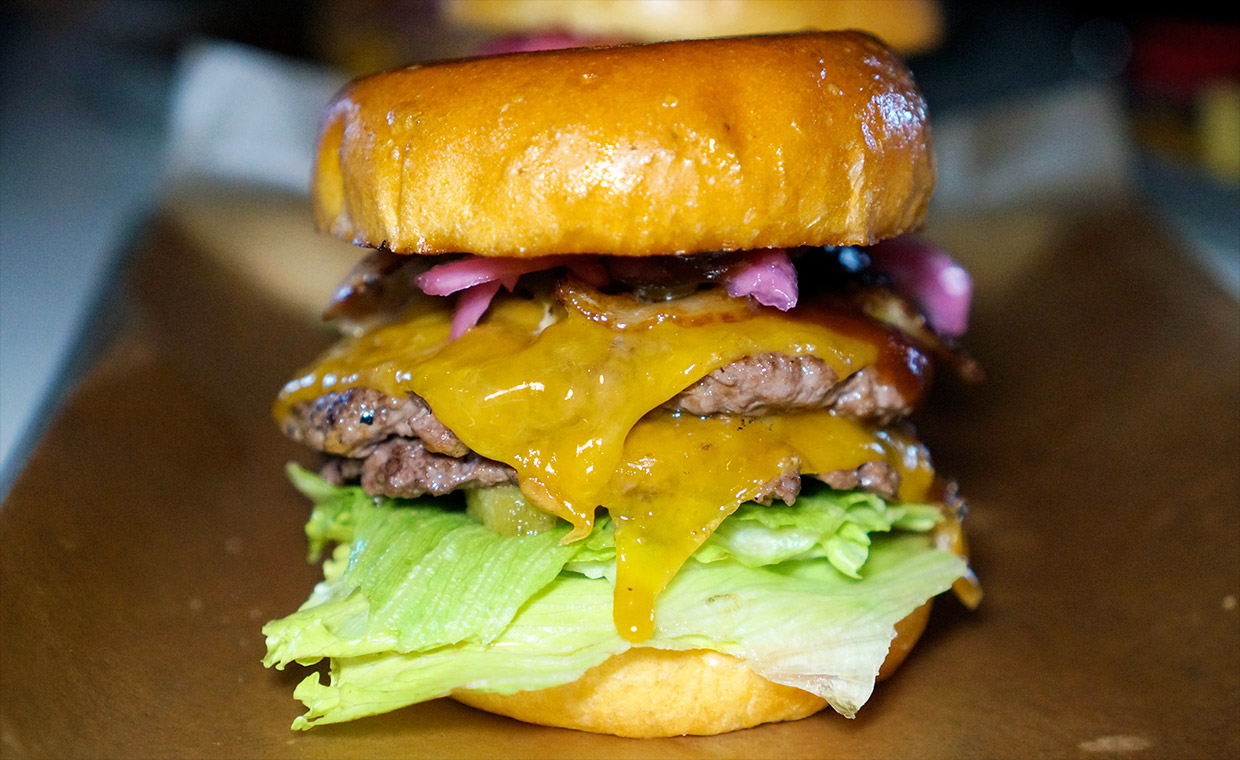 Mugwort BBQ ligger i Gråbo, 30 kilometer nordöst om Göteborg, och fokuserar precis som namnet antyder på barbecue. Vi passade på att göra ett besök i samband med SM i Hamburgare 2020 (som de anordnar tillsammans med Grillfrämjandet). Själva restaurangen ligger i ett industriområde som de har annekterat på ett lyckat och tjusigt vis; lokalen är stor, men ändå härligt familjär och mysig med blandad populärkulturell memorabilia och handskrivna menyer. När vi var på besök hade de tre burgare på menyn, samt en hemlig burgare kallad Roulette som komponeras efter personalens tycke och smak. Vi tog tillfället i akt och beställde alla fyra burgare för att få en fullständig bild av deras burgarutbud. Priset låg på cirka 140 kronor för en dubbelburgare, och 75 kronor för enkelvarianten.
Husburgaren Mugwort med ost, bacon, sallad, tryffelmajonnäs, picklad rödlök, jalapeños, barbecuesås och dubbla köttpuckar på ungefär 100 gram vardera var en rejäl skapelse. Brödet kändes följsamt i handen och var fint uppvärmt. Redan vid första tuggan märkte vi att detta var en burgare med många olika smaker som skrek om smaklökarnas uppmärksamhet. Men den dominerade smaken var ändå deras prisvinnande BBQ-sås som med sin kraftiga rökiga och söta smak tog över alla smaker. Smaken var förvisso god, men smakbalansen var tyvärr spretig.
Köttet var lite för satt och tungt, och saknade den där riktigt fina stekytan som vi eftersträvar. Vi skulle också gärna ha sett lite mer kryddning på köttet då smaken inte kunde mäta sig mot den kraftiga BBQ-såsen. Att salladen dessutom var kall gav inga pluspoäng heller. De andra burgarna som vi testade som hade lite enklare smaker (och som saknade kall sallad) fungerade desto bättre, som deras cheeseburgare. Vår Roulette-burgare var såklart lite gimmickartad med massor av ostskivor samt ostbågar, men vittnade om gott om kreativitet i köket.
Mugwort BBQ är helt klart en intressant och trevlig restaurang att besöka. Burgaren är helt okej, men barbecue-rätterna, servicen och läget imponerar desto mer.
In English
Mugwort BBQ is located in Gråbo, 30 kilometres northeast of Gothenburg. Their main focus is barbecue, but seeing as we visited them when they held the Swedish national burger championships in 2020, we made sure to try their burgers as well. The restaurant itself is located in an industrial area that they've turned into a cool and inviting BBQ haven, with interesting interiors and handwritten menus. During our visit they had 3 burgers on their menu, plus an off-menu burger called "Roulette" that changed depending on the staff's mood. We ordered all 4 burgers in order to get the full picture. The prices were around 140 SEK (16 USD) for a double burger and 75 SEK (8 USD) for the single patty variety.
Their main "Mugwort" burger, with cheese, bacon, lettuce, truffle mayo, pickled red onions, BBQ sauce and double beef patties (around 100 grams each) was a real beast. The bun was nice and soft, and had been properly toasted. It didn't take more than one bite for us to notice that there were a lot of flavours fighting for our attention though, and the most noticeable one was their award-winning BBQ sauce. This meant that it completely overpowered the burger with its sweet and smokey flavours. Sure, it was nice – but there wasn't much balance to be found.
The actual beef patties were a bit heavy and lacked that great crust that we're always in search of. We would have liked some more salt and pepper as well, seeing as the beef didn't really stand out against the other ingredients. The cold lettuce didn't really help either. The other more simple burgers, such as their cheeseburger, worked much better flavourwise. And our Roulette burger with loads of cheese plus cheese puffs showed that the kitchen staff doesn't lack creativity.
Mugwort BBQ is definitely an interesting restaurant to visit. Their burger is alright, but the BBQ dishes, friendly service and location is much more impressive.