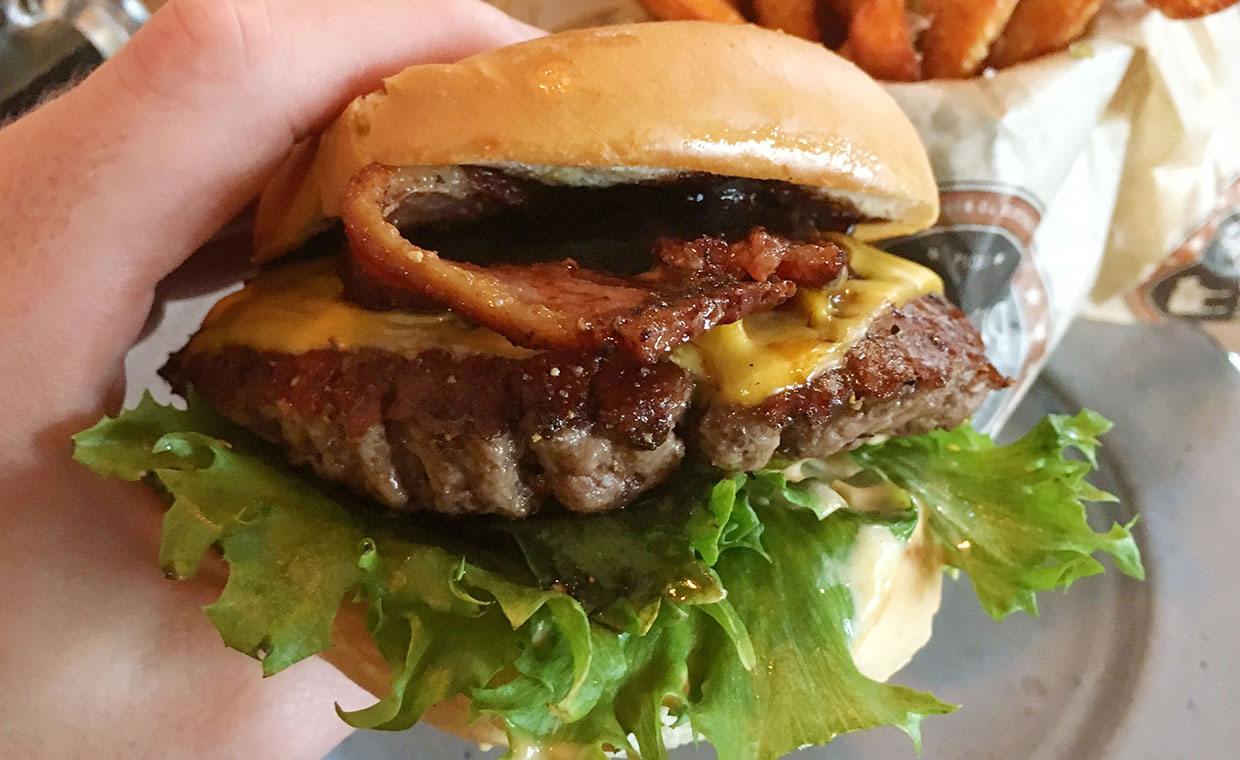 Sedan 2014 har Bada Bing Burger dominerat burgarutbudet i Jönköping, och vi har mottagit mängder av tips om att testa deras burgare.
Deras lokal är riktigt fräsch med mycket ljusinsläpp och en inredning med en modern rustik- och industrikänsla. Menyn innehåller ett tiotal burgare som borde tillfredsställa de flesta burgarfanatiker. En burgare som verkligen fångade vår uppmärksamhet var deras säsongsburgare med blåbärssylt, men som alltid när vi recenserar valde vi en klassisk burgare. I detta fall var det deras "Sotar'n" med dressing, sallad, tomat, pickles, cheddarost, sidfläsk och barbecuesås för 109 kronor.
Burgaren var välbalanserad med god smak från både köttet och sidfläsket. Däremot var den något slarvigt upplagd, vilket vi förmodar berodde på stress i köket då sällskapets andra burgare presenterades mycket finare. Brödet hade tyvärr en hård kant och köttet hade mått bättre av några sekunder mindre på stekbordet. Men överlag så satt smakerna där, och det är ju det som är huvudsaken. Sötpotatispommesen för 39 kronor var okej, vare sig mer eller mindre.
Sammanfattningsvis serverar Bada Bing Burger riktigt bra burgare, trots behovet av vissa finjusteringar, och vi rekommenderar varmt ett besök om du befinner dig i Jönköping.
In English
Bada Bing Burger has dominated the burger scene in the Swedish city of Jönköping since their opening in 2014, and it's easy to understand why seeing as they have a nice place with good service and a wide variety of tasty burgers. We chose their Sotar'n burger with cheese, bacon and BBQ-sauce for 109 SEK. The burger was well balanced, even though the presentation was quite sloppy. The patty had a good meat flavour to it and all the other components were really good as well. The bun had a bit of a crust on the sides which messed up the texture a bit, and the patty should have spent shorter time on the griddle. But the flavours were there, and that's what counts. If you're ever in the area you should most definitely check them out!