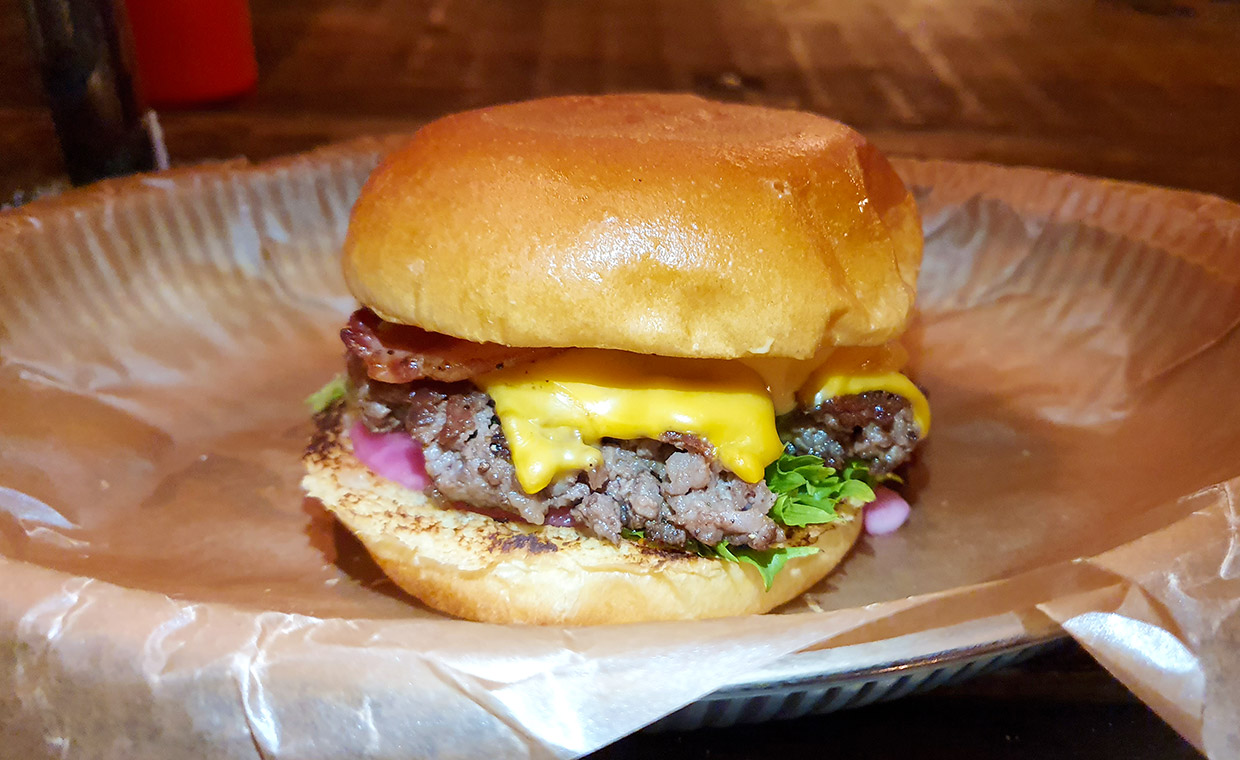 Beers n Burgers öppnade i Karlskoga i slutet av 2019, och fokuserar precis som namnet antyder på både öl som hamburgare. Hamburgarmenyn består av sju olika burgare, varav ett vegetariskt och ett veganskt alternativ. Vid vårt besök kände vi oss lagom äventyrliga och hoppade över den klassiska cheeseburgaren och valde istället deras "Tryffel" för 99 kronor, med ost, bacon, picklad rödlök, ostcrème, sallad och givetvis även tryffelmajonnäs.
Vi tyckte att hamburgaren såg aptitlig ut vid serveringen men blev lite besvikna när vi lyfte den från brickan. Brödet som såg så lovande ut sjönk ihop lite som en ballong som tappat luften. Smaken var i alla fall godkänd, men ett luftigt briochebröd som detta kräver varsam hantering och måste rostas försiktigt för att hålla ihop. Köttet däremot var hamburgarens klara stjärna. Högrevspucken var luftig och hade en rejäl stekyta utan att för den sakens skull vara torr.
Baconet var knaprigt och ungefär som förväntat och bidrog med lite behövlig sälta. Ostcrèmen var krämig och funkade fint tillsammans med den vanliga burgarosten, och vi uppskattade syrligheten hos den picklade rödlöken. Men utöver brödet så var vår största invändning att tryffelmajonnäsen knappt smakade tryffel alls. Om det inte hade varit för några små prickar i majonnäsen hade vi nästan trott att de tagit fel i köket.
Trots detta så var själva burgaren klart godkänd. Beers n Burgers är redan ett stabilt alternativ i Karlskoga, och vi ser fram emot att se dem utvecklas med tiden.
In English
Beers n Burgers opened in the Swedish city of Karlskoga towards the end of 2019. As their name implies, their focus lies with hamburgers and beers, and the burger menu consists of 7 different creations, including a vegetarian and a vegan option. During our visit, we decided to forego the classic cheeseburger and instead opted for their truffle burger for 99 SEK (10 USD), which included cheese, bacon, pickled red onions, a cheese crème, lettuce and a truffle mayo.
The hamburger looked pretty great, but when we lifted it from the tray it kind of deflated like an old balloon. It tasted pretty good though, but an airy brioche bun such as this one requires better handling and needs to be toasted in order to keep its structural integrity. Thankfully the meat was really great, with an airy and juicy brisket patty that had a great crust.
The bacon was suitably crunchy and added some much-needed salt, and we appreciated both the smooth cheese crème and the sharpness from the pickled red onions. The only other letdown apart from the bun was that the truffly mayo hardly tasted of truffle at all. If we hadn't seen those black spots in the mayo, we would have thought that there'd been a mix up in the kitchen.
Despite these mistakes we still enjoyed our meal. Beers n Burgers serve a really decent burger in Karlskoga, and we're looking forward to seeing how they develop over time.