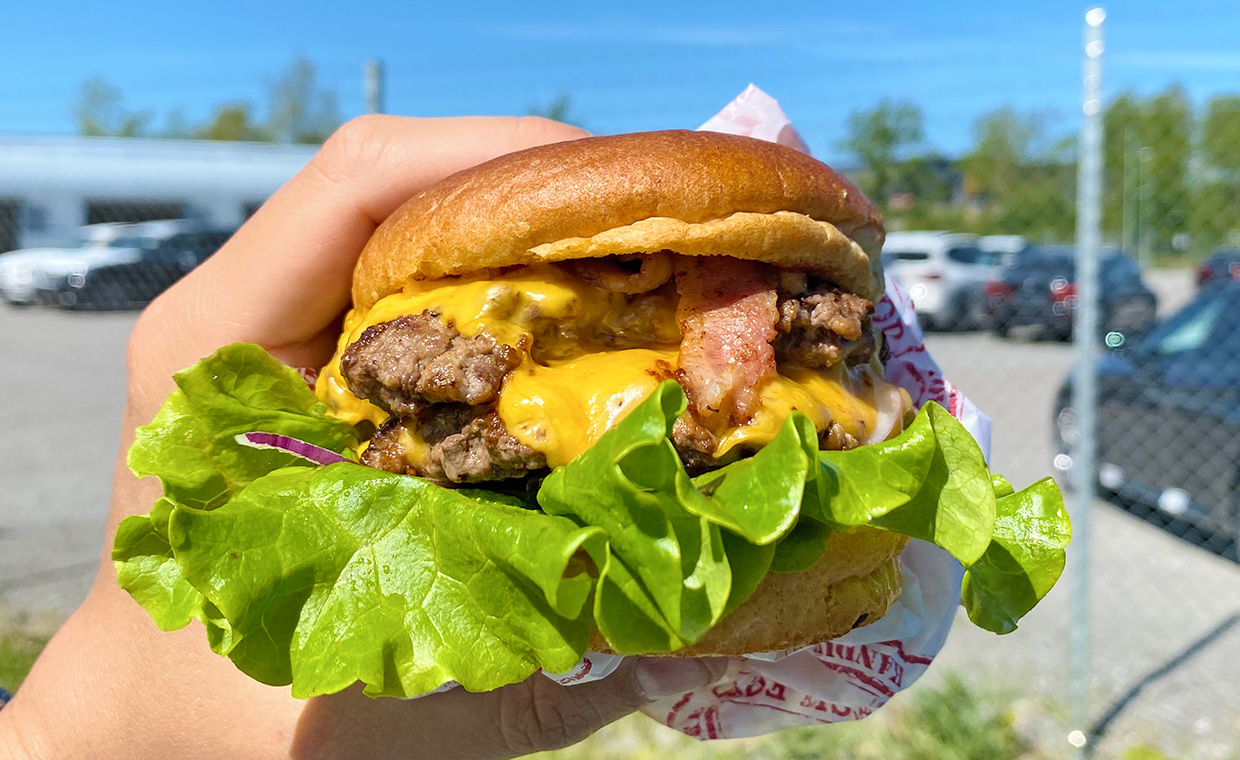 Knifetown Burgers öppnade under våren 2020 ute i ett industriområde i Knivsta, mellan Arlanda och Uppsala. Och när vi hittade fram till restaurangvagnen på en öde parkeringsplats så såg det inte mycket ut för världen; bara några enkla bord med fällstolar och en kort meny. På hamburgerfronten serverades fyra köttburgare och en med halloumi, som alla kostade mellan 85 och 89 kronor för en enkelburgare på 100 gram. Lunchen kostade 95 kronor, inklusive pommes frites och dryck. Vi beställde deras BBQ-burgare med dubbel cheddar, bacon, rökig majonnäs, krispsallad, rödlök och barbecuesås. Vi lade till en extra köttpuck och betalade då 125 kronor för en 200-grammare.
Bortsett från att salladsbladet var överdrivet stort och stack ut lite för mycket så var detta en riktigt snygg burgare. Och den smakade ännu bättre. Köttet var otroligt saftigt och smakrikt, och köttsafterna rann överallt redan efter första tuggan. Brödet var väldigt mjukt, men det höll ihop förvånansvärt väl och sög upp det mesta. Vi gillade särskilt de olika texturerna, bland annat det småknapriga baconet och den krispiga rödlöken, som samspelade fint med den krämiga majonnäsen. Och våra enda riktiga invändningar var att osten legat lite för länge på köttet och blivit lite limmig, samt att barbecuesåsen var lite för söt för vår smak. Men det hindrade oss inte från att njuta stort, och de nyfriterade pommes fritesen var frasigt goda och mättande de med.
Vi blir alltid lyckliga av goda burgare, och det är extra roligt att hitta riktigt hög kvalitet på en så här pass oväntad plats. Knifetown Burgers sätter verkligen Knivsta på kartan, och är väl värd omvägen – oavsett om du bor i Uppsala eller Stockholm.
In English
Knifetown Burgers opened in the spring of 2020 in an industrial zone in Knivsta, between Stockholm Arlanda Airport och Uppsala. We finally reached the restaurant cart, located in an empty parking lot, and there wasn't much going for it except for a few simple tables and chairs outside. Their burger menu consisted of 4 meat burgers and one with hallomi, costing 85-89 SEK (about 9 USD) for a single 100 gram patty. A lunch menu with french fries and a soft drink cost 95 SEK (10 USD). We ordered their BBQ burger with double cheddar slices, bacon, smokey mayo, frillice lettuce, red onions and a barbecue sauce. We also added an extra patty, and our 200 gram menu cost us 125 SEK (13 USD).
The piece of lettuce was a bit big, but apart from that the burger looked great. And it tasted even better. The patty was intensly beefy and juicy, with meat juices going everywhere after the first bite. The bun was very soft, but held together remarkably well and soaked up just about everything. We especially liked how the different textures worked together – with the crunchy bacon and crispy onions complementing the creamy mayo. Our only real complaint was that the cheese was a bit pastey, having completely melted into the patty, and that the barbecue sauce was a bit too sweet for our liking. But that didn't stop us from enjoying our meal, and the freshly cooked french fries were crispy and filling.
A tasty burger always lifts our spirits, and it's always fun finding such high quality as this in unexpected places. Knifetown Burgers really put Knivsta on the map, and are well worth the trip – no matter if you live in Uppsala or in Stockholm.