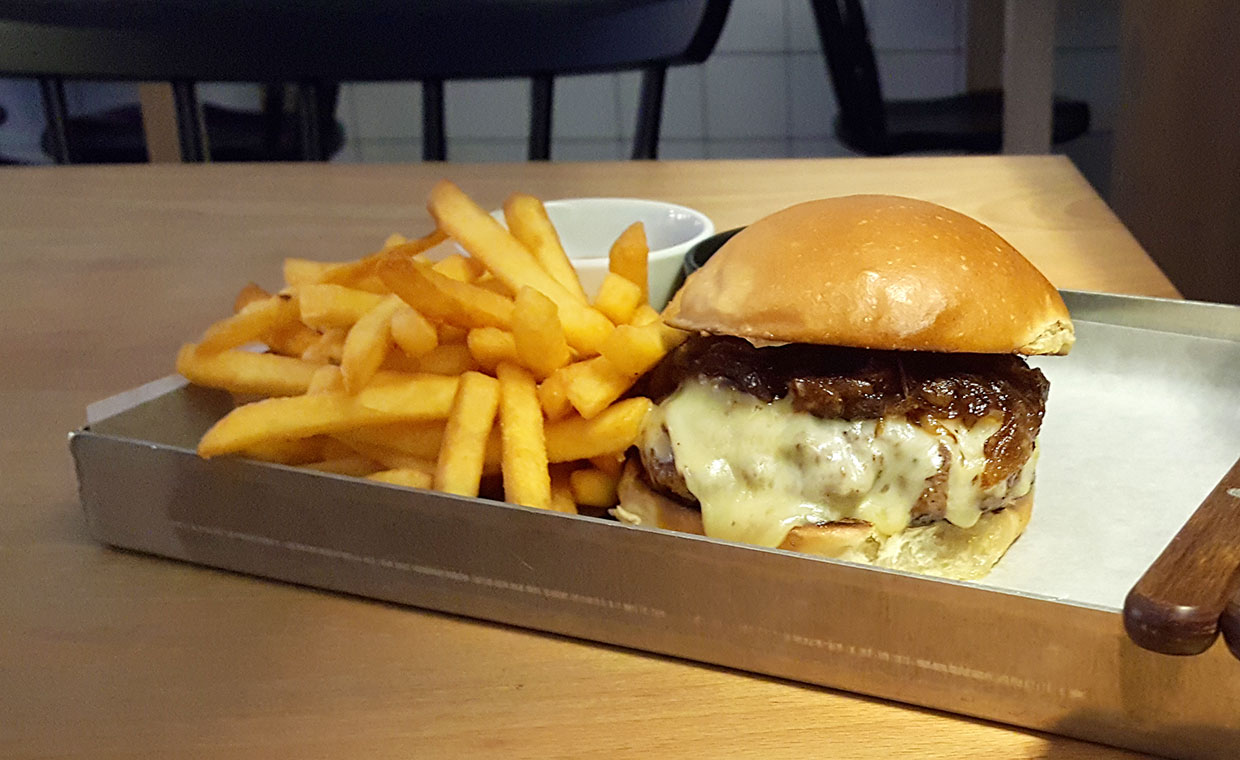 När Bara Burgare slog upp portarna i Kristianstad hösten 2015 fick staden fick sin första riktiga hamburgarrestaurang. Lokalen är fräscht modern med  betong, vitt kakel och ljusa björkmöbler, och du beställer och betalar i baren och får sedan maten serverad vid bordet. Menyn känns befriande avskalad med enkla hamburgare, cheeseburgare, plusvarianten där du även får karamelliserad lök och tomat samt den starka varianten med jalapeñocreme, picklad rödlök och tomat. Ingen burgare innehåller vare sig sallad eller dressing. Vi valde en klassisk cheeseburgare med karamelliserad lök för 145 kronor, och fick pommes frites med hemlagad ketchup och majonnäs på köpet.
Själva burgaren var en riktig skönhet med en tjock köttpuck på 200 gram, massor av karamelliserad lök och ett mjukt följsamt bröd. Angusköttet som kom från en lokal gård mindre än en mil bort var perfekt rosastekt. Den var löst packad, hade en fin stekyta och var försiktigt kryddad med salt och peppar precis så som det ska vara. Med den söta karamelliserade löken och den välsmälta lagrade cheddarosten kom våra farhågor att burgaren skulle behöva någon dressing på skam. Brödet som bakas på restaurangen dagligen var gott och höll inne köttsafterna mycket bra samtidigt som det var lagom mjukt.
Pommes fritesen var också goda tillsammans med den tillhörande dippen, men hit kommer du för den goda kvalitetsburgaren och inget annat. Bara Burgare serverar en av de bästa hamburgarna i Skåne och har precis vad som krävs för att nå upp till en fyra!
In English
Bara Burgare are located in Kristianstad in the south of Sweden, and opened in 2015. We ordered their cheeseburger with caramellized onions and tomato, which also included french fries, homemade ketchup and trufflemayo for 145 SEK. The burger looked gorgeous with a 200 gram angus patty from a local farm, lots of caramellized onions and a toasted soft bun. The beef patty was loosely packed, perfectly pink with a nice char and carefully seasoned with salt and pepper. The bread was almost as good as the patty and held the juices in well enough. The fries and dip were tasty too, but the burger itself contained everything needed for a 4 out of 5 star score.