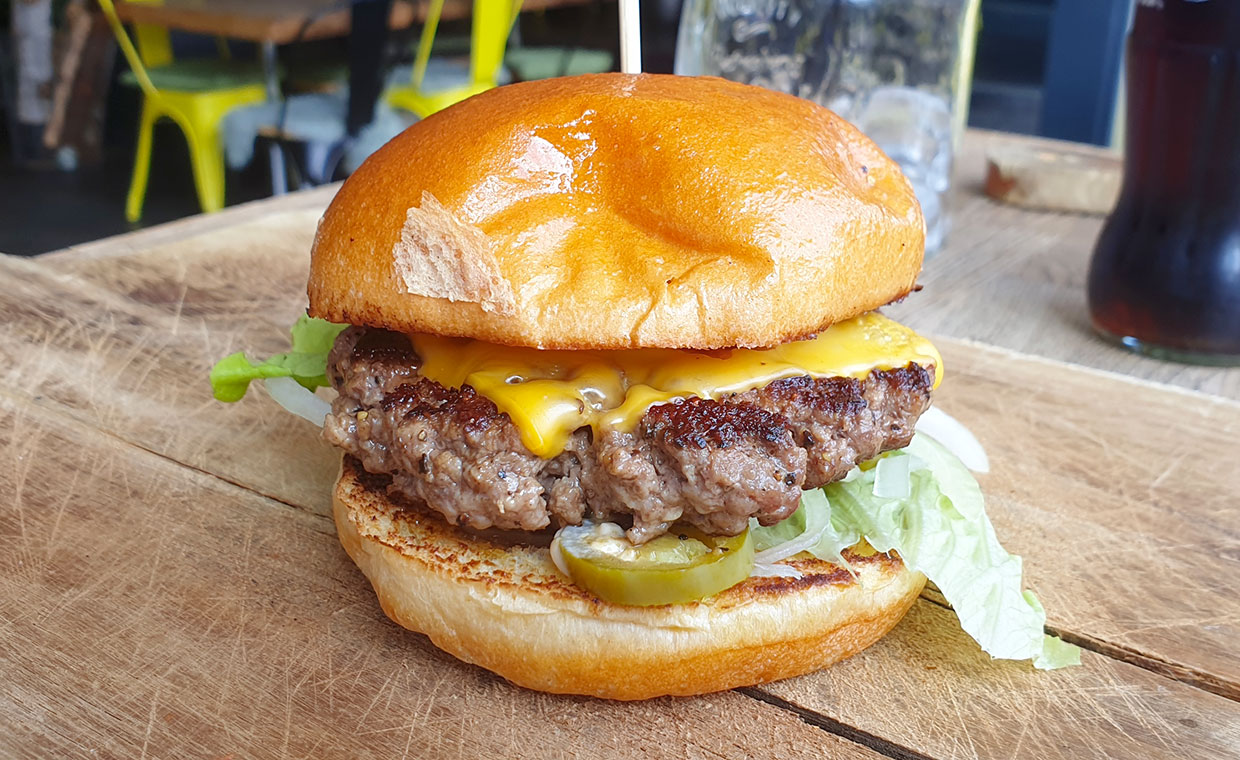 Sedan några år tillbaka så har @Burger varit ett hamburgeralternativ i Kungsbacka centrum, 3 mil söder om Göteborg. Lokalen är ljus, fräsch och snyggt industriellt inredd som många andra hamburgerställen är idag. På menyn hittade vi 12 olika hamburgare att välja mellan, varav ett par vegetariska (dock ingen vegansk). Vårt val föll på en Chili Burger för 89 kronor, som liksom de andra burgarna har en 140 gram stor köttpuck gjord på ekologisk och närproducerad högrev, samt cheddar, sallad, chipotledressing, gul lök, jalapeños och en vitlöks- och cheddarmajonnäs.
Burgaren hade ett tilltalande utseende och bra proportioner mellan de olika ingredienserna. Köttet var visserligen lite hårdare tillagat än den angivna stekgraden "medium well", men hade i gengäld en härlig stekyta och en utmärkt konsistens. Det var välkryddat och saftigt på insidan. Den smälta cheddarosten var krämigt god, men cheddar- och vitlöksmajonnäsen smakade mer vitlök än ost. Hettan från jalapeñon satt fint, men vi tycker att chipotledressingen hade kunnat ta i lite mer. Briochebrödet var visserligen fluffigt på insidan, men kändes lite stelt och gav intrycket av att ha legat framme en stund.
@Burger erbjuder ett fullt godkänt alternativ i Kungsbacka, även om konkurrensen har börjat hårdna rätt ordentligt på senare tid.
In English
@Burger have been serving burgers for a few years now in central Kungsbacka, just south of Gothenburg. The restaurant is bright and clean with industrial interiors, just like many other of today's Swedish burger joints. Their menu consists of 12 different burgers, including a few vegetarian (but not vegan) options. We ordered a Chili Burger for 89 SEK (9 USD), with a 140 gram patty made from organic and locally sourced chuck. It also contained cheddar, lettuce, chipotle sauce, onions, jalapeños and a garlic and cheddar mayo.
The burger looked really nice, and had a great ingredient ratio. The patty was a bit more overcooked than the advertised "medium well", but had a great crust and consistency. It was well-seasoned and juicy in the middle. The melted cheddar was creamy, but the cheddar and garlic mayo mainly tasted of garlic. And since the chipotle sauce didn't taste of much, we were happy that the jalapeños added some much-needed heat. The brioche bun was nice and fluffy on the inside, but felt a bit tough on the outside.
The competition in Kungsbacka may have heated up significantly, but @Burger are still a fully acceptable alternative in Kungsbacka.