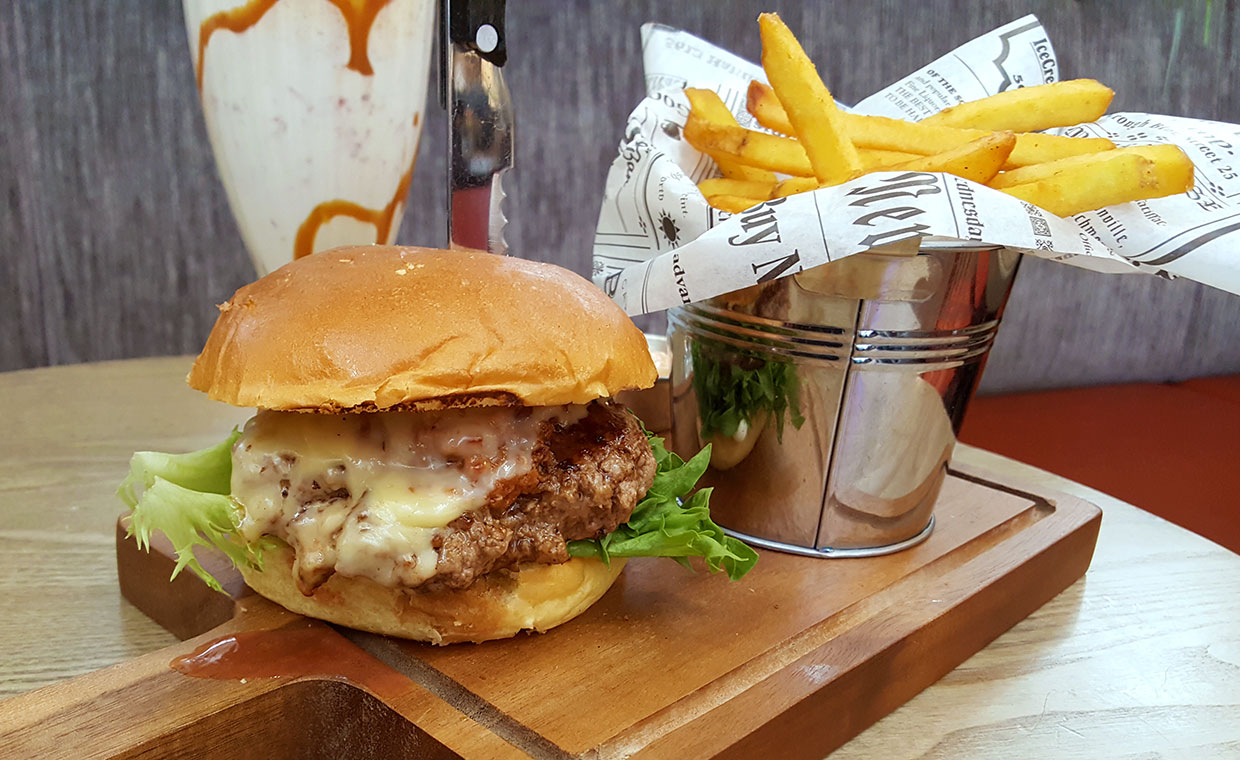 Linnea & Nello är en enklare amerikansk/italiensk restaurang som ligger i shoppingcentret Kungsmässan i Kungsbacka.  Med en seriös inställning till hamburgare gjorda på lokalproducerat kött och ett eget briochebröd så fanns det ingen tvekan om vad vi skulle äta. Vi valde en Tjolöholms Burger för 130 kronor, som bestod av 160 gram högrev från Tjolöholms gård, prästost, baconmarmelad, sallad, tomat, majonnäs, dressing och ketchup. I priset ingick även pommes frites.
Utseendemässigt såg burgaren bra ut. Köttet var saftigt, men kunde gärna tagits av stekbordet lite tidigare då det var lite väl hårdstekt. Baconmarmeladen var mycket god med en härlig sötma och lagom mycket rökighet. Vi kan tycka att prästost kan ha en lite för dominerande smak, men här den välbalanserad vilket vi uppskattade. De övriga ingredienserna på hamburgaren var bra även om vi inte märkte av något av den utlovade dressingen. Pommes fritesen var helt okej, men lämnade inget större intryck.
Tyvärr så var brödet det största problemet, då det var ganska torrt och föll isär alldeles för enkelt. Linnea & Nello serverar en fullt godkänd lunchburgare under shoppingturen, men vi hade gärna sett ett bättre bröd och att de lägger mer energi på detaljerna.
In English
Linnea & Nello is a american/italian restaurant situated in the Kungsmässan shopping arcade in Kungsbacka, located outside Gothenburg in Sweden. Their "Tjolöholms Burger" had local meat and their own brioche bun, and cost 130 SEK including fries. The burger looked delicious, and contained 160 grams of chuck from the Tjolöholm farm, bacon marmalade, tomato, lettuce, mayonnaise, ketchup and dressing. The patty was juicy but had spent a bit too long on the griddle. The bacon marmalade was great with a nice sweetness together with the right amount of smoky flavor, and the präst cheese was nicely melted and well-balanced (a relief as it can be overpowering at times). We enjoyed the other condiments, but the dressing was nondescript. The real letdown was their homemade bun, which was dry, flaky and made the burger fall apart. Overall, Linnéa & Nello serve a decent lunch burger, but they ought to focus more on the details – and making fluffier buns.