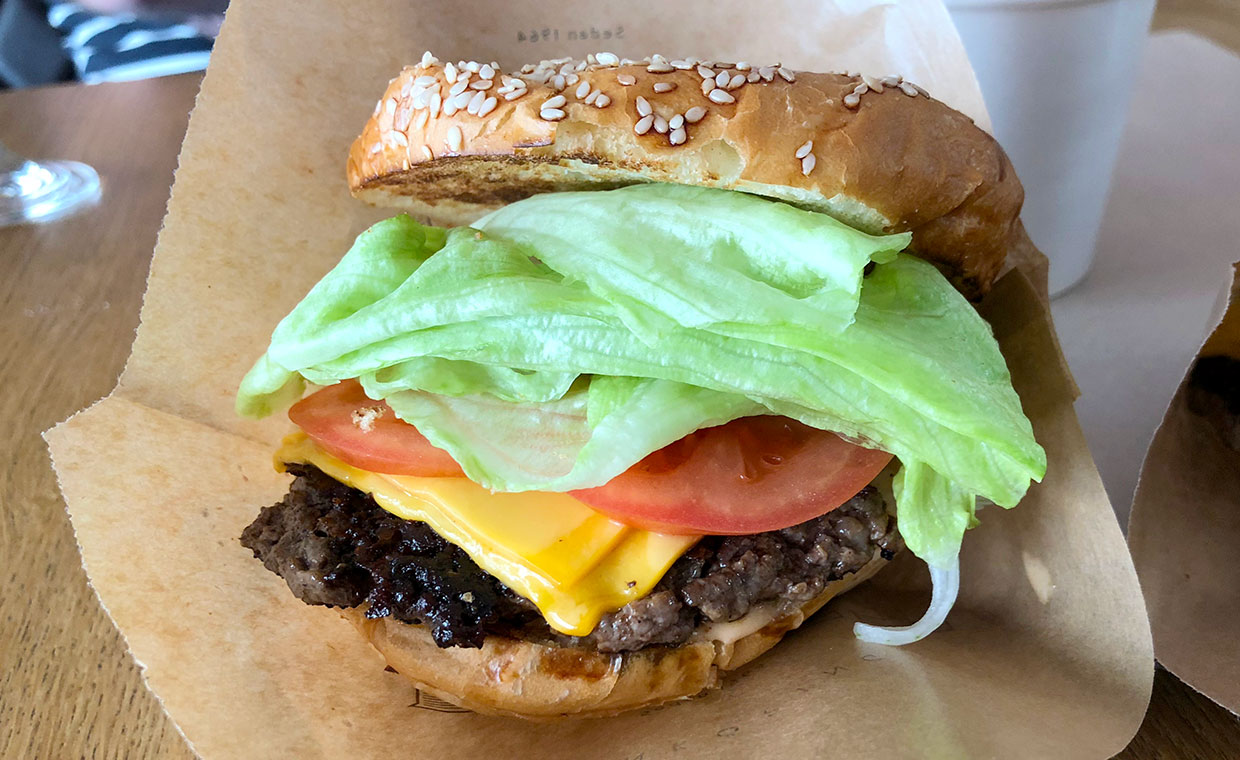 I centrala Linköping ligger burgarhaket Flott, som titulerar sig själva som ett modernt gatukök med fokus på lokala råvaror. På tavlan ovanför baren skrivs det ut vilken specifik gård dagens kött kommer ifrån – ett trevligt och transparent förhållningssätt som verkligen befäster att de jobbar med lokala råvaror.
Precis som på de flesta andra moderna hamburgerrestauranger i landet så maler de köttet dagligen, och även brödet levereras dagsfärskt från ett lokalt bageri enbart ett par kvarter bort. Menyn består av åtta burgare, varav ett vegetarisk och ett veganskt alternativ, och är prissatta mellan 100 och 115 kronor.
Vi valde signaturburgaren Flott som innehåller ost, lök, sallad, tomat och dressing tillsammans med en köttpuck på 180 gram. Tyvärr så var burgaren slarvigt komponerad och fullkomligen täckt med sallad. Den massiva mängden grönsaker var dessutom kall, vilket förstörde mycket av njutningen.
Köttet var gott, men hade lite för mycket stekyta och smakade lätt bränt. Sesamfröna på brödet var en fin nostalgisk detalj, men de tillförde tyvärr ingen speciellt. Inte heller pommes fritesen bjöd på någon märkvärdig smakupplevelse, men de var ändå godkända.
Överlag så fick vi en bra burgare med några missar som tyvärr drog ner helhetsbetyget. Nästa gång vi besöker Flott kommer vi definitivt att beställa en burgare utan sallad.
In English
Flott opened in 2016 in central Linköping, and focus on locally sourced ingredients that are showcased above the counter. They have eight burgers on the menu, including one vegetarian and one vegan option, with a price range between 100 and 115 SEK. We ordered their signature burger "Flott", which contains cheese, onion, lettuce, tomato, dressing and a 180 gram patty. The burger had an excessive amount of cold lettuce on it, which ruined a big part of our meal. It's a pity, since the rest of it actually was quite good. The patty was tasty but had a slightly burnt crust on it, and we rather liked the nostalgic detail with sesame seeds on the bun. Overall this was a good burger with a few mistakes. If you are in the area, we can recommend Flott, but stay away from the burgers with lettuce.