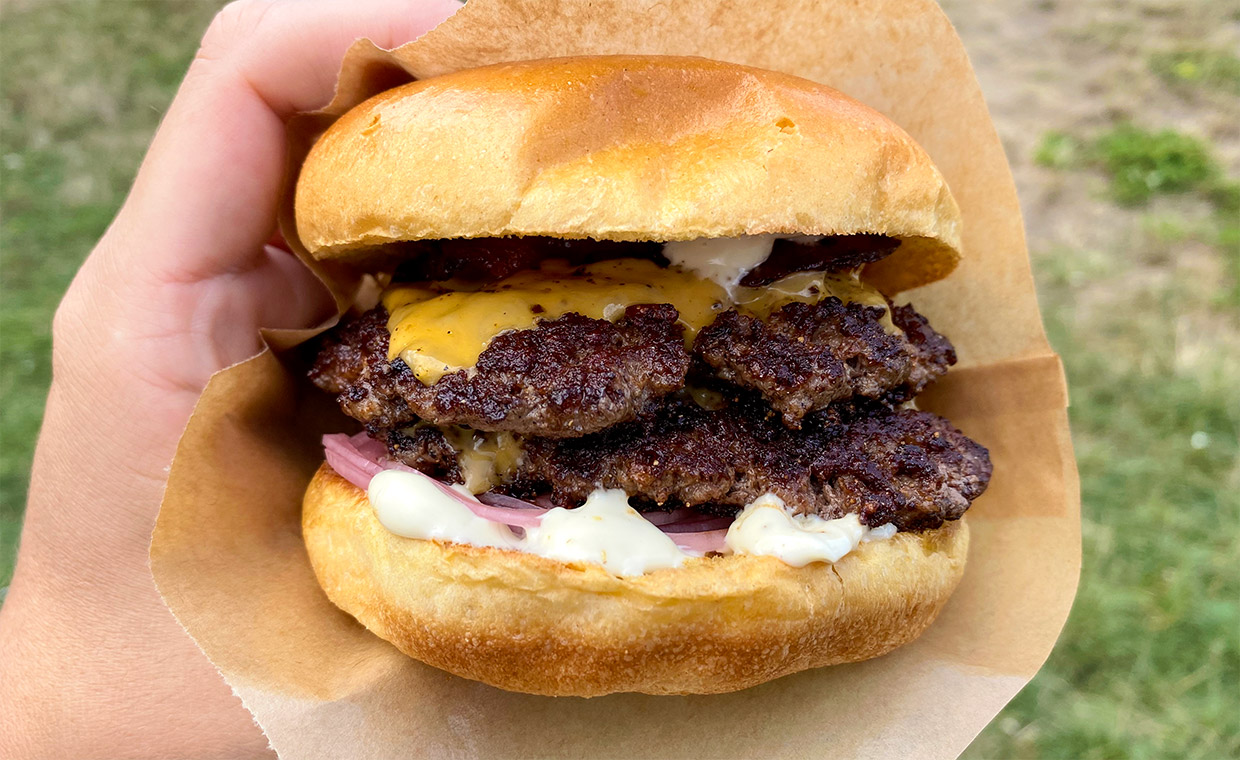 Den lilla matvagnen TK Burgers brukar stå lite varstans i Linköping, men på somrarna flyttar de en kort bit norrut och står parkerade precis intill vackra Bergs slussar vid Göta kanal. Där serverar de en handfull olika burgare, varav ett vegetariskt och ett veganskt alternativ. Vi beställde in en TK, som innehöll två 130-gramsköttpuckar, cheddar, bacon, picklad rödlök och tryffelmajonnäs. Själva burgaren kostade 110 kronor, och en meny med läsk och pommes frites kostade 135 kronor.
Burgaren serverades i ett klassiskt briochebröd som var fint uppvärmt. De två köttpuckarna var rejält tilltagna – 260 gram totalt – men var tyvärr lite överstekta och ganska krispiga på ytan. De var helt genomstekta och hade gärna fått vara lite mjukare och saftigare på insidan. Förutom ett par tuggiga bitar så smakade de i alla fall gott, och fetthalten i köttet var föredömligt hög. Baconet smakade salt och gott, men var tyvärr ganska hårt och tuggigt. Den picklade rödlöken tillförde rejält med syra, vilket vi uppskattade. Den lättade även upp tryffelmajonnäsen som fanns både i topplocket och i botten, något som hade varit ett problem om den inte hade varit ganska mild.
Överlag så hade vi hoppats på lite mer från TK Burgers. Vi gillade att det var prisvärt och den vackra utsikten över Göta kanal, men de många småmissarna håller dem tillbaka. De är i alla fall helt klart utan större konkurrens i området, och är ändå värda att besöka nästa gång vi är nära Bergs slussar.
In English
The small food wagon TK Burgers can be found in various places around Linköping, but during the summer months they move out by the beautiful Bergs Lock's in Göta Canal. There they serve a handful of different burgers, including a vegetarian and a vegan option. We ordered a TK, which contained two 130-gram beef patties, cheddar, bacon, pickled red onions and truffle mayo. The burger itself cost 110 SEK (12.5 USD), and a meal with french fries and a soft drink cost 135 SEK (15.5 USD).
The burger came in a classic brioche bun that was nicely toasted on the inside. The double patties were pretty hefty – 260 grams in total – but they were a bit overcooked and pretty crispy on the outside. They were completely cooked through, and we would have liked for them to be a bit softer and juicier on the inside. Apart from a few chewy parts we enjoyed the taste at least, and the fat content was nice and high. The bacon was salty and flavoursome, but was pretty hard and chewy as well. We liked the acidity of the pickled red onions, which really spruced up our meal. It also really cut through the truffle mayo, which could be found both in the top and bottom part of the burger. Thankfully the truffle amounts were pretty well-balanced, so it didn't overpower our tastebuds either.
We left TK Burgers with a feeling that it really should have been slightly better. The view over Göta Canal was stunning and we liked their low prices, but the many small mistakes really held them back. The best thing they have going for them is that they're far above the competition nearby, and an obvious choice the next time were close to Berg's Locks.