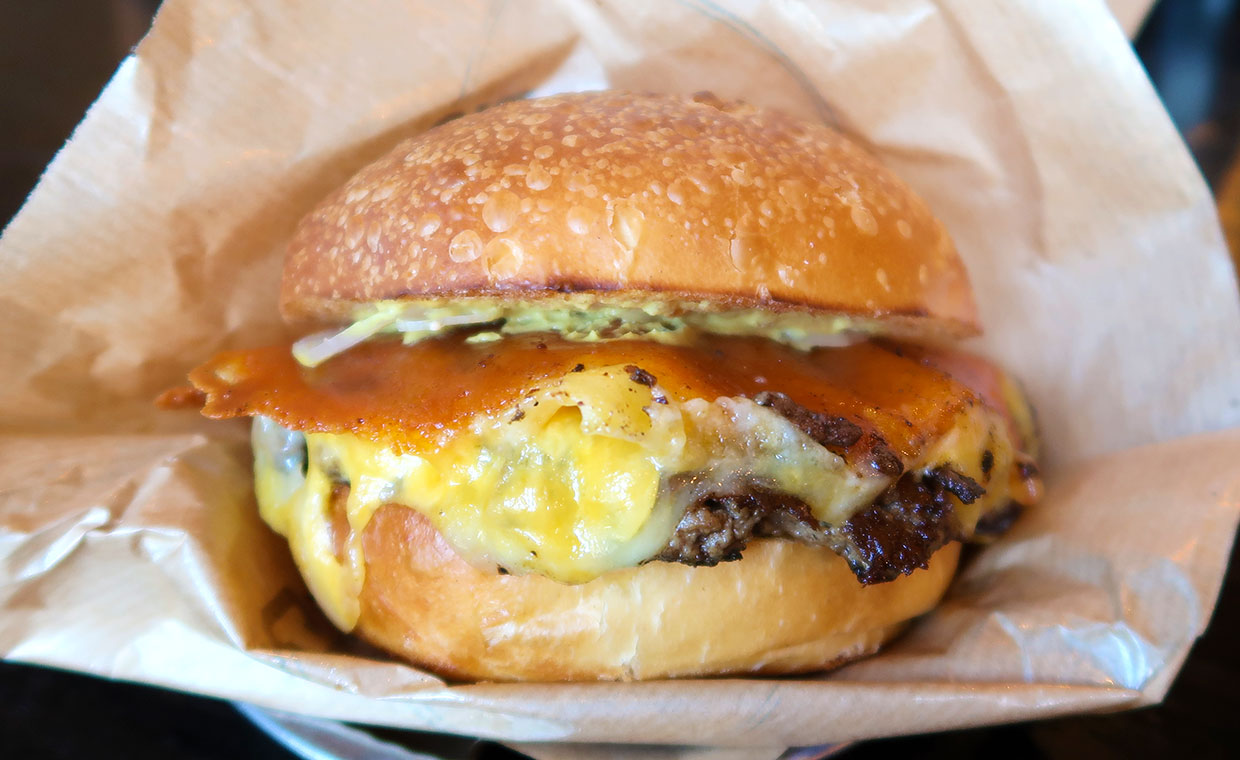 Vi försökte faktiskt besöka Charlie's Burgers i Malmö fyra gånger innan vi pricka in rätt öppettider. Därför blev vi glada över att kliva in i deras avskalade och mörkt inredda lokal i Möllan. Vi uppskattade även deras humana priser på 105 kronor för en burgare. Och eftersom vi fick välja om vi ville ha vårt kött smashat med mycket stekyta eller stekt som en tjockare patty så beställde vi in båda varianterna.
Det första vi slogs av var att brödet såg lite lustigt ut och var täckt av en tunn skorpa. Som tur var så var det mjukt och fluffigt på insidan, och hanterade enkelt såserna och safterna från alla ingredienser. Båda tillagningsmetoderna av köttet var dessutom riktigt bra. De smashade puckarna hade en rejäl stekyta, medan patty-varianten var härligt rosa och saftig på insidan.
The Cheeseburger hade både vanlig cheddar och ett stekt ostchips. Ostchipset såg visserligen roligt ut, men det tillförde inte särskilt mycket rent smakmässigt. Den hade även en aningen vass dijonsenap, men smakerna balanserades ut av deras smakrika pickles. Överlag så var vi riktigt imponerade, även om de andra burgarna också drogs med mindre problem. Lökkonfiten i The Original hade till exempel för stora lökbitar, medan dressingen i The Classic var blöt och rätt trist.
Pommes fritesen på vanlig potatis och sötpotatis var goda och prisvärda, men vi gillade varken ostsåsen eller mängden tråkig sriracha i deras dyrare chili fries. Men med det sagt så tillhör Charlie's Burgers definitivt toppskiktet i Malmö, och vi är glada över att äntligen ha fått testa dem.
In English
We tried visiting Charlie's Burgers in Malmö four times before they finally were open. So we were very happy to step into their sleek and dark restaurant in the Möllan district. We also appreciated their low price-point of 105 SEK (about 11 USD) per burger. Since we were allowed to choose between smashed burgers or fried patties, we ordered both options.
We first reacted to the bun, since it was a bit oddly shaped and covered with a slightly chewy crust. Thankfully it was soft and fluffy on the inside, and could handle all of the other ingreidents. Both cooking methods worked fine, by the way. The smashed patties had a great sear, and the fried patty was nicely pink and juicy on the inside.
The Cheeseburger had both regular cheddar and a fried cheese chip, which looked quite fun but didn't really add much flavour-wise. It also had a sharp dijon mustard, which thankfully was balanced out by their tasty pickles. Overall, we were pretty impressed by the burgers, even though all of them had a few smaller problems. For example, the onion confit in The Original had too large onion pieces, and the burger sauce in The Classic was wet and lacked taste.
Both their regular and sweet potato fries tasted nice and we're worth buying, but we didn't like their more expensive chili fries' cheese sauce and sriracha. However, Charlie's Burgers are definitely one of the best burger joints in Malmö, and we're super happy that we finally managed to visit them.