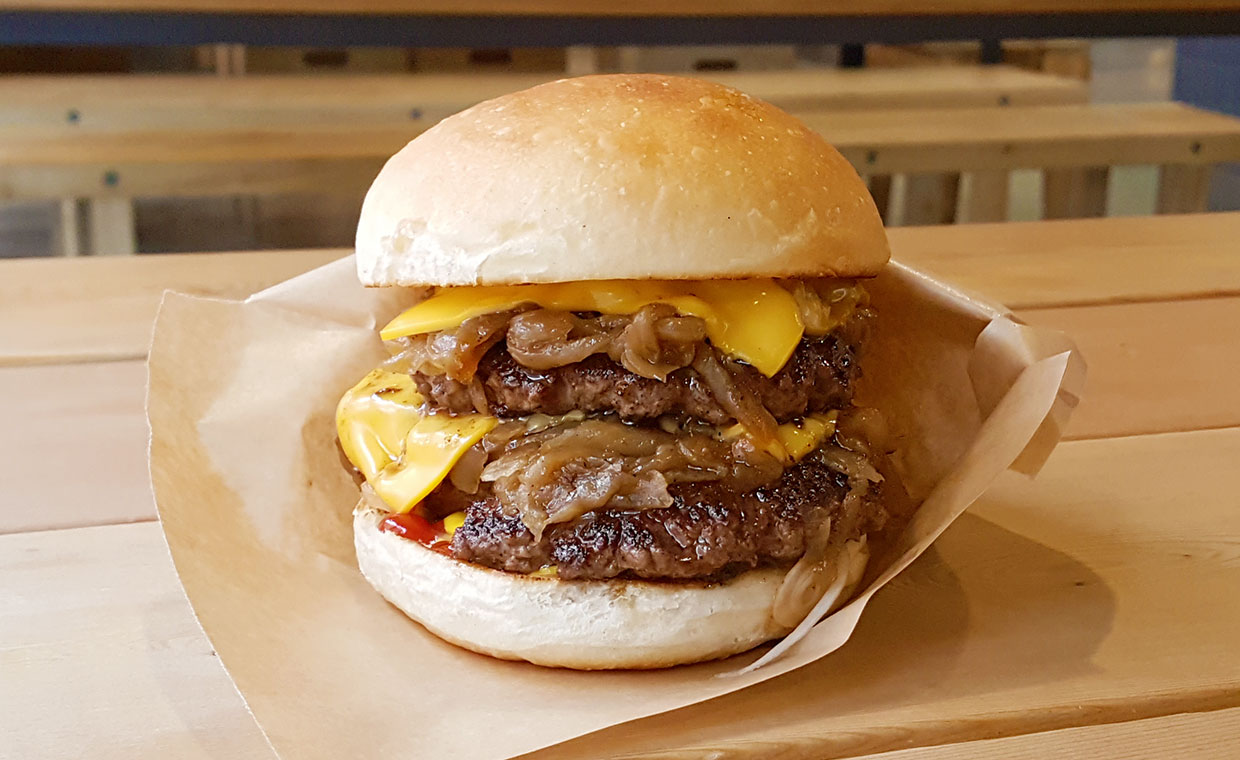 Falafel & Burgers huserar i Malmö Saluhall där de erbjuder falafel och en handfull olika hamburgare. Valet föll på en dubbel cheeseburgare bestående av två 100-gramspuckar med färskmalt kött från lokala gårdar, cheddar, karamelliserad lök, ketchup, senap och gul lök, i ett potato roll-bröd som bakas av närliggande St Jakobs Stenugnsbageri.
Burgaren såg minst sagt inbjudande ut och ration mellan bröd och kött tycktes närapå perfekt när den serverades. En tugga av underverket var allt som behövdes för att vi skulle konstatera att det var en riktigt bra kvalitetsburgare. Köttet var stekt perfekt medium rare och formligen ångade av köttsafter, och den varsamma kryddningen av köttet lät verkligen köttpuckarna skina. Den karamelliserade löken bidrog med trevlig sötma, även om det kanske kunde varit aningen mindre mängd. Cheddarosten var i perfekt symbios med köttet och det övriga på burgaren var väl balanserat där ingen smak tog över. Brödet var fluffigt och följsamt och hade en härlig smak, men hade tyvärr svårt att hålla undan köttsafterna till slut.
130 kronor för en dubbel cheeseburgare utan vare sig dryck eller pommes frites är kanske inte billigt, men det är faktiskt väl värt pengarna för en sån bra burgare som den här. Vi tycker dock att 30 kronor för en liten flaska läsk är rätt magstarkt, men vi kan i alla fall konstatera att det här är en av de bästa burgarna som vi ätit i Malmö hittils.
In English
Falafel & Burgers are housed in the food hall Malmö Saluhall where they serve falafels and quality hamburgers. Our pick was the double cheeseburger with 2 x 100 g fresground patties from local beef, caramelized onions, cheddar, ketchup, mustard and raw yellow onions. The potato rolls are baked locally as well and come from St Jakobs Stenugnsbageri. The burger looked stunning on arrival and one bite was all that was needed to get our praise. The bread/patty ratio was perfect, the medium rare and perfectly seasoned patties were amazing and the caramelized onions added a nice touch of sweetness.The bun was soft and fluffy, but got a bit soggy towards the end. 130 SEK for just the burger is not cheap, but we still think it's worth the money. However, 30 SEK for a small softdrink is way too expensive, but Falafel & Burgers still serve one of the best burgers we've had so far in Malmö.