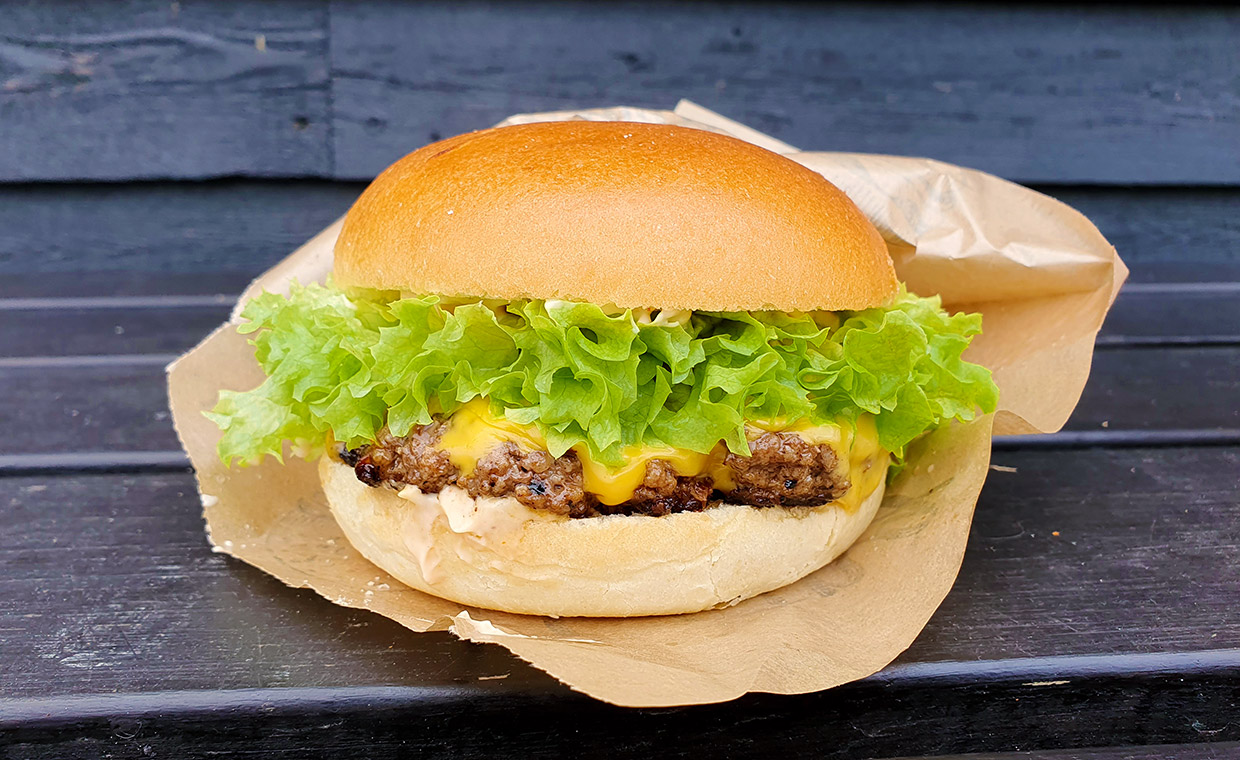 Helsingburger började som en blygsam kiosk i Helsingborg under 2017 men har sedan dess växt till mer än en handfull hamburgerställen i Skåne, runtom Malmö samt Trelleborg och Ängelholm. De har ett uttalat kvalitetsfokus med enbart lokala ingredienser, bland annat högrev från Sjöbo Slakteri. Vid vårt besök på restaurangen i Helsingborg erbjöds elva olika hamburgare med både vegetariska och veganska alternativ. Vi valde en ost- och baconburgare som innehöll en högrevspuck på 160 gram, cheddar, bacon, sallad, schalottenlök, ketchup och husets dressing. Priset under lunchen var 109 kronor, och då ingick pommes frites, läsk och en dippsås.
Hamburgaren såg inbjudande ut när den anlände, med fint smält cheddar och ett varmt och greppvänligt bröd. Vi trodde först att de hade glömt bort det knaperstekta baconet, men såg vi att den låg gömd under osten. Köttet var saftigt och hade en härlig köttsmak och passade utmärkt ihop med den krämiga cheddarn. Schalottenlöken var ett välkommet avbrott från de vanliga gula eller röda varianterna vi är vana vid, och både ketchupen och dressingen var i lagom mängd. Överlag så var vi väldigt nöjda med vår burgare, även om dressingen var lite mesig och gärna hade fått smaka mer. Brödet var godkänt, men hade gärna fått vara lite mjukare och fluffigare. Och vi hade gärna sett något med lite mer syra som bröt av smakerna, t.ex. några dillpickles.
Men med det sagt så var burgaren riktigt god och priserna var klart godkända. Vi hoppas på att se Helsingburger-restauranger även utanför Skåne i framtiden, så att fler personer får testa deras hamburgare.
In English
Helsingburger started out as a modest grill kiosk in the Swedish town of Helsingborg back in 2017, and has now grown to more than a handful burger joints in the Skåne region, with several locations in Malmö. They have a clear focus on quality, with local ingredients such as chuck from Sjöbo Slakteri. During our visit to their Helsingborg restaurant they had 11 different burgers, including vegetarian and vegan options. We ordered their cheese and bacon burger that contained a 160 gram chuck patty, cheddar, bacon, lettuce, shallots, ketchup och a house sauce. The price during lunch hours was 109 SEK (13 USD), including fries, a soft drink and a dip.
The burger looked really tasty, with nicely melted cheddar and a warm and sturdy bun. At first we thought that they'd forgotten our cirspy bacon, but it was just hidden under the cheese. The patty was juicy and tasted nice and beefy; a perfect fit with the creamy cheddar. We also appreciated the novelty of using shallots instead of regular red or yellow onion, and there was a reasonable amount of both ketchup and burger sauce. Overall we were really happy with our burger, even though the burger sauce was a bit bland and could have had a bit more kick to it. The bun was alright, but should have tasted more and been a bit fluffier. And some acidity would have been nice as well, such as dill pickles or something similar.
But with that being said we enjoyed our hamburger, and the price-point was excellent. Fingers crossed that Helsingburger expands outside Skåne so that more people get to taste their burgers.