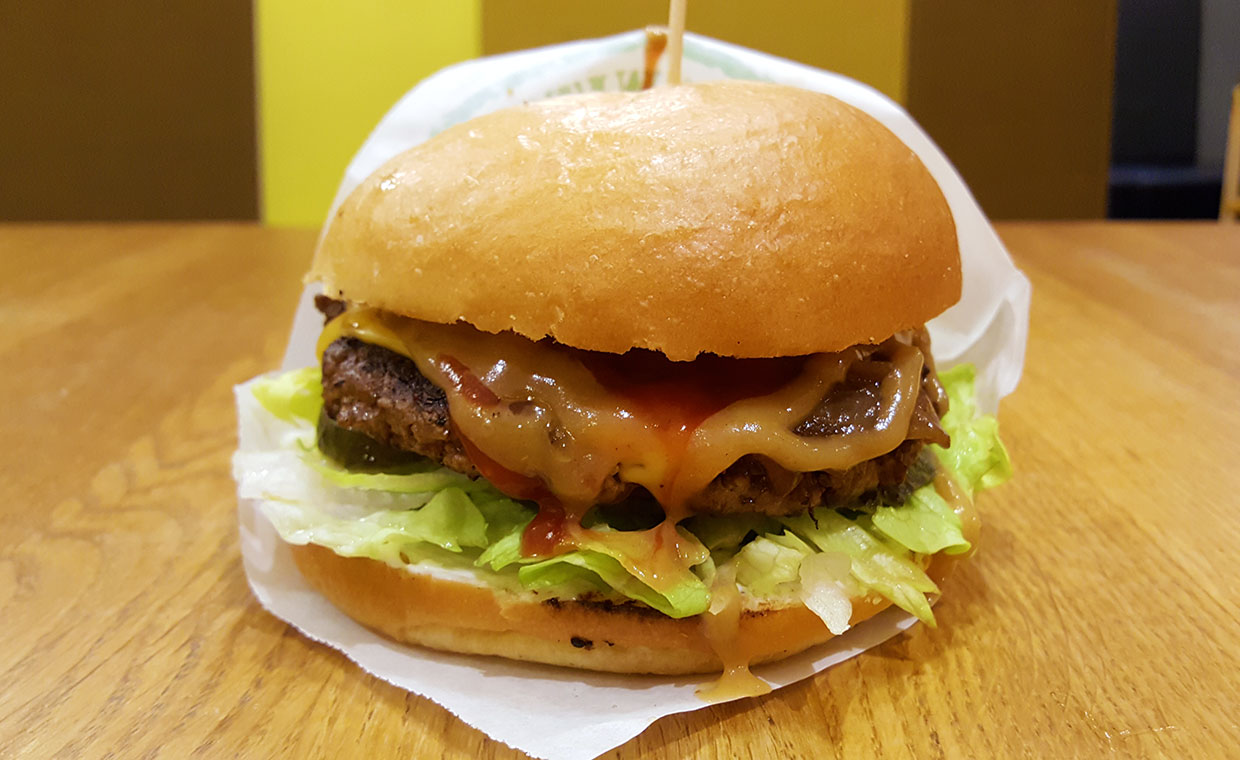 Se7en Sins Burger huserar i Malmös shoppingmecka Emporia köpcentrum, och deras burgare görs på kött som mals dagligen och nybakat bröd. Som namnet på stället antyder så är burgarna namngivna efter de sju dödssynderna, och de serverar dessutom kycklingburgare och vegetariska burgare.
Vårt val föll på avundsjukan. Envy är en klassisk cheeseburgare med isbergssallad, karamelliserad lök, picklad gurka, majonnäs, ketchup, senap och cheddarost för 75 kronor. Konstigt nog behövde vi beställa vår milkshake från en separat disk, vilket ledde till två olika betalningstillfällen. Det var minst sagt osmidigt, men som tur var behövde vi inte vänta särskilt länge på maten.
Burgaren såg estetiskt tilltalande ut med en bra ratio mellan köttet och brödet. Själva köttpucken smakade gott, men hade kunnat peppras lite extra innan servering.  Den picklade gurkan var riktigt god med en sälta som balanserade ut den söta karamelliserade löken. Cheddarosten var härligt god och låg som en vackert smält täcke över köttet. Den klassiska kombinationen av majonnäs, ketchup och senap funkade precis lika bra som alltid, men vi fick för mycket på vår burgare, vilket ledde till att det mjuka briochebrödet blev lite väl kladdigt av mängden sås och köttsafter. Briochebrödet var i övrigt gott och hade värmts upp ordentligt på stekbordet.
Överlag serverar Se7en Sins Burger en bra burgare som står sig i konkurrensen under shoppingturen.
In English
Se7en Sins Burger opened about two years ago in Malmö's shopping mall Emporia, and serve burgers with freshly ground meat and buns that are baked daily. The burgers are named after the seven deadly sins, and we chose the classic Envy cheeseburger with iceberg lettuce, pickles, cheddar, caramelized onions, mayo, ketchup and mustard for 75 SEK. However, we had to buy our milkshake from another counter, which was a hassle. The burgers came out swiftly and looked visually appealing, and the patty had lots of flavor (even though it could have done with some more pepper). The salted pickles balanced out the sweet caramelized onions, and the nicely melted cheddar had a smooth texture with good taste. We normally like the classic mayo-ketchup-mustard combo, but there was a little too much of it, which made the otherwise tasty and nicely heated brioche bun a bit soggy. We weren't blown away, but Se7en Sins Burger definitely serve a good burger at an excellent price.