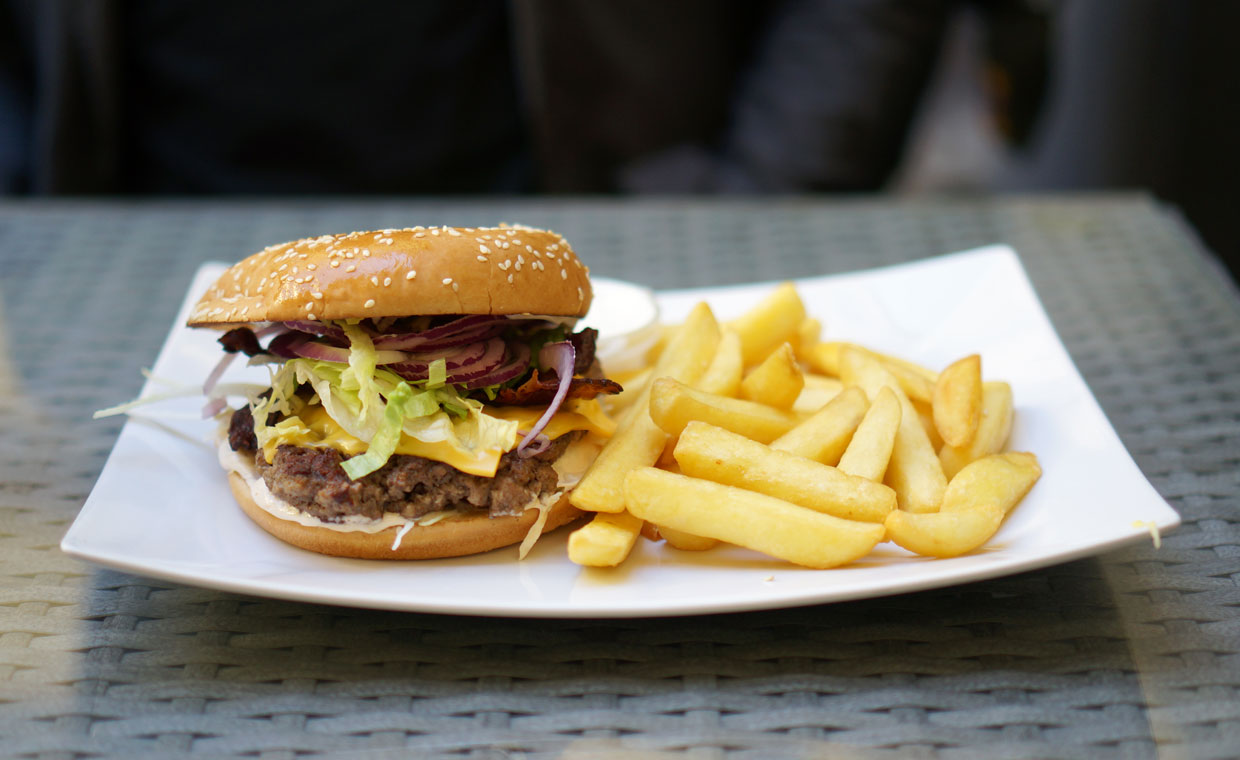 Tusen & 2 öppnade sin första restaurang i Malmö redan 2008, och är med andra ord en riktig veteran inom den svenska burgarscenen. Sedan dess har de öppnat ytterligare ett ställe i Malmö, och de har även expanderat till Trelleborg. Här serveras hamburgare med egenmalt kött, och menyn består av fler än 30 olika typer av burgare med den ena konstiga kompositionen efter den andra.
Vi föredrar att beställa enklare burgare så att köttet och brödet får tala för sig självt utan att de andra ingredienserna tar över. Eftersom det inte finns någon renodlad ost- och baconburgare fick valet falla på en Americana med bacon, cheddar och majonnäs.
Men trots att vi beställde en medium rare-burgare serverades den helt genomstekt, utan någon som helst tillstymmelse till en rosa kärna. Brödet var visserligen uppvärmt, men av tråkig gatukökstyp. På grund av detta var smakerna alldeles för anonyma, och de tjockskurna pommes fritesen tillförde inte heller något rent smakmässigt.
Eftersom en burgare med pommes frites och läsk endast kostar runt hundralappen ligger Tusen & 2 bra till rent prismässigt, men vi hade föredragit mer högkvalitativa komponenter än gimmickartade ingredienser som försöker stjäla uppmärksamheten.
In English
Tusen & 2 is one of Sweden's oldest burger restaurants, and the chain nowadays has two restaurants in Malmö and one in Trelleborg. Their menu is vast and eclectic, with over 30 different types of burgers ranging from a regular cheeseburger to downright bizarre creations. We get the feeling that these gimmicks are an attempt to cover up the fact that the actual bread and meat components aren't up to par, as our patty was served well-done and the bun was quite boring.