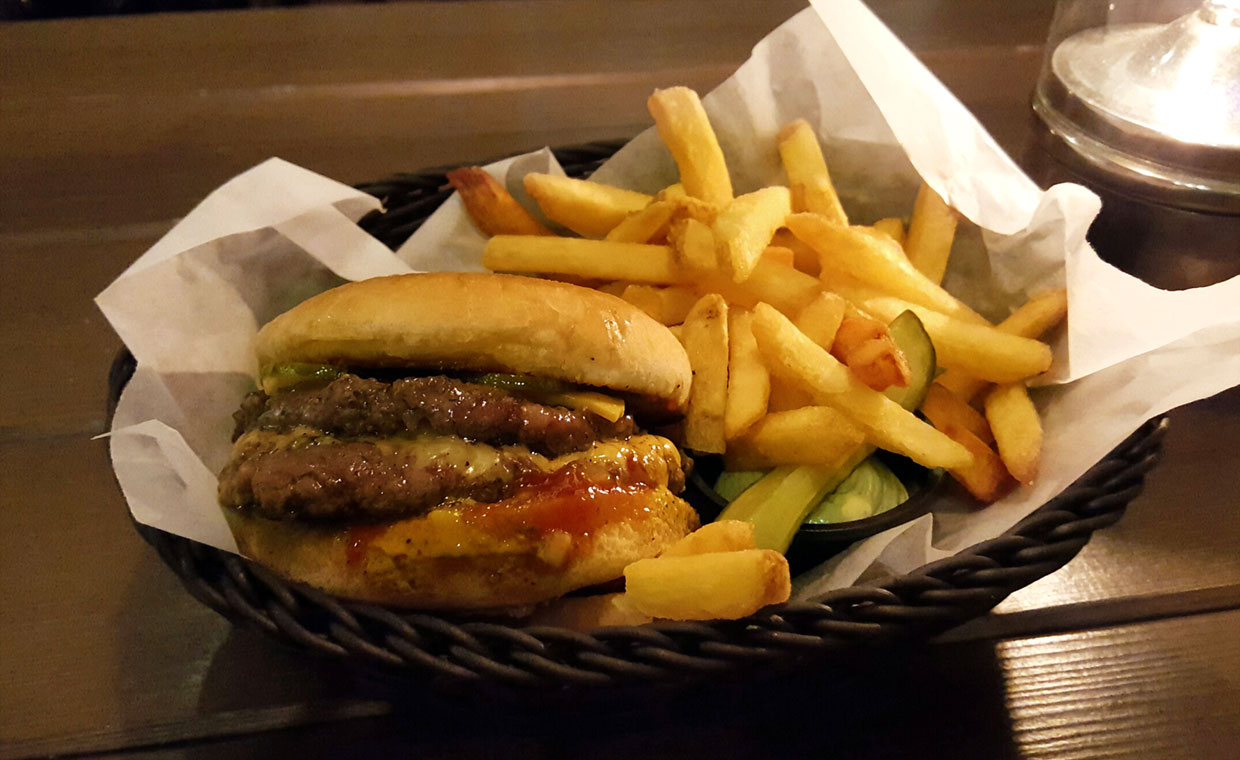 Knäppingen i Norrköping kan bäst beskrivas som en gastropub, och den mysiga lokalen har anor som sträcker sig hela 200 år tillbaka. Den varierade menyn innehåller tre olika hamburgare, där en enkel burgare är på 90 gram och en dubbel på 180 gram. Förutom de vanliga biffburgarna finns även en fiskburgare och en vegoburgare. Priserna sträcker sig mellan 119 och 154 kronor, men då ingår även pommes frites och en örtdipp.
Vi bestämde oss för en klassisk dubbel cheeseburgare med ost, senap, ketchup och lök. Burgaren var estetiskt tilltalande med bra ratio mellan kött och bröd, och själva köttet var fint mediumstekt med en utmärkt stekyta och med en kryddning som märktes av utan att slå ut köttsmaken. Cheddarosten låg snyggt smält över burgaren, och bidrog inte bara med utseende utan även med en hel del smak. Det var tveklöst kvalitétsköttet som var stjärnan här.
Brödet var varmt, mjukt och följsamt, men trots att det höll inne köttsafterna och smakade gott så kunde det ha varit lite mjukare och lite mindre sött. Pommes fritesen stack inte ut nämnvärt, men örtdippen var en riktig succé.
Överlag serverar Knäppingen en mycket god och prisvärd gastroburgare i härlig klassisk pubmiljö, som inte ligger långt bakom de bästa i stan. Och vi kan glatt konstatera att Norrköping utmärker sig som Sveriges tredje bästa burgarstad efter Stockholm och Göteborg.
In English
The gastro pub Knäppingen in central Norrköping is located in a 200 year old building, and they serve excellent burgers. We ordered their double cheeseburger with ketchup, mustard, onions and cheese, which both looked and tasted great. The patty was clearly the star here; perfectly cooked medium with lots of meat flavour. It was seasoned just right and had a good char. The cheese melted nicely and tasted amazing too, and we enjoyed the balanced condiments ratio. We liked the bread, but it could have been less sweet and a bit softer. We are happy to announce that Norrköping is currently Sweden's third best burger town after Stockholm and Gothenburg.