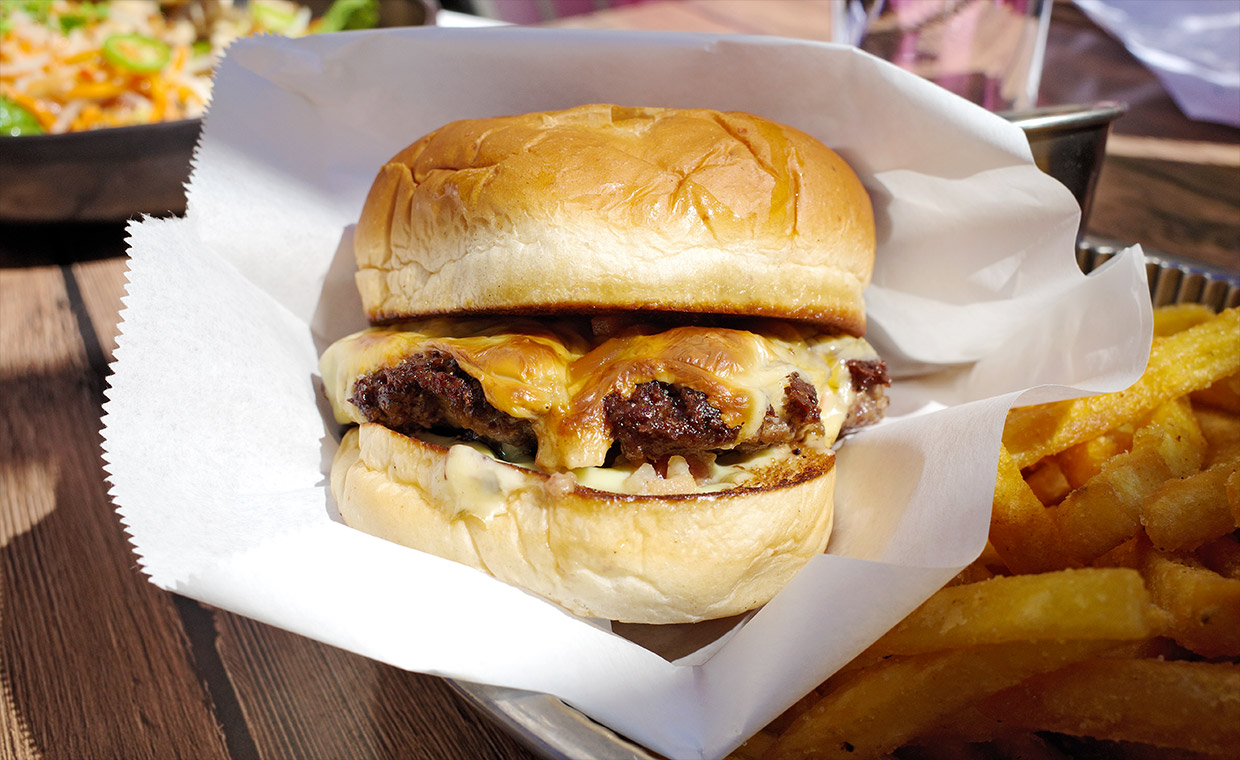 I centrala Norrköping, närmare bestämt i området Dalen, ligger restaurangen Urbane Goat. Deras meny hämtar inspiration från alla världens hörn, men precis som vanligt låg vårt fokus på burgaren och inget annat. Vi har faktiskt fått massor av tips om deras burgare under åren, och vi skulle ljuga om vi inte sa att vi var förväntansfulla när vi satte oss till bords i deras mysiga innergård.
När vi beställde lunchburgaren, som kostade 125 kronor (165 kronor på kvällen), frågade de vilken stekgrad vi önskade och vi valde medium efter deras rekommendation. Burgaren serverades i en pappersficka på ett fat tillsammans med en rejäl portion pommes frites. Själva burgaren såg väldigt saftig och inbjudande ut med sin köttpuck gjord på högrev och bringa, tillsammans med ost, hackat bacon, lök och krassemajonnäs.
Vi märkte direkt den höga kvaliteten av köttet, som var saftigt med en jämn och fin stekyta. Det höga och fluffiga brödet imponerade på oss, och satt både fint i handen samt lyckades hålla ihop allting exemplariskt under hela måltiden. Det hackade baconet hade däremot en seg textur, och förstörde lite av den annars utmärkta upplevelsen. Det hade gärna fått vara mer välstekt och hackat i mindre bitar. Ett annat problem var att pommes fritesen var för hårt friterade och på tok för salta. När man panikartat greppar efter sitt vattenglas för att släcka törsten så påverkar det tyvärr hela måltiden rätt negativt.
Förutom dessa mindre missar så var vi otroligt nöjda med vår burgare, och vi håller med alla tipsen som vi har fått. Urbane Goat rekommenderas varmt till alla som är sugna på en riktigt bra burgare i Norrköping.
In English
Urbane Goat is a restaurant in the Swedish city of Norrköping. Their menu takes inspiration from all over the world, but we focused on the burger of course. We've actually received loads of tips to try their hamburger over the years, so we were filled with anticipation when we sat down by a table in their cozy back garden.
When we ordered their lunch burger, that cost 125 SEK (14 USD) – 165 SEK (18 USD) in the evenings – they asked us how we wanted our patties cooked. We ordered our burger medium after their recommendation, and it soon arrived in a paper pocket with a large order of fries. It looked juicy and inviting, with its patty made from chuck and brisket, plus cheese, chopped bacon, onions and cress mayo.
The meat quality was immediately noticeable, with its juicy texture and even crust. The tall and fluffy bun was impressive, and felt great in our hand and held together great throughout the entire meal. The chopped bacon, however, was chewy and detracted from the experience. We would have preferred it more crispy and in smaller pieces. The fries were a letdown too, seeing as they were overcooked and far too salty. Having to reach for our glass of water in sheer panic after eating a mouthful impacted our experience a bit, to be honest.
But despite a few smaller mistakes, we were very happy with our burger, and we agree with all the tips from our readers. We warmly recommend Urbane Goat to anyone who wants to eat a great burger in Norrköping. Perhaps not the GOAT just yet, but they're not far off.