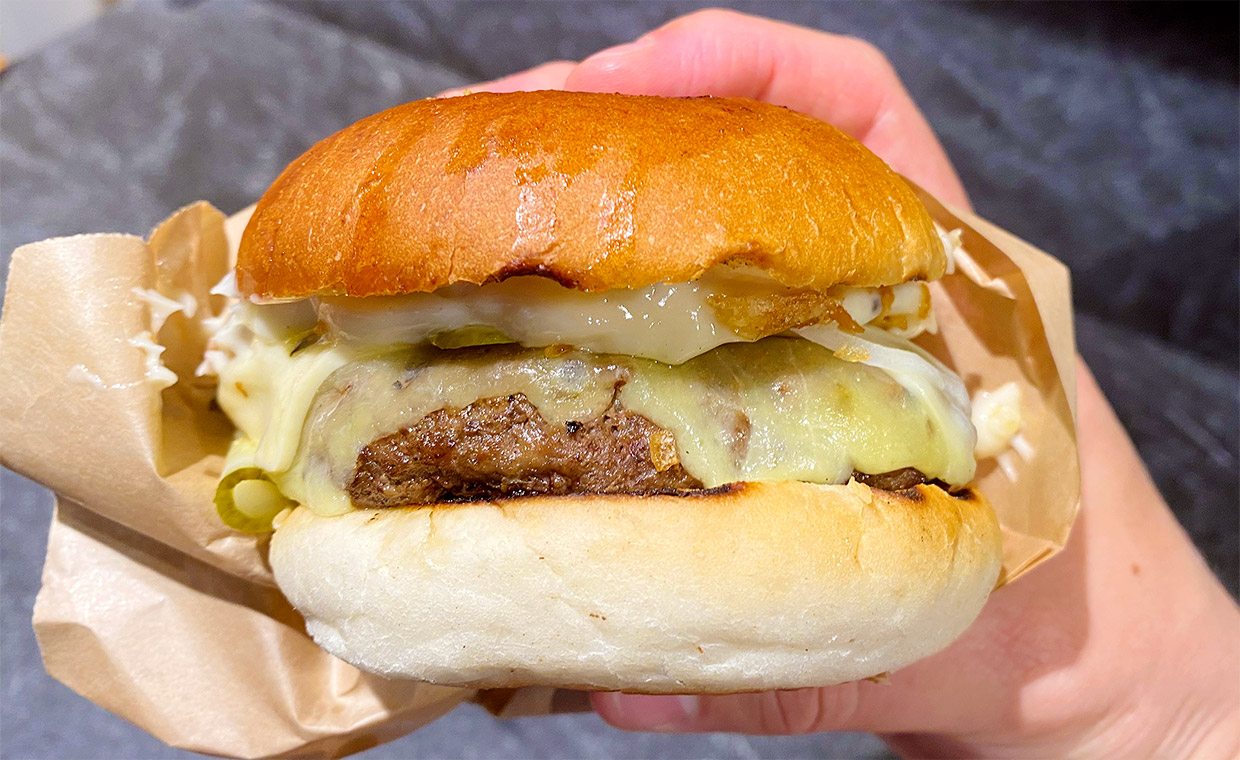 Vildmarkshotellet vid Kolmårdens djurpark är en välbesökt destination för såväl djurparksbesökare som boende i Norrköping. Eftersom deras restaurang Terassen är det enda riktiga matalternativet i området och de har en burgare på menyn så var vårt val enkelt. Det blev alltså en hamburgare med tryffelmajonnäs, lagrad ost, karamelliserad lök, silverlök och inlagd gurka för 195 kronor, inklusive pommes frites och en dippsås.
När vår burgare anlände vid bordet fick vi rejäla flashbacks från när vi startade Burgerdudes, en period då de flesta finare restauranger försökte förstå sig på burgarkulturen och täckte sina hamburgare med lagrad gruyèreost och tryffelmajonnäs. Det var alltså dessa två ingredienser som var de mest framträdande på burgaren, och de dominerade smakbilden totalt. Själva köttet var tjockt, ordentligt grillat och hyfsat saftigt, och när vi tog en tugga av enbart köttet kunde vi känna att det var försiktigt kryddat och ganska gott. Och det grillade brödet höll ihop ganska bra. Men dessa komponenter och smaker kom inte till sin rätt alls. Den kladdiga tryffelmajonnäsen var dessutom hopblandad med silverlöken, vilket förtog den krispiga texturen och gav ett coleslaw-liknande resultat. Pommes fritesen var ganska krispig, men smakade inte så mycket.
Vildmarkshotellet Kolmården serverar en burgare som fastnat i den tid när hantverksburgare precis gjort intåg i Sverige och restaurangerna började utforska maträtten. 2014 hade vi kanske gått med på detta, men nu rekommenderar vi att du väljer något annat från menyn istället.
In English
Vildmarkshotellet by Kolmården Wildlife Park is a popular destination for both visitors to the park and Norrköping residents. Seeing as the Terassen restaurant is the only real restaurant in the area, and their menu included a burger, we felt compelled to order it. Their hamburger included truffle mayo, vintage cheese, caramellised onions, white onions and pickles and cost 195 SEK (23 USD), including french fries and a dip sauce.
When our burger arrived it felt like we'd been transported back to when we launched Burgerdudes, a time when most proper restaurants tried to understand craft burgers and covered them with aged Gruyere cheese and truffle mayo. These two ingredients really dominated our burger, and didn't let any other flavours through. The beef itself was thick, properly grilled and quite juicy, and when we took a bite from just the patty we could tell that it was carefully seasoned and pretty tasty. The grilled bun held together well too, but these flavours and textures just didn't stand a chance at all. The sticky truffle mayo was mixed in with the white onions, eliminating any chance of some texture variation and making it feel more like coleslaw. The french fries were quite crispy, but didn't taste of much.
Vildmarkshotellet Kolmården serve a burger that felt stuck in the time period when craft burgers had just come to Sweden and restaurants were starting to experiment more with the dish. We would perhaps have accepted this back in 2014, but now we'd suggest that you order something else instead.