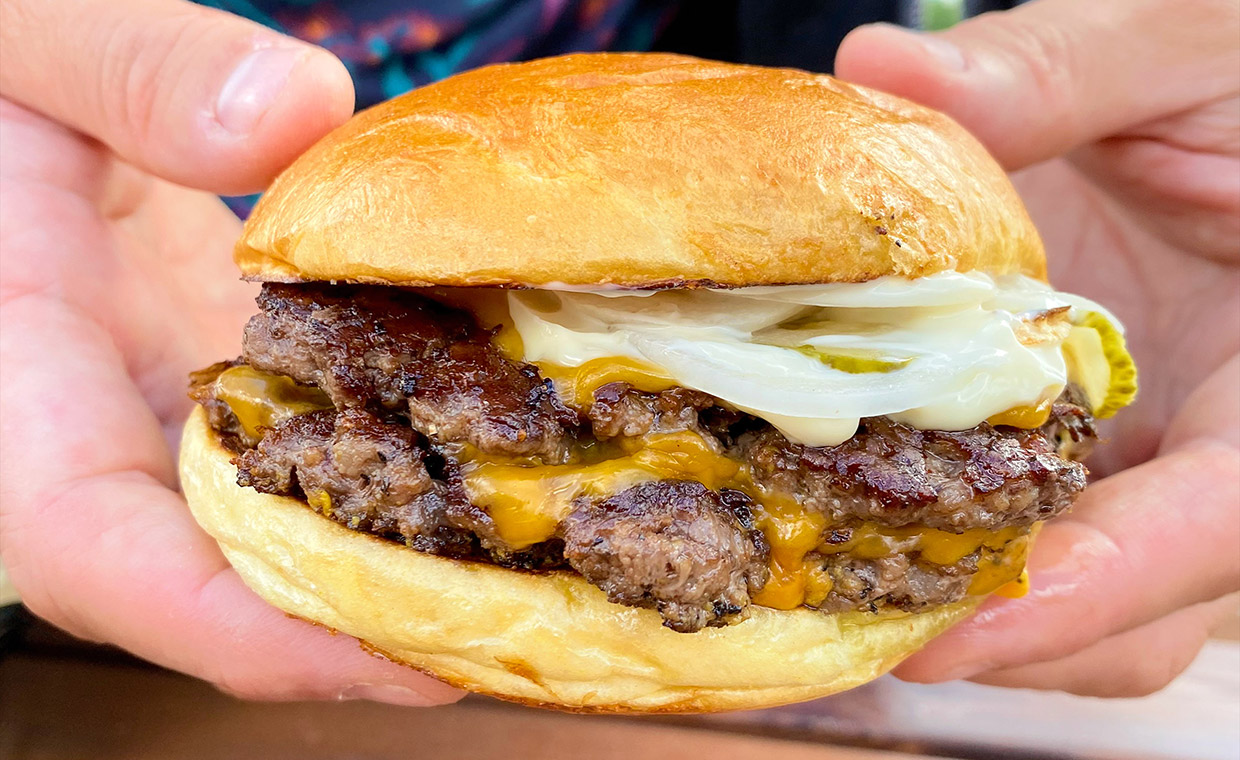 Väddö Gårdsmejeri ligger i Roslagen, tio mil norr om Stockholm och en kort resa österut från Norrtälje. Det lilla mejeriet tillverkar bland annat Sveriges första och enda ekologiska burgarcheddar, som är en solklar favorit hos oss på Burgerdudes. Och under sommarsäsongen serverar de glass på Bondens Glasskalas och hamburgare på Bonden & Burgaren, med en fantastisk utsikt över Väddö kanal. Vi recenserade deras burgare redan under 2017, men under 2020 har de uppdaterat konceptet med helt nya kompositioner, ett annat bröd och färskmalet kött.
Vi beställde en dubbel Gårdens ostburgare, med deras ekologiska burgarcheddar, två senapsstekta 100-gramspuckar av ekologiskt kött från den egna gården, silverlök, pickles och majonnäs för 149 kronor, samt en Mejeristens burgare gjord på deras egenproducerade eldost för 159 kronor. Till detta tog vi även in mejeriets ostpommes med ostsås, jalapeños och rödlök för 55 kronor samt sötpotatispommesfrites för 49 kronor.
Och vilket otroligt lyft det har blivit! Allt var helt fenomenalt gott. Köttet var saftigt och otroligt smakrikt, härligt kryddat och med stora mängder smält cheddarost. Brioche-potatisbrödet hade en utmärkt spänst och mjukhet, och var fint uppvärmt och tillförde en lätt sötma. Även de andra ingredienserna kändes genomtänkta, och både silverlöken och picklesen var tunt skivad och jämnt fördelad. På vegoburgarfronten så imponerade eldostens sälta och krispiga yta. De vanliga pommes fritesen var okej, men vi rekommenderar hellre deras krispiga sötpotatispommesfrites med härlig svart vitlöksmajonnäs (för 15 kronor) eller den utsökta och rejäla portionen ostpommes.
Bonden & Burgaren har blivit som ett utsökt showroom för Väddö Gårdsmejeris produkter, och känns nu som en restaurang värdig deras förstklassiga ingredienser.
In English
Väddö Gårdsmejeri is a small dairy farm located in Roslagen, ten Swedish miles north of Stockholm and a short trip east from Norrtälje. This small family-owned establishment produce Sweden's first and only organic burger cheddar, and have become a household name in the Swedish burger scene. During the summer months, they serve homemade gelato at Bondens Glasskalas and burgers at Bonden & Burgaren, with an amazing view over the Väddö channel. We first reviewed their burgers back in 2017, but in 2020 they did a complete overhaul of their concept with new compositions, another bun and freshly ground beef.
We ordered a double "Gårdens ostburgare" with their organic burger cheddar, two mustard-fried 100-gram organic beef patties from their own farmyard, white onions, pickles and mayo for 149 SEK (17 USD) and a "Mejeristens burgare" made from their own halloumi-style cheese for 159 SEK (18 USD). We also ordered their cheese fries with cheddar sauce, jalapeños and red onions for 55 SEK (6 USD) and some sweet potato fries for 49 SEK (5.5 USD).
Wow, what an improvement! Everything tasted amazing. The patty was juicy and packed with flavours, with great seasoning and loads of melted cheese on top. The brioche potato bun was soft and bouncy, nicely toasted and added a hint of sweetness. The other ingredients knew their place as well, with thinly sliced and evenly distributed white onions and pickles. The deep-fried halloumi style cheese (known as "eldost" here in Sweden) burger also impressed us with its salty crispiness. Their regular fries were alright, but paled in comparison with their crispy sweet potato fries with a decadent black garlic mayo for 15 SEK (2 USD) or the large portion of cheesy fries.
Bonden & Burgaren has become a delicious showroom for Väddö Gårdsmejeri's products, and now feels like a restaurant worthy of their first-class ingredients.