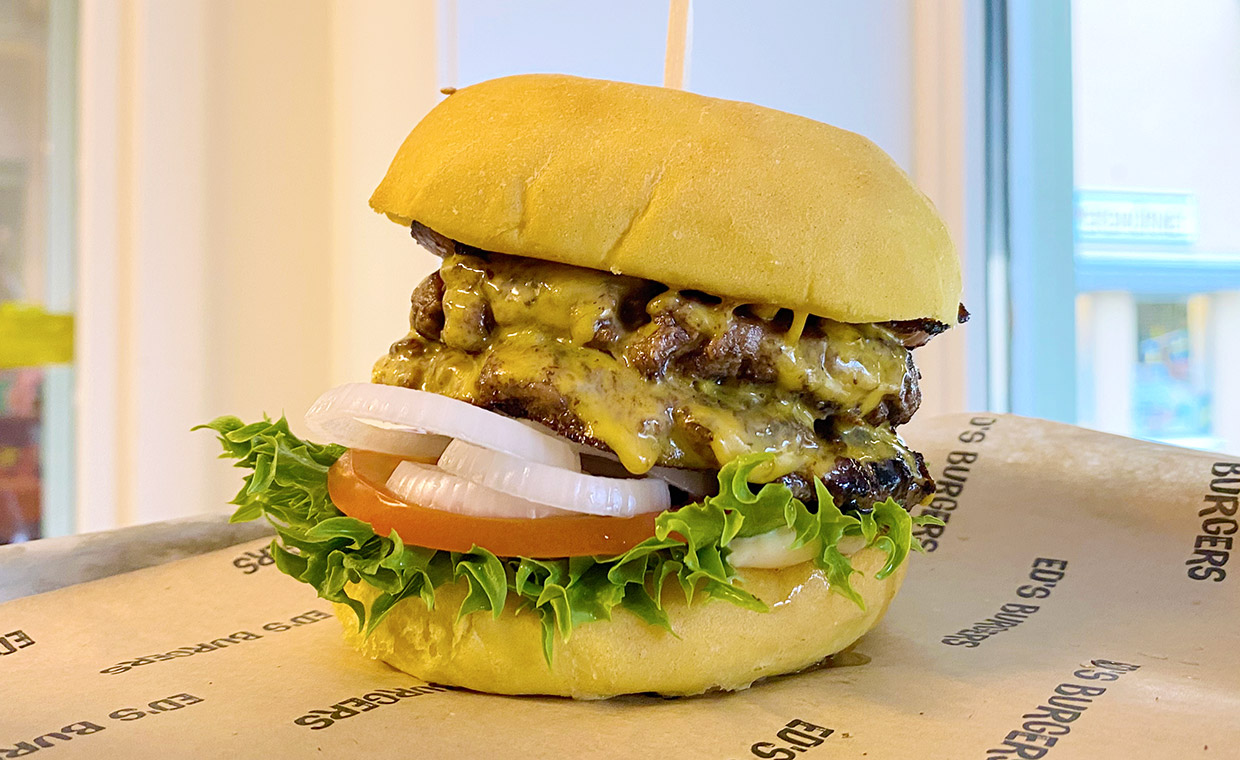 Ed's Burgers ligger i Norrtälje – en kort resa norrut från Stockholm – och slog upp portarna redan 2015. De var länge stadens enda renodlade hamburgerrestaurang, och eftersom tipsen har trillat in i stadig takt under åren så besökte vi dem fulla av förväntan. Den klassiskt enkla menyn består av tio köttburgare och två vegetariska diton. Vi beställde en dubbel Fat Cat för 144 kronor, med två köttpuckar på 110 gram vardera, varmrökt bacon, cheddar, silverlök, bifftomat, krispsallad och majonnäs. Till detta tog vi även in en pommes frites för 28 kronor och en sötpotatispommesfrites för 35 kronor.
Själva burgaren såg lite torr och tråkig ut vid första anblick, och dessa två adjektiv visade sig tyvärr vara typiska för hela måltiden. De två köttpuckarna såg små ut och var rätt tuggiga, och hade kryddats med alldeles för lite salt och peppar. Det rökta baconet var också tuggigt, och hade verkligen tjänat på att vara stekt och krispigt för att tillföra lite annan konsistens. Det gula brödet kändes tungt, och var torrt med en frasig yta. De tjockt skivade grönsakerna stack ut, mest för att tomaten var för kall och löken var ojämnt fördelad. Det var väldigt lite smak på burgaren överlag, och samma sak gällde de vanliga pommes fritesen. Däremot gillade vi verkligen de härligt krispiga och smakrika sötpotatispommesfritesen.
Vi lämnade Ed's Burgers ganska mätta, men inte särskilt belåtna. Måltiden var långt ifrån katastrofal, men burgarna var tyvärr för torra för att vi ska kunna ge dem ett godkänt betyg.
In English
The Swedish burger joint Ed's Burgers is located in Norrtälje – a short trip north of Stockholm – and opened back in 2015. They were the only burger joint in town for many years, and since we've received loads of suggestions from readers to try them our hopes were pretty high during our visit. Their simple menu consists of 10 beef burgers and two vegetarian options, and we ordered a double Fat Cat for 144 SEK (16 USD), with two 110-gram patties, smoked bacon, cheddar, white onions, beef tomato, lettuce and mayo. We also ordered regular fries for 28 SEK (3 USD) and sweet potato fries for 35 SEK (4 USD).
The burger looked pretty dry and boring, and these two adjectives unfortunately seemed to multiply throughout our meal. The two beef patties looked small and were quite chewy, and could have done with much more salt and pepper. The smoked bacon was chewy too, whereas some fried bacon would have added some nice and needed crispiness. The yellowish bun felt heavy, and was dry with a thin crust. The thick vegetables really stood out, mainly due to the tomato being really cold and the onions being unevenly distributed. Overall, our burger just didn't taste enough, and the same could be said for their french fries. Thankfully, their sweet potato fries were both crispy and filled with great flavour, and they really stood out.
We left Ed's Burgers pretty full, but far from satisfied. Our meal wasn't a catastrophe by any means, but the burgers were too dry for us to give them a passing grade.